Kansas City Chiefs vs. New York Jets: Spread Info, Line and Predictions
December 8, 2011
Al Bello/Getty Images
The New York Jets play host to the Kansas City Chiefs on Sunday afternoon, and it's going to be a low-scoring, defensive affair.
Expect the Jets to do whatever is necessary to win this game and keep their playoff hopes alive for the third straight year under Rex Ryan.
The Chiefs aren't sure who is going to be starting for them at QB yet, and at this point it doesn't really make a difference against a brick-wall defense.
Keep reading to find out more about this game, how you can watch it and how you should bet it.
Where: MetLife Stadium, East Rutherford, NJ
When: Sunday, Dec. 11 at 1:00 p.m. EDT
Watch: CBS
Spread: Jets -10
I like the Jets here, and they seem to have found a rhythm after a rough start to the season.
They beat Washington handily last week in the fourth quarter and should continue that run against the Chiefs on the shoulders of their defense.
It doesn't matter whom Kansas City trots out at QB—be it Kyle Orton or Tyler Palko, they don't have a chance against this beastly secondary and pass-rush.
It's going to be a long day for the Chiefs.
Over/Under: 36.5
Kansas City hasn't played in a game that has gone over the point total in weeks.
I think despite the fact that the games the Jets play in tend to skew low for the over/under line and go above it isn't an issue here.
They are looking for nothing but a win and will be content grinding out a 10-0 shutout of the Chiefs on Sunday if they can.
Key Injuries (via CBSSports.com)
Chiefs QB Kyle Orton—QST (Finger)—Orton was limited in practice this week after dislocating a finger on his throwing hand during his first action with the Chiefs last week.
Jets RB Shonn Greene—PRB (Ribs)—Green shouldered a full load in last week's game and had a full practice this week. Unless he suffers a setback, he's good to go for Sunday.
Fantasy Big Plays
New York Jets Defense—I think these guys are going to have a field day against the Chiefs offense and force at least two interceptions and a fumble or two.
If your league rewards you for shutting an opponent out, this is your best bet to cash in big.
Santonio Holmes—This playmaker has come on strong the past two games and has a touchdown in each. While his totals haven't been eye-popping, I'm predicting at least a five-catch, 75-yard game with a score when all is said and done.
Keys to Chiefs Win
The Chiefs will win if they get consistent play out of the QB position and actually remember how to run the ball.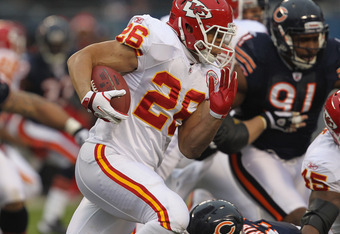 Jonathan Daniel/Getty Images
Jackie Battle has completely fallen off lately and isn't of any value to the team as a rusher. Palko is too interception-prone and gives games away if he's on the field.
You know the receivers are gamers, so the Chiefs need to establish a run game and then take some shots downfield.
Keys to Jets Win
Defense will win this game. If Rex Ryan's infamous D can live up to their reputation, they won't have a problem pulling out another W.
Turnovers will doom the Chiefs and put the Jets in position to get easy scores and take the victory home.
Prediction
Jets 21, Chiefs 7
I really like the Jets here, and they are fighting for their postseason life right now.
They don't drop a game like this in Week 14 to a team drawing dead like Kansas City