Is It Harder to Fight in the UFC Than Anywhere Else in MMA?
December 8, 2011
There is no doubt in anyone's mind what the number one organization for mixed martial arts is. The Ultimate Fighting Championship is the premiere place to be if you are a fighter, but it is not the only one out there. 
MMA is a rapidly growing sport, with much room for expansion and growth. The potential of financial benefits has created a giant that reaches to every corner of the earth. The UFC is the top of the heap, but do other organizations have legs to stand on in regards to the competitive level? 
Obviously marketing, pay per view success, sponsors, and business mergers have put the UFC on top; but for the fighters themselves, does this mean the UFC is at a higher level of competition than the others? 
What we have seen in the past few years is other organizations making their presences known. Strikeforce and Bellator are the most noteworthy, although others exist and do well. Before the purchasing of Strikeforce, the UFC had both organizations as competitors in the business, but what ultimately mattered to fans were the fantasized cross fights. 
Fans have been aware of Strikeforce and Bellator, and pay attention to their big name fighters, especially the ones that have never set foot in the Octagon. Critics of champions outside of the UFC tend to claim that those champs have "never fought anyone," or imply in some way the challengers they faced were not anywhere near the caliber of UFC fighters in the same division. MMA fans salivate at the potential matchups of champions vs. champions and other big name fights that could be put together. 
Most of the time, the ideas stay in limbo, or have a plethora of prerequisites that must happen, paired with timing issues that lead to the fight never coming into fruition. But sometimes fighters do cross over to the UFC.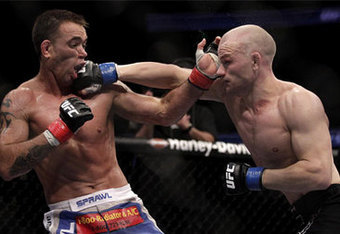 An odd trend that has been happening with these crossovers is that, once they get into the UFC, they do not live up to the hype they carried elsewhere. In other words, they were great in their original organization, but once in the UFC, their success is limited. 
Take a recent fight, like Cung Le vs. Wanderlei Silva. This is a fight that many felt Cung Le should be able to win, especially since it was the backup to fighting Vitor Belfort. However, the night did not unfold that way. Another example is from TUF 14 Finale. Jason Miller put on a very lackluster performance against rival coach, Michael Bisping in his Octagon return. 
With any examples, there are always other variables as to why they did not seem to do well, but fighters who are usually more consistent in certain areas, seem to get caught up in the moment. 
Is it the bigger, louder crowd? Is it the extra publicity? Is it all just nerves? 
Jake Shields, a fighter who had not lost in almost six years, came to the UFC in October of 2010 and faced Martin Kampmann. Shields won a decision, but did not look as impressive as many thought he would. He then faced GSP and Jake Ellenberger, and lost both matches, leaving him 1-2 inside the Octagon. 
Many of the fighters that cross over (or return after a long time away) tend to lose their first fight in the UFC. This loss does not turn into a streak all the time, but the debut seems to be a curse many can't escape. For example, Brian Stann's first fight in the UFC ended with him being submitted in the first round, giving him his second loss of his career. 
This initial loss would hint at the previously mentioned nerves and whatnot, but one factor that needs to be taken into account is the opposition when looking at their challenges. 
Yoshihiro Akiyama won his UFC debut, but in a controversial decision. He then proceeded to lose three in a row, and now has dropped weight classes. This move may have saved him from being released, along with the fact that saving him for UFC Japan would be a smart business move. 
Akiyama was thrown into the fire and put against tough opponents. This may be why he has had difficulty finding success at the moment, but maybe welterweight is where he belongs in the UFC. Akiyama and Shields will be facing each other to figure out who is going to end their losing streak at UFC 144.  
Guys like Stann, Le, Shields and others all had initial issues, but could this be attested to them jumping into already developed divisions? 
When you look at other fighters who fought with the little black gloves on for the first time, they seemed to do well, and continue to. Take Urijah Faber, Miguel Torres, Joseph Benavidez, etc. They all won their debuts, but they were not jumping into a division, they were bringing theirs over to the UFC. 
On the other hand, you have guys like Dan Henderson, in which case you could argue that he was not gone from the UFC for long and had an abundance of UFC experience already. Nick Diaz could prove to be an exception, but after only one fight, we will have to wait and see.  
This would make one rethink and wonder if that would support the idea of the UFC being tougher to fight in. It is widely expressed that the best fighters in the world are in the UFC, a statement made by UFC brass and fans alike. But does the money, marketing and promoting inherently make them better? Or does it just motivate them to become better? 
While not a consistent policy by any means, the UFC looks to put fighters on the chopping block after two losses, thus providing a level of motivation there as well. 
When Gilbert Melendez comes over from Strikeforce, it will help add more data to this ongoing study, since he will be jumping straight into the huge fire that is the UFC Lightweight division. At the end of this year, we will also see how Alistair Overeem will fare against a now healthy Brock Lesnar. 
With Strikeforce being under the Zuffa banner, more of these crossovers will happen, and we will all see if this stays in effect. The "Octagon Curse" seems to make a substantial argument for itself, but time will help tell if it is more of a consistency than just coincidence. 
Join the MMA Facebook Page! and follow the @FightersCreed on Twitter!