Greg Oden: Staying with Trail Blazers Is Brilliant Move by Injury-Prone Big Man
December 8, 2011
Jonathan Daniel/Getty Images
Greg Oden has accepted the Trail Blazers' qualifying offer of $8.9 million, according to Jason Quick of the Oregonian.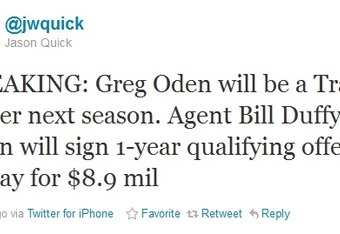 Taking the money and staying in Portland is the smartest possible move Oden could have made. The injury-prone big man has only played 82 games in his NBA career.
Oden isn't at a point in his career where he should be willing to take less money to go anywhere. He's still 23 years old, and given the pattern of injuries that has followed him throughout his career, he needs to soak up as much money as he possibly can.
Running to the Miami Heat to try to win a championship isn't in his best interest right now. If he proves he can stay healthy once he returns, he's not going to have a shortage of suitors.
It's not all about money either, though the extra cash doesn't hurt matters.
Oden's agent, Bill Duffy, said, "The mission has not been accomplished. The Blazers have stood by Greg, and now he is going to stand by them.''
Oden has a shot at redemption. He's got the potential to be an unstoppable force. The Blazers haven't given up on Oden, and it wouldn't be right for Oden to bail on them and head for greener pastures.
He may never justify the Blazers' pick, and sports are a business, but taking the money and trying his best to finish what he started is a brilliant move.
That word "bust" still hangs over his head, and Oden never gave Portland fans what they expected. That may not change after this season, but giving it a try and getting paid $8.9 million to do so makes this decision too easy for Oden.