Jamie Squire/Getty Images
December 8, 2011
The Los Angeles Angels swooped into the Albert Pujols sweepstakes and stole away the best hitter in baseball with a 10-year, $250 million deal, according to Buster Olney of ESPN.
Pujols turned down the Marlins' monster offer and ditched the chance to repeat with the Cardinals and the allure that came along with Theo Epstein and the Cubs.
With the Dodgers in a state turmoil, the Angels have a chance to take a giant leap in their conquest to break up the baseball monopoly in LA.
This move expedites that pursuit. This is a high-risk move that shows that the Angels are willing to go to drastic measures to get their team back in contention and put Angels baseball on the map over the next decade.
Twitter has erupted in the wake of Pujols' quarter of a billion dollar deal. Here are some of the most memorable Tweets of the day. 
Update: Thursday, December 8th at 10:42 a.m. EST
People love to gripe about the ridiculous contracts pro athletes makes. The Big Lead's Jason McIntyre points to how minuscule the problematic NBA contracts seem after this deal.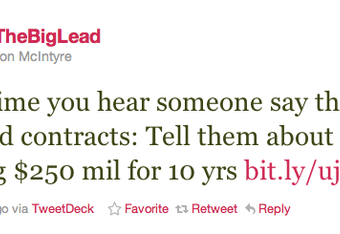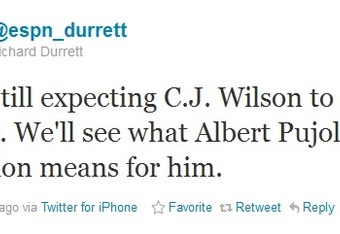 Update: Thursday, December 8th at 10:37 a.m. EST
ESPN's Richard Durrett says C.J. Wilson is expected to decide his future today. How will this whale of a deal impact the rest of the league?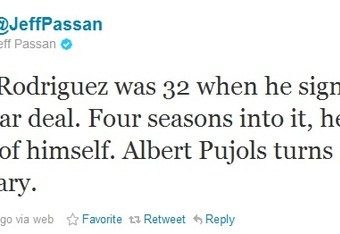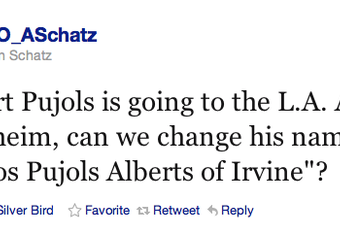 Update: Thursday, December 8th at 10:33 a.m. EST
Yahoo!'s Jeff Passan points to the risk of signing a decade-long deal, pointing to Alex Rodriguez' rapid regression compared to where he was when he inked his. When will Pujols decline?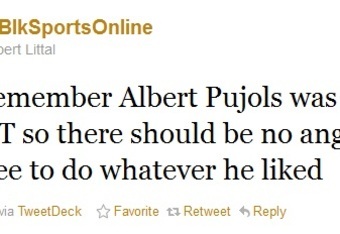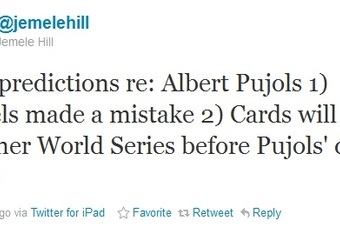 Update: Thursday, December 8th at 10:24 a.m. EST
Football Outsiders Aaron Schatz inquires about the possibility of a name change upon landing the Pujols.

Update: Thursday, December 8th at 10:20 a.m. EST
Black Sports Online's Robert Littal points to the fact that Pujols was a free agent, therefor any angst he encounters would be unwarranted. He spared himself a great deal of harsh criticism by not torching the Cardinals on live TV with his "decision".
Update: Thursday, December 8th at 10:15 a.m. EST
ESPN's Jemele Hill thinks the Angels are making a big mistake. Will the high-risk move come back to bite the Angels?
Check back for updates as Twitter reacts to Albert Pujols heading to the Angels.
Like the new article format? Send us feedback!