College Basketball: Iona Gaels Win "Mile High" Overtime Thriller
December 8, 2011
Many New York viewers gave up on Iona's late game Wednesday night from Denver, when the Pioneers  took a 61-48 lead on Brian Stafford jumper with 11:43 left in the second half. 
Iona leading scorer Mike Glover picked up his third foul with 8:03 left in the first half, followed by a 9-0 Pioneer run.
Denver challenged the passing lanes that point guard Scott Machado usually finds so productive.  It looked like a long night in the middle of month long road trip. Iona trailed 43-32 at the half,
The second half proceed with more of the same.  Mike Glover committed his fourth foul with 12:11 left and Iona trailing 59-48.  It looked like the end of the night for Iona. 
Then it turned around.
Iona coach Tim Cluess put in a small line-up with two seniors 5-11 guard Jermel Jenkins, and 6-5 forward Randy Dezouvre, joining starters 6-4 junior Kyle Smyth, and guards Scott Machado, and Lamont Jones.  Basically a line-up of three guards and two small forwards. 
The small line-up and veteran experience worked!
Kyle Smyth knocked down a three.  Machado drove inside for two.  Lamont "Momo" Jones makes two lay-ups and a free throw.  Randy Dezouvre makes a couple of inside two pointers.
All of a sudden the Gaels went on a 16 to 7 run, it is a four point game 68-64 with 7:15 left!
Down the stretch, Iona applied full court pressure to the young Denver team.  Smyth made another three.  "Momo" Jones turned a jumper into a three point play.  Machado made a lay-up to make it a two point game with 74-72 with 1:55 left.  Glover came back into the game.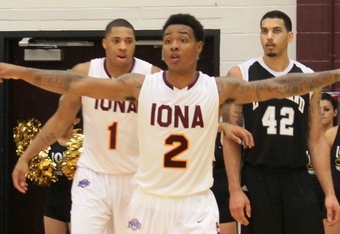 After a Denver turnover, Mike Glover was fouled and made two key free throws to finally tie the game at 74 all 1:12 left.  After a missed Pioneer jumper by Stafford, Iona set-up for a last shot.
"Momo" Jones forced an off balance shot that missed giving Denver a chance with seven seconds left.  A drive to the basket by Brian Stafford resulted in a turnover when the crowd was calling for a foul on Mike Glover.
The game went into overtime. 
Iona scored four on inside plays by Glover and Machado.  Denver's Brett Olson scored two on a lay-up then with 19 seconds left Denver's Chris Udofia made two free throws after being fouled by Dezouvre.
Just 19 seconds left in OT and tie score.
Iona's Machado plays for last shot and drives the lane but is blocked from the basket. Iona's veteran point guard looks to the top of the key, sees and passes to the open Randy Dezouvre. 
Dezouvre then had a moment basketball players train for, dream about, practice for every day of their lives. Iona is playing on the road in a $70 million arena, in front of 5,886 fans, in what amounted to a nationally televised game with cable networks all over the country showing this battle of top mid-major college basketball teams.  Seedings in the NCAA tournament could hang in the balance.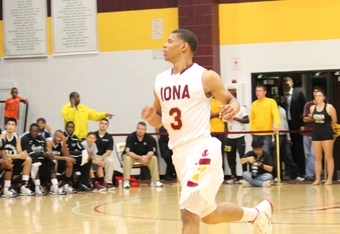 The senior from Montreal, Canada had played two years of college ball at Monroe College in the Bronx. and averaged eight minutes and eight points per game last year for the Gaels.  A strong role playing back-up player.
In a move practiced in gyms and playgrounds thousands of times, Dezouvre catches the ball beyond the free throw line, and in one move, shoots and drains the game winning jumper.  The Gaels win 80-78, their seventh win in a row and second in overtime on the season.
"Momo" Jones starting to find his role as the two guard in Iona's offense contributing a game high 21 points. 
Scott Machado was frustrated much of the night with the Denver defense that tried to cut off his normal passing plays, had just six assists.  Machado did have 19 points on 7 of 15 from the field including a pair of threes.  The Iona point guard withstood a second half shot to the mid-section while trying to draw a charge that had him bent over recovering for several minutes.
Mike Glover was slowed by an aggressive Denver defense, the first half technical foul, and a shot to his hip suffered on defense that limited him to 24 minutes of playing time. 
Kyle Smyth contributed a pair of key second half  three point shots.  Dezouvre made eight points and two steals.in twenty minutes of play and what may be his most memorable college basketball moment.  
The night will be long remembered for the huge come from behind win that showed the team has determination and heart.  Iona is now 7-1 on the year, their only loss an opening game last second defeat to Purdue in the Puerto Rico tournament.  This win will be remembered in March when the NCAA seedings are developed. It could generate votes for Iona on the AP Top 25 poll.
Coach Tim Cluess will now take his team to Huntington, West Virginia on Sunday afternoon to play Marshall. This will be game four of an eight game December road trip.  After Sunday the Gaels have road games left this month Wednesday at Richmond, next Saturday at Vermont, and the following Wednesday at William & Mary.  After Christmas they go to long Island to play Hofstra.
If the Gaels continue to win on the road, by the end of the month they could be in the AP Top 25 Poll.
Ken Kraetzer covers Iona basketball and West Point football for WVOX 1460 AM in New Rochelle, NY and Sons of the American Legion Radio.  Following Ken on Twitter at SAL50NYRADIO.