Peyton Manning Voted MVP by NFL Magazine Is a Slap in the Face to All Players
December 8, 2011
Andy Lyons/Getty Images
The league-run NFL Magazine premiered this week with an article entitled: "Our Man Manning. Without even playing a down, Peyton's proven he's the NFL MVP." (via LA Times.)
The LA Times also quoted publisher and editor-in-chief of NFL Magazine, Mike Dunphy, as saying:
"Look, we all know who would win if we took a poll right now. Aaron Rodgers would absolutely kill it. But if the Colts end up going the way they're headed, the more it proves that Peyton really is the franchise ... Is he really the MVP? Everybody has an opinion on that, and this is ours."
Everyone is entitled to their own opinion, but this is pure stupidity and legitimately wrong.
It is one thing to discuss how important Manning is to the Colts organization—until this season he had never missed a game in his career and the Colts had been to the postseason nine straight times. They won the division in seven of those nine years, went to two Super Bowls and Manning won the AP MVP award four separate times. But it is another thing to place his value over players who are actually on the field.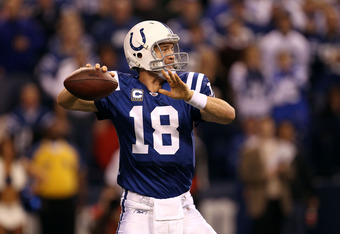 Jonathan Daniel/Getty Images
There is no denying that he was the most valuable player in the league to his particular team in the last decade.
As we sit back and watch the Colts drown without him, it is eye opening to realize how bad they really are. But Peyton doesn't play defense. He can't help the league's 30th ranked rush defense shut down a 3rd-and-1. He can't drop in coverage, pick off a pass or tackle a player streaking down the sideline. He plays one position in one phase of a three phase game that he isn't even playing right now.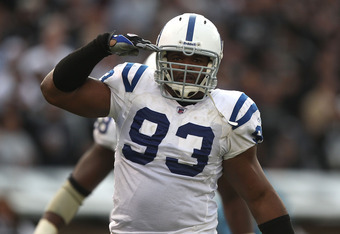 Jed Jacobsohn/Getty Images
To award the league's Most Valuable Player award to a guy who isn't on the field is a slap in the face of the Indianapolis Colts players and everyone else in the league.
There is no imagining how disgusted the Colts players must feel reading or hearing about this. They're the ones who are playing on Sundays, not Peyton.
We can't forget to mention the rest of the league either.
Take Chicago running back Matt Forte for example. The guy has been busting his hump without a new contract week in and week out and is now banged up with an injury and possibly no postseason to show for it.
Or Tim Tebow, a guy who has helped turn around a Broncos organization that won only four games last season. Say what you want about the Broncos defense and Tebow's orthodox playing style, quarterbacks are ultimately judged on winning and Tebow is doing just that.
And, of course, Aaron Rodgers. The guy is on pace to tie or break Tom Brady's touchdown record, Peyton Manning's QB rating record, Drew Brees' completion percentage record and Dan Marino's passing yards record (four QBs may actually break the mark this season). He's also doing the most important thing: playing and winning.
NFL Magazine obviously wanted to make a splash in their inaugural issue. They did, but in the wrong way.
Manning is a brilliant player and deserves all the credit in the world for what he's done for the Indianapolis Colts when he is on the field.
But there is no substitute for playing. You don't get awards and accolades when you can't suit up.
The players that take the field every Sunday and put their health, season and career on the line with every given snap deserve to be rewarded for that.
This is an embarrassing display by NFL Magazine.