Why Dolphins Won't Complain About Taking Barkley, Griffin Instead of Luck
December 8, 2011
Sarah Glenn/Getty Images
Four games are left in the 2011 NFL season, and the Miami Dolphins have been playing their best football the last five weeks going 4-1 since starting 0-7. 
The upside? Miami is winning, and they're winning big, outscoring their opponents 119-54 and in their four wins have an average victory margin of 21.5. Simply put, this team has looked like world beaters in the last five weeks. 
The downside? They've gone from having an great shot at drafting Andrew Luck to having an outside shot, to having a tiny minuscule shot, to having no shot at all. 
This isn't much of a downside though, because based off of their recent performance, Sparano might keep his job, meaning not too much will change and they'll have a lower pick that could fit in better in Miami. 
If Andrew Luck gets drafted by the Dolphins, he'd beat out Matt Moore for the starting job. On paper, this is a great thing as congratulations, we have our quarterback for the next 12 years starting right away. But on the field it could actually cause some ugliness.
This isn't like Andrew Luck replacing Chad Henne where the players will likely side with Luck; he'll be replacing someone in Matt Moore who has commanded the player's respect and who the players would likely want to see start the season to at least get a chance due to his and the team's performance. 
Yes, I'm saying Luck could possibly wind up killing the team chemistry that has been built in the last five games, and only because my gut feeling tells me that unless Miami drops their last four, Sparano will be Miami's head coach in 2012. 
(By the way, if they do drop their last four games, consider every argument made in this article, hell, consider the article itself a moot point; you know like with my embarrassing season preview which would've been correct had I replaced the name "Chad Henne" with "Matt Moore".)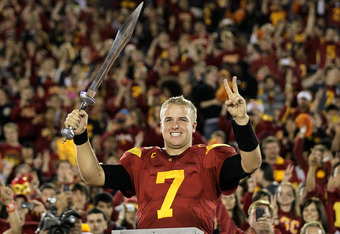 Stephen Dunn/Getty Images
Instead Miami can now afford to draft a quarterback that could not only afford to sit on the bench for anywhere between eight to 16 games, but would be enhanced by the experience as Matt Moore leads the team. 
Matt Barkley looks great at USC, but I'm not 100 percent sure he'd be ready to parachute onto an NFL training facility, get handed the playbook, then be ready by Sept. 9 (possibly the NFL's opening Sunday since it falls the first Sunday after Labor Day which is the traditional first NFL Sunday). 
Barkley strikes me more as a system guy who has a ton of talent surrounding him at USC. That doesn't mean I think he'll be a bust; quite the opposite, I think he'll be fantastic. But as a system guy he's going to need time to learn a new system.
Miami would be perfect for him in that aspect with Moore under center to start off the season, then either when the Dolphins are out of contention (which might not be until after Week 17 because the Dolphins tentative 2012 schedule looks like one of their easiest in recent memory). 
Then there's the most intriguing name on the board: my vote for Heisman Trophy winner (if I had a vote) Robert Griffin III. 
To me RG3 is more NFL ready than Barkley. He can read the field well and has some zip to the ball, plus he has athleticism that makes Michael Vick look like Dan Marino or Philip Rivers in the pocket. Griffin is a rare breed because he's somehow a contradiction: raw, but at the same time polished enough. 
One year on the bench behind Moore would certainly help RG3, but the Dolphins would still be in good shape if Griffin were starting from day one. 
Either way, the Dolphins are still in a good position to land either of those quarterbacks. The only teams who identify a need at the position ahead of them are the Tankianapolis Colts (we know who they're drafting already), the Washington Redskins (more likely to sign Matt Flynn then draft a quarterback) and quite possibly the Cleveland Browns (for now they draft behind Miami due to their win in Week 3, but that's subject to change). 
I was as much on board with getting Luck as anyone, but it's easier to just let go of that now. Trading up for him is stupid as there are many holes on this team and enough good quarterbacks available in the draft to be able to stand pat at the pick and wait. 
And with Moore playing how he's playing, the Dolphins can afford to have their quarterback of the future sit out a season to learn how the NFL works so that he may be better prepared when his time comes to be Miami's starting quarterback.