MLB Offseason: Detroit Tigers Involved in All the Right Rumors
December 8, 2011
Doug Benc/Getty Images
Big, loud, brash proclamations. Reckless disregard for payroll. Little foresight for the future. Where the Miami Marlins are now, the Tigers have been before.
Granted, they've never been in it as deep as the Marlins currently are, but enormous moves to sign Pudge Rodriguez and Magglio Ordonez—coupled with farm-system-crippling trades for Miguel Cabrera, Dontrelle Willis, Austin Jackson and Max Scherzer—remind me of this Marlins offseason, except that all the massive moves are happening in a shorter time span.
The Marlins, of course, are trying to revive their moribund franchise by pumping it with 100,000 volts of free-agency energy. It started out well with the signings of Jose Reyes and Mark Buerhle, but they're starting to miss out on the names now as Albert Pujols and C.J. Wilson have bolted for the sunny beaches of California.
The Tigers have been more methodical in their rebirth. 
They've continued to add pieces over the last half-decade and have rebuilt through the draft (Justin Verlander, Rick Porcello, Brennan Boesch, Alex Avila), trades (Cabrera, Jackson, Scherzer) and strong free-agent signings (Victor Martinez, Jose Valverde, Joaquin Benoit).
Now, there have been failures (hello, Edgar Renteria), but when spread out over several years, the failed moves weren't as devastating. The Tigers still managed to remain competitive, ultimately replacing enough missing pieces to become one of the best teams in the American League.
In a year that saw Detroit coming off an ALCS appearance, the Tigers don't figure to slip much—if at all—in 2012.
Their core starters (Verlander, Doug Fister, Max Scherzer, Rick Porcello) are all young and under contract—key members of an offense that ranked fourth in baseball. The back of the bullpen is extremely strong and experienced, and a couple of bad contracts are coming off the record in Magglio Ordonez and Carlos Guillen.
Thus far, they've only made a couple of minor moves: re-signing valuable utility infielder Ramon Santiago and bringing back Gerald "Please Just Make Contact" Laird—luckily, just to back-up Alex Avila.
Despite the lack of moves, the Tigers have had a strong offseason, and they've been involved in several of the right names.
After declining to pursue a long-term deal on the aging Buehrle, they kicked the tires on Gio Gonzalez but determined that their top two prospects and a name like Boesch was far too pricey for a guy with a 1.41 career WHIP; one that will probably end up being more like Dontrelle Willis than Randy Johnson when all is said and done.
They were involved in discussions with former A's outfielder Josh Willingham, but apparently realized that his price tag is too high when they might have his offensive (and terrible defensive) equivalent under their control now—Delmon Young.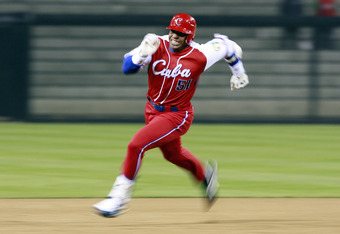 Jeff Bottari/Getty Images
Despite a strong bat, they inquired but weren't willing to get in a bidding war for the 33-year-old, defensive-lacking third baseman, Aramis Ramirez. 
A several-year deal makes no sense when they believe that minor-leaguer Nick Castellanos is only a year or two away from being ready to take over the full-time gig at third.
They've scouted Cuban defector Yoennis Cespedes heavily and could be the front-runners for him. Seen as a can't miss, five-tool player, Cespedes has yet to face major-league pitching.
He'll cost any team that signs him, but less than the Red Sox, Nationals and White Sox paid for their free-agent flops last year, and his upside makes the risk very intriguing.
Finally, they seem to have acquired the best reliever in free agency who won't demand to be a set-up man or closer: Octavio Dotel. 
Incredibly consistent and experienced, the 38-year-old Dotel is a guy who will bridge the immense gap between the starters and Benoit and Valverde. In fact, I think I could make a compelling argument that the ALCS ends up differently if Dotel were on the team.
The moves to get Velverde two years ago, Benoit last year and Dotel this year is further evidence that the Tigers have been eventually building a team of contenders rather than hoping one appears overnight.
While the Tigers' quiet offseason isn't entertaining fans much, it's a sign that this organization has taken that next step. No longer in rebuild mode, and with a couple of unexciting tweaks, the team should be contenders for the foreseeable future.
Follow me on twitter.