Big East Realignment Not About Maintaining Automatic BCS Bid
December 8, 2011
Otto Kitsinger III/Getty Images
It is rather humorous to see fans argue about whether the "new Big East" should keep their status as an automatic BCS bowl conference.
Attention fans: this realignment is not about the current BCS system.
The Big East's decision to introduce Boise State, San Diego State, Houston, SMU and Central Florida to the conference isn't about trying to keep an automatic bid to one of the yearly BCS matchups. Though this movie will accomplish that in the short run, this decision was made with long-term interests in mind.
A conference that is represented at nearly every corner of the United States simply means that a change to the college football system that the majority of fans have long awaited is certainly on its way, and on its way in the near future.
Schools and conferences are preparing for a playoff in college football.
It is shaping up to be a win-win deal for everyone. Schools such as Boise State finally get the chance to say that they have joined a major conference (at least while that remains a relevant argument).
Schools such as San Diego State can say the same, but won't burden their underfunded sports teams by making them travel across the country on a weekly basis to play teams from New Jersey and Connecticut.
The Big East wins as well, because the addition of respected mid-major programs such as Boise State and Houston means that the conference will likely be one of the drains that other teams looking to make it to the party will look to drip into once things really start to fall into place.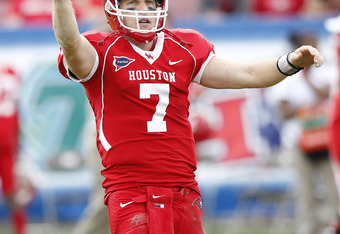 Bob Levey/Getty Images
How else could this possibly work? Taking a look at what will be the conference layout starting in 2014, it seems that there are essentially six conferences with relevant teams. Relevant teams being those that have had even a sniff of a BCS bid or national title hopes during the BCS reign.
The major conferences are gobbling up anyone who is anyone in college football, regardless of geographic location. The message is "if you want it, get in. But you better do it quick." You have been warned, Notre Dame.
By 2014, the ACC, Big East, Big Ten, Big 12, Pac-12 and SEC will all have enough teams for two divisions and a conference championship game. The only reason for a conference championship game is to crown a champion that will be sent off to a playoff.
Why would you risk handing a loss to potentially your best team in the current system that penalizes losing so heavily? Obviously you wouldn't. The conference title games are yet another sign of preparation for the future.
But why teams like Central Florida and SMU?
Look around. Everyone is joining one of the six power conferences. Any team with tradition, any team on the rise, and any team with a particularly savvy athletic director will get into one some way.
Remember that Mountain West and Conference USA announcement that the two conferences would combine in 2013 to form the first "mega-conference" with between 20 and 24 teams? By 2013, less than half the teams will be left.
It was a fun idea, but the major conferences had other plans, and the top Mountain West and Conference USA teams were in those plans. So are the best WAC teams, MAC teams, and one or two Sun Belt schools.
With their recent announcement, the Big East has pretty much assured that they will be one of those "major conferences."
People can criticize Boise State for bemoaning the BCS then seemingly "joining the dark side." People can criticize San Diego State for agreeing to join a conference in which they have no business being in based on their location.
People can do this, but they would just be wasting their time.
Welcome to the present, college football fans, where every realignment decision is in the best interest of where we're headed, not where we're at.