Pinstripe Bowl 2011: Complete Preview for Rutgers vs. Iowa State
December 8, 2011
Chris McGrath/Getty Images
The 2011 calendar year will nearly be over when Rutgers faces off against Iowa State in the second annual New Era Pinstripe Bowl. This game pits two relatively evenly-matched—although mediocre—teams against one another, but that's not to say the game won't be well-attended.
Or well-viewed.
Let's face it: during bowl season, you'll watch any game. (Especially since this one will give you an excuse to leave the office a few hours early.)
Rutgers comes into this game at 8-4 overall, 4-3 in the Big East. By comparison, Iowa State ended its regular season at 6-6 overall, with a 3-6 Big 12 conference record.
The fact that the game will be played at Yankee Stadium adds a certain flair to the proceedings—the New York media market has a way of bringing out the dramatic in any game, as it did in last year's edition of the Pinstripe Bowl.
Both Rutgers and Iowa State will come into this game looking to earn respect and avenge late-season losses. Motivation will be high—playing under the bright lights of the big city will provide an exciting atmosphere for fans and players alike.
Where: Yankee Stadium, Bronx, NY
When: Friday Dec. 30th, 3:20 p.m. EST
Patrick McDermott/Getty Images
Watch: ESPN, ESPN3
Listen: ESPN Radio
Key Storyline: Home-field advantage
With the game being played at Yankee Stadium, Rutgers will likely enjoy more fan support in the Bronx. All Scarlet Knights fans have to do is drive up the New Jersey Turnpike and cross the Hudson River by way of the George Washington Bridge.
Besides, does Iowa State strike you as a football program that travels particularly well?
Expect lots of red apparel in the stands at kickoff, but it will be that shade of red worn by the "visiting" team. Even the classification of Rutgers as the visitor seems ironic.
With the Piscataway, NJ campus only 50 miles away, Rutgers fans will be tailgating long before the Cyclones fans finish the 1,138-mile journey from Ames, IA.
Who Might Not Play For Rutgers: Savon Huggins
True freshman running back Savon Huggins suffered a knee injury in the game against South Florida on Nov. 5. According to Rutgers head coach Greg Schiano, Huggins might be available to play in the bowl game, but nothing is certain regarding his status.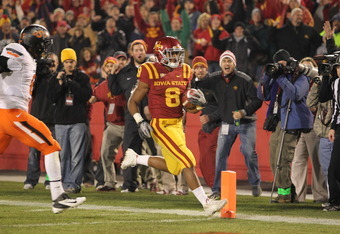 Reese Strickland/Getty Images
Who Might Not Play For Iowa State: James White
The workhorse of the Iowa State offense at running back, James White, is currently listed as probable for the bowl game despite his injured shoulder. White suffered the injury in last Saturday's game against Kansas State, leaving the rushing duties to the combination backfield of Jeff Woody and Duran Hollis.
What It Means For Rutgers: Rutgers has struggled to find their running game all season—having Huggins back for the bowl game would be a boost. Huggins did have five touchdowns on the season before his injury.
What It Means For Iowa State: The good news for the Cyclones is that White is more likely to play than he is to sit. And by no means should that be understated—it's very good news for Iowa State fans. White is the team's leading rusher and will provide stability on the ground for the Cyclones.
What They're Saying: Both coaches seem enthusiastic about the opportunity to play in this game—even if they're only saying so because their respective athletic directors and university presidents told them to.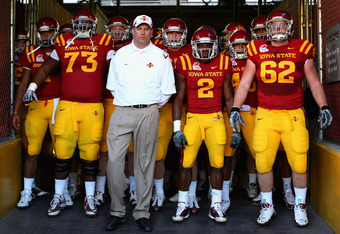 Christian Petersen/Getty Images
Rutgers head coach Greg Schiano told reporters, "It is a terrific situation when you can play your bowl game in the greatest city in the world." I'm sure his team—more so than Iowa State—is looking forward to playing in New York City, if only for the opportunity to play in front of hometown family and friends.
Not to be outdone, Iowa State head coach Paul Rhoades gave his take on being invited east: "We are thrilled to have the chance to extend our season with a bowl trip to New York City. Every year we start with a goal of winning a bowl game, and we'll have the opportunity in the New Era Pinstripe Bowl against an outstanding Rutgers team."
It sounds like Rhoads will have his team prepared, knowing the Cyclones will likely be underdogs at kickoff. Playing up Rutgers' status as the favorite might turn out to be a solid pregame tactic.
Touché, Mr. Rhoads. Touché.
Rutgers Player To Watch: Mohamed Sanu
It's no secret that star wide receiver Mohamed Sanu will draw most of the attention from the Iowa State defense—his 109 receptions this season were good enough to set the Big East conference record.
Sanu totaled 1,144 receiving yards and seven touchdowns this year, and has recorded at least two receptions in every game so far. Needless to say, the Cyclones will have to stop—or at least slow down—the junior wide receiver if they want to keep Rutgers out of the end zone.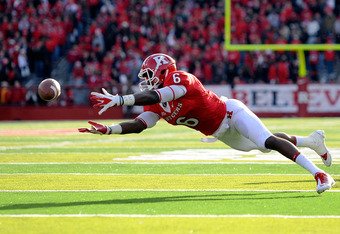 Patrick McDermott/Getty Images
Don't expect Sanu to be taken out of the game easily though, as he's faced the opposition's best defenders all season long.
Iowa State Player To Watch: Jeff Woody
Running back Jeff Woody was the main reason the Cyclones almost managed to pull off an upset of Kansas State in their final regular-season game—look for him to make an impact against Rutgers in the Pinstripe Bowl, especially with James White nursing a shoulder injury.
Woody is Iowa State's third-leading rusher in terms of yardage gained, but his five rushing touchdowns rank him second among the team's running backs. Rutgers will have to key in on him in short-yardage and goal-line situations.
And if his statistics don't grab your attention, this quote from Woody after last Saturday's game against Kansas State might do it: "K-State was only favored in four games and they won 10. We were favored in two and we won six, so we're tremendously similar teams."
(You have to love a player who knows what the spreads are.)
Key Matchup: Yankee Stadium vs. the Rutgers and Iowa State players
Although it's not "The House That Ruth Built," the new Yankee Stadium still has the power to draw the attention of the players on the field. It'll be up to the respective coaching staffs to make sure their teams are focused on the task at hand, rather than pausing to look around at the stadium's dugouts and storied frieze.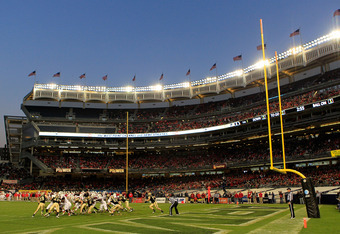 Chris Trotman/Getty Images
Rutgers might have the edge in this matchup—they've already played a game at Yankee Stadium this year and will know what to expect from the venue.
Watch the players on the sidelines to see if they're fully invested in the game, or if their main concern is imagining what it would be like to play center field for the New York Yankees.
Prediction: Rutgers 23, Iowa State 21
Look for the energy of the home crowd to be on full display, as it urges Sanu and Rutgers on to the narrowest of victories over Iowa State.
In similar fashion to last year's exciting finish between Kansas State and Syracuse, this year's New Era Pinstripe Bowl will be a close contest. Despite Iowa State's best efforts to keep the ball away from him, Mohamed Sanu will have a big day, culminating with his game-winning touchdown catch on the game's final play.