Tampa Bay Rays: B.J. Upton Trade Will Likely Not Bring Back Enough in Return
December 7, 2011
Al Messerschmidt/Getty Images
B.J. Upton is worth more than he could likely be traded for.
As the hot stove, trade speculation is charging ahead at full speed as it is time to talk about Tampa Bay Rays outfielder B.J. Upton. Upton's name is constantly brought up whenever discussing possible trades and since he will be a free agent after 2012, it is now or never for the team to move him. I will examine his value to the team, what they will likely receive in compensation and even look at one prospect I believe would fill a void on the roster.
B.J. Upton will likely be playing for a team other than the Tampa Bay Rays  next season. The outfielder that every Rays fan loves to hate or hates to love will likely be traded for less than his true value.
It's a shame that the team will lose its starting center fielder due to the fact that he has outperformed the team's fiscal policy. With Upton heading into his final arbitration season he will likely earn much more than the $4.83 million salary he received in 2011.
Since the team approaches free agency and trades with a clearance bargain bin mentality, you can expect some AAA prospects at best in exchange for Upton. The problem that presents is that this team with Upton has the core to continue competing for the AL East pennant. You cannot replace him with a prospect that isn't instantly ready to play on the major league level.
It is crazy to think Upton's 23 home runs, 81 RBI and 36 stolen bases means he will be too expensive to retain and would likely be traded for prospects.
Prospects?
We're not talking about major league ready players, we are talking about prospects. This team is seriously about to replace the man that was second on the team in both home runs and runs scored, and third in RBI with some unproven prospects.
Now that I'm done channeling my inner Allen Iverson, there is one possible prospect that could make a difference in a trade. That would be catcher Yasmani Grandal from the Cincinnati Reds. He is the best major league catching prospect they could realistically acquire since the Reds currently have three prospects at that position.
The Reds drafted him 12th overall in the June 2010 draft. He was playing for the Phoenix Desert Dogs in the Arizona Fall League but an injured finger will sideline him for the remainder of the season.
Even if the Rays could land a quality catcher or a shortstop prospect, there will still be a gaping hole in the defense created by Upton's departure.
There are some that think that simply moving Desmond Jennings to center field will be enough to fill the void created by Upton's departure, but that simply is not true. Sure, Jennings could replace Upton, but that would leave nobody in left field.
Sam Fuld, as great a person and as exciting as he plays, is just not an everyday major league outfielder. It also leaves the team with minimal depth in the outfield in the event a player gets injured, has a slump or just needs a day off.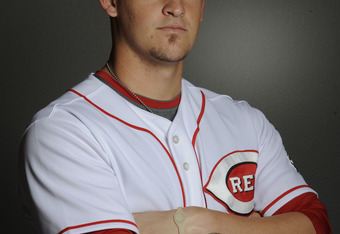 Rob Tringali/Getty Images
In a normal situation I would argue to at least keep Upton through the beginning of the season and move him closer to the trading deadline. However, since he will be a free agent after 2012, his value will only decrease after the offseason so the time to move him is now if the plan is to trade him.
Currently there are numerous potential suitors for Upton, teams that think they are a few pieces away from competing. As the season progresses and teams start falling behind, they will be less inclined to trade for a player that will be a free agent immediately following the season.  
Hopefully the team will get enough value in return for Upton I just don't see how.
Let the offseason version of "Upton Watch" begin.
Jamal Wilburg is a Featured Columnist for Bleacher Report.
Follow him on twitter @JWilburg or visit his website www.jamalwilburg.com