Week 14 Fantasy Rankings: Every QB Ranked with Analysis on the Top 10 Plays
December 7, 2011
Figuring out who the best quarterback plays are from week to week is a little easier than doing so for running backs or wide receivers, but by no means is it simple. With some of the league's top players injured and a few inter-division rivalries to consider, Week 14 is certainly no walk in the park.
That's why those of us in the fantasy industry put together these lists—to give the reader a gauge of what to expect from their players on any given Sunday.
With that, here are the weekend's top 32 quarterbacks along with some detailed analysis on the 10 best plays for the week:
32.       Tyler Palko (@ NYJ)
31.       T.J. Yates (@ Cin)
30.       Blaine Gabbert (vs. TB)
29.       Dan Orlovsky (@ Bal)
28.       Colt McCoy (@ Pit – Thursday Night)
27.       Sam Bradford (@ Sea – Monday Night) - QUESTIONABLE TO PLAY
26.       Caleb Hanie (@ Den)
25.       Tarvaris Jackson (vs. STL – Monday Night)
24.       Alex Smith (@ Ari)
23.       Josh Freeman (@ Jax) - QUESTIONABLE TO PLAY
22.       Christian Ponder (@ Det) - QUESTIONABLE TO PLAY
21.       Kevin Kolb (vs. SF)
20.       Matt Hasselbeck (vs. NO)
19.       Andy Dalton (vs. Hou)
18.       Joe Flacco (vs. Ind)
17.       Mark Sanchez (vs. KC)
16.       Matt Moore (vs. Phi)
15.       Rex Grossman (vs. NE)
14.       Ryan Fitzpatrick (@ SD)
13.       Matt Ryan (@ Car)
12.       Ben Roethlisberger (vs. Cle – Thursday Night)
11.       Tim Tebow (vs. Chi)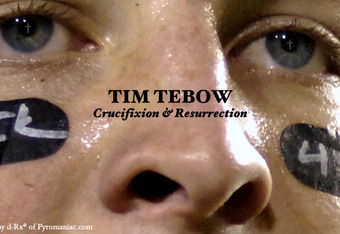 THE TOP TEN
10. Michael Vick (@ Mia)
Michael Vick is back, and none too soon for fantasy owners who were depending on him for their fantasy playoffs.
Will he be a little bit rusty? More than likely, yes, but even a rusty Michael Vick is more athletic and lethal than most of the QBs in the game. Just because he's been out a few weeks doesn't mean we should forget that Vick still ranks among the top guys in fantasy points per game.
The Miami team he'll be facing is actually one of the hotter teams in the league right now, especially on the defensive side of the ball. That said, they've also allowed seven different quarterbacks to toss two or more TDs against them this year, so hot or not—they can still be had for some decent fantasy points.
If Tim Tebow can put up 20-plus fantasy points against them (back in Week 7), Vick should be able to as well.
9. Carson Palmer (@ GB)
Palmer has had a little bit of trouble getting himself into a groove as of late, but with the amount of injuries the Raiders have had at wide receiver, his recent slide is certainly understandable.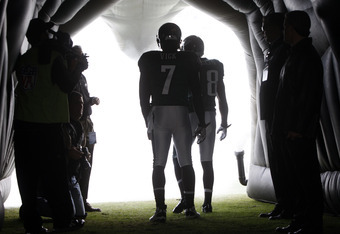 Rich Schultz/Getty Images
This week, however, he has a couple of things going for him.
First, there's a better than average chance that either Denarius Moore or Jacoby Ford, or maybe even both make it back onto the field this Sunday.
Second, the Raiders are playing a Packers team that has allowed the most fantasy points to opposing quarterbacks in 2011.
Combine those two little nuggets with the fact that Palmer will likely have to toss the ball 40-45 times if they want a shot to win this game, and you're looking at a nice little turnaround for Carson this weekend.
8. Philip Rivers (vs. Buf)
Rivers finally seems to be hitting his stride putting up 19 or more fantasy points in four of his last five games while tossing zero interceptions in his last two.
With WR Malcom Floyd's return from injury last weekend against the Jags, the Chargers' receiving corps became that much more lethal considering the ascension of rookie Vincent Brown along with the continued improvement of Antonio Gates' mobility.
Playing at home against a Buffalo team that has given up three or more passing TDs in three of their last four games, Rivers should have no problem continuing his recent hot streak.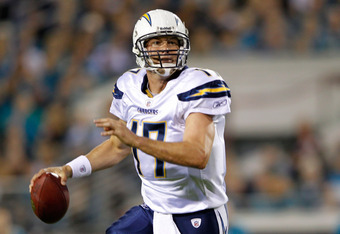 Mike Ehrmann/Getty Images
7. Cam Newton (vs. Atl)
Last weekend was a perfect example of why Cam Newton needs to be in your starting lineup each and every week.
I mean, how often do you see a quarterback throw for just 200 yards and one touchdown, yet put up the most fantasy points during a week in which four other QBs throw for 340-plus yards with three or more TDs?
NEVER would be the correct answer here.
Cam has already faced Atlanta once in his rookie campaign and had one of his least explosive games of the year. However, I expect him to turn it around in this one with this being his first game playing back at home in nearly a month.
6. Tony Romo (vs. NYG – Sunday Night)
Tony Romo hasn't had the same amount of fantasy success/luck in this rivalry as Eli Manning has, as evidenced by the season-ending injury he suffered against them in Week 7 last year.
However, things like that can motivate a competitor like Romo more than us normal civilians realize, so you might actually consider his prior bad luck as a positive heading into this weekend.
With Miles Austin returning to an already lethal WR corps and the Giants allowing the sixth-most fantasy points to QBs this season, look for Romo to put up numbers similar to Manning's in what could end up being the game of the week.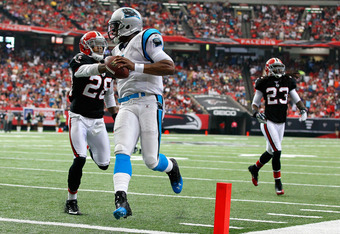 Kevin C. Cox/Getty Images
5. Eli Manning (@ Dal – Sunday Night)
Manning ripped apart the Dallas secondary last year averaging 339.5 yards and three touchdowns against in their two regular season games.
He also happens to be clicking with his receivers right now throwing for five touchdowns and 753 yards over the last two weekends.
The Cowboys have certainly stepped up their play on the defensive side of the ball this season, but in inter-divisional rivalries such as these, things like this are usually tossed out the window.
With that in mind, I expect this game to play out the way it has in their last five matchups, where the two teams combine to average almost 60 points a game between them.
With that amount of scoring, you can bet both Manning and Romo will account for a big part of it.
4. Tom Brady (@ Was)
The Redskins haven't allowed a 300-yard passer yet this season, but because the Stetson Man seems to thrive on such challenges, I expect Washington's streak to come to an end on Sunday—especially with the injuries they're dealing with on the defensive side of the ball.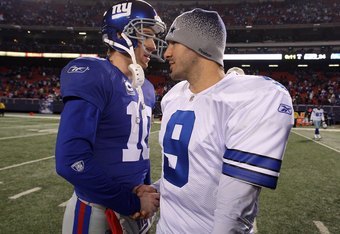 Jim McIsaac/Getty Images
Brady also happens to be a better fantasy quarterback on the road where he's averaged over 336 yards, three touchdowns and 26 fantasy points a game this season.
At this point of the season when the Patriots are gearing up for the playoffs, he's basically a no-brainer.
3. Drew Brees (@ Ten)
Coming off three straight games of putting up 320-plus yards while averaging three TDs, Drew Brees is the hottest quarterback in the NFL right now not named Aaron Rodgers, and might be the only man in the league able to steal an MVP vote from him once the season is over.
This week, the Saints travel to Tennessee to face a high-quality Titans defense that has allowed the sixth-fewest points in the NFL.
It certainly won't be easy for Brees with the Titans eyeing the playoffs and in need of a win, but because he's playing at such a high level right now, I'm not sure there's anything they can do about it.
2. Matthew Stafford (vs. Min)
The first time Stafford faced Minnesota this season, he threw for a whopping 378 yards on almost 70 percent passing with two TDs back in Week 3—and that was before the Vikings' secondary was completely decimated by injuries.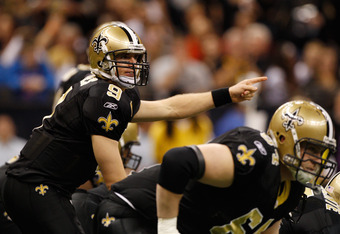 Chris Graythen/Getty Images
The Lions will be playing at home in this one where Stafford has averaged 267 yards and 2.5 touchdowns this year—numbers he should easily surpass against a Minnesota defense that has allowed the most TDs, sixth-most yards and third-most fantasy points in 2011.
1. Aaron Rodgers (vs. Oak)
If you were to double the amount of interceptions he's thrown and cut his touchdowns in half, Aaron Rodgers would STILL rank within the top 10 fantasy QBs this season.
That's how dominant the guy has been.
What's even scarier is that Rodgers' overall average numbers are better at home (317 yards, 3.4 TDs and 30.7 fantasy points per game), where the Packers have only played five times so far in 2011.
But of course, the most unnerving fact of all for owners playing against him this week is that he's facing an Oakland Raiders team that has allowed the fifth-most fantasy points to opposing QBs this season.
Pretty intimidating stuff, to say the least.
Click here to see the Rankings for RBs, WRs and TEs

Brought to you by pyromaniac.com
Listen and subscribe to our Pyro® Weekly Podcasts: http://pyromaniac.buzzsprout.com
Follow Pyro® on Twitter:  https://twitter.com/pyroman1ac
Follow Pyro® on Facebook:  http://www.facebook.com/pyromaniac