Lakers 2012 Schedule: Predicting Win-Loss for Los Angeles Through First 10 Games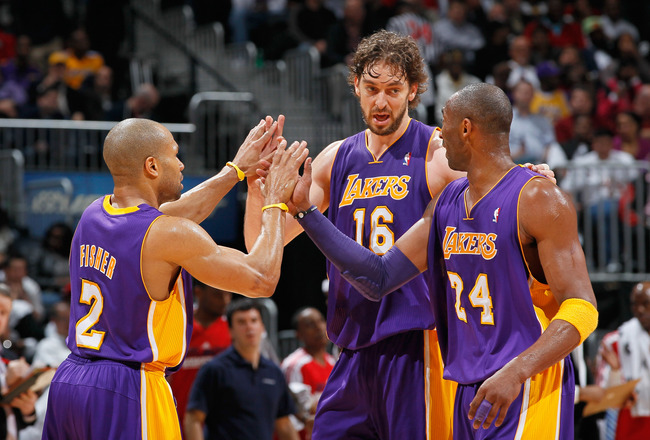 Kevin C. Cox/Getty Images
The last time we saw the Los Angeles Lakers, it was evident that they were in complete disarray. They had just been embarrassingly swept by the eventual world champions, the Dallas Mavericks.
Immediately, the basketball world rushed to criticize the team's old age and lackadaisical play.
This season, however, the Lakers have the opportunity to prove the doubters wrong under new coach Mike Brown.
In order for all to see that the Lakers are truly back and determined to win a title, the team must perform well early in the season, specifically in their first 10 regular season games.
Will they perform up to their maximum potential, or will they disappoint like they did last season?
Here, you will find out, as I predict the Lakers wins and losses in their first 10 games.
Note: All predictions were made based on the assumption that the Lakers maintain their current roster.
Los Angeles Lakers vs. Chicago Bulls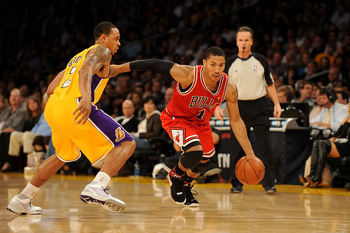 Harry How/Getty Images
The Los Angeles Lakers open their season against the Chicago Bulls on Christmas Day.
Undoubtedly, this will be a really, really great game.
The Chicago Bulls have one very big advantage: Derrick Rose. The Lakers don't have a point guard on their roster that can defend Rose effectively. While I expect Kobe Bryant to guard him for parts of the game, I still believe Rose will get to the rim pretty easily and have a monster game.
Although the Bulls have Rose as an advantage, the Lakers have advantages in many other places.
Pau Gasol is going to demonstrate why he was once the best power forward in the league. He will play very well offensively against a smaller Carlos Boozer.
In addition, I anticipate that Bryant will have a huge night. Like Gasol, Bryant will show why he's still one of the best in the world with his offensive and defensive presence.
The biggest advantage that the Lakers have is that game is in Los Angeles. The fans, after months without basketball, will passionately cheer the team.
Despite all of these advantages, the Lakers possess one major disadvantage: They won't have Andrew Bynum. Bynum is suspended for the first five games of the season due to his incident with J.J. Barea.
This, in addition to the fact the Lakers do not have any experience with new coach Mike Brown, is why I believe the Lakers will narrowly lose to a Bulls team that already has great chemistry.
Prediction: Loss (0-1)
Los Angeles Lakers at Sacramento Kings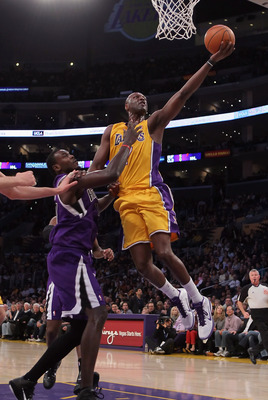 Jeff Gross/Getty Images
Even though this game is in Sacramento a day after an emotional Christmas day opener against the Bulls, the Lakers should win easily.
Even without Bynum, the Lakers experience and offensive and defensive superiority will trump Tyreke Evans, DeMarcus Cousins and the Sacramento Kings.
Prediction: Win (1-1)
Los Angeles Lakers vs. Utah Jazz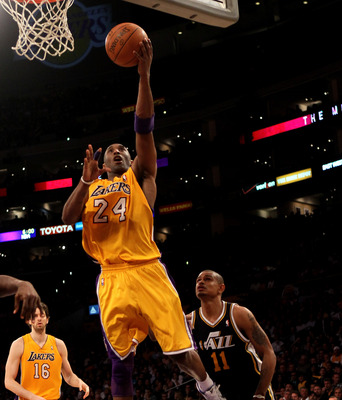 Stephen Dunn/Getty Images
The Lakers come back to the Staples Center to end a grueling stretch of three games in three days.
Clearly, the Lakers will be sore and tired.
The Utah Jazz, on the other hand, will have fresh legs, as this game will be their first of the season.
However, the Lakers—even without Bynum—are clearly the better team in every way, which is why they should definitely win.
Prediction: Win (2-1)
Los Angeles Lakers vs. New York Knicks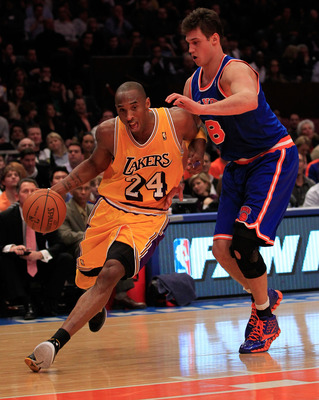 Chris Trotman/Getty Images
Kobe Bryant and Co. will play the New York Knicks in Los Angeles in a highly anticipated showdown.
The Big Three of New York, Carmelo Anthony, Amar'e Stoudemire and Chauncey Billups, will attempt to prove that they're truly contenders against the Lakers.
This will be the Knicks' second game in consecutive nights.
The Lakers, on the other hand, will be well rested.
Truly, this game will be almost purely offensive. I don't expect Mike Brown's defensive scheme to be able to stop such lethal offensive threats like Anthony and Stoudemire.
The Lakers' best offensive threats, Pau Gasol and Kobe Bryant, will have to keep up with Anthony and Stoudemire.
I think we all know that Bryant will have a magnificent game. He always lights it up against the Knicks.
So, the real X-factor will be Pau Gasol.
If Gasol can produce enough offensively in conjunction with Bryant, which I believe will happen, good things will definitely ensue.
In addition, the Lakers must win this game at home to prove themselves, especially after losing to the Bulls.
I'm confident that they'll find a way to do that.
Prediction: Win (3-1)
Los Angeles Lakers vs. Denver Nuggets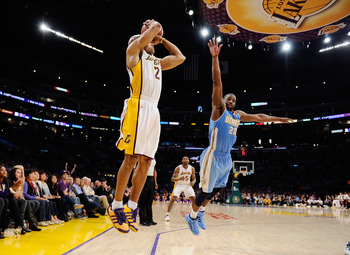 Kevork Djansezian/Getty Images
The Nuggets may be one of the worst teams in the league this year.
While they have a couple of good, young players in Danilo Gallinari and Ty Lawson, a few of their players—J.R. Smith, Wilson Chandler and Kenyon Martin—are overseas and cannot come back until March.
In addition, Arron Afflalo and Nene Hilario are free agents.
With all that said, the Nuggets will not be prepared for this game, even if they do add a couple of new pieces during free agency.
The Lakers, on the other hand, will be rested and at home in the Staples Center.
They shouldn't have that much trouble putting the Nuggets away, especially if Bryant and Gasol play well.
Prediction: Win (4-1)
Los Angeles Lakers at Denver Nuggets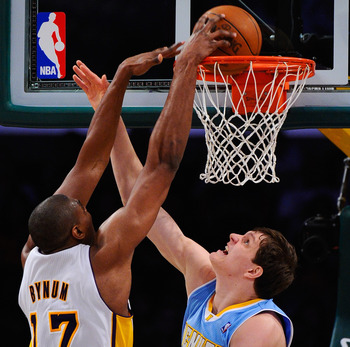 Kevork Djansezian/Getty Images
On New Year's Day, a day after playing the Nuggets at home, the Lakers play them in Denver.
Both teams will be tired after a night of traveling.
Nonetheless, I expect the Lakers to win this game pretty easily.
Andrew Bynum will be back from his five-game suspension and the Lakers will roll over the Nuggets.
Prediction: Win (5-1)
Los Angeles Lakers vs. Houston Rockets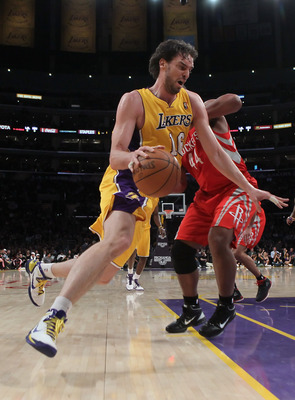 Jeff Gross/Getty Images
The Lakers come back home once again to play the Houston Rockets on January 3rd.
The Rockets have a couple of very good offensive weapons in Kevin Martin and Luis Scola.
Nevertheless, the Lakers' defense will shine.
Andrew Bynum and Pau Gasol will defend the paint and prevent Kyle Lowry from driving to the basket, in addition to hindering Scola's offensive opportunities in the post.
Meanwhile, Kobe Bryant and Metta World Peace will provide great perimeter defense against high-volume scorer, Kevin Martin.
Additionally, the Lakers will play well offensively.
Kevin Martin is known for being a poor defender, and there is no doubt that Bryant will exploit his weakness.
Prediction: Win (6-1)
Los Angeles Lakers at Portland Trailblazers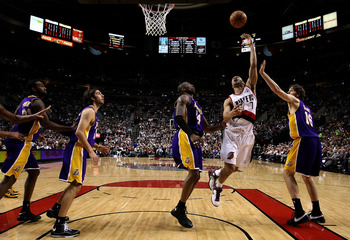 Jonathan Ferrey/Getty Images
Out of all of the Lakers' first 10 games, I expect that this will be the team's toughest test.
The Lakers tend not to play well in the Rose Garden.
Since 2008, the Lakers have lost six of their last eight in Portland, and neither of those losses were particularly close.
The same trend will continue.
Raymond Felton, Gerald Wallace, Wesley Matthews and Marcus Camby will overwhelm the Lakers, while the passionate Blazers crowd will get into the Lakers heads.
I don't expect the Lakers to lose by a large margin, but they will have lapses offensively and defensively.
Prediction: Loss (6-2)
Los Angeles Lakers vs. Golden State Warriors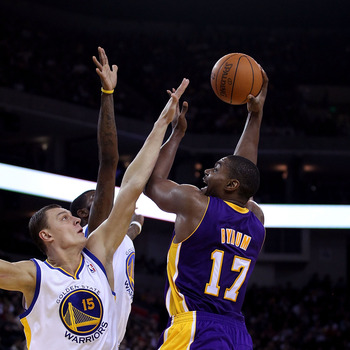 Ezra Shaw/Getty Images
After coming off a loss to the Blazers, the Lakers will play well against the Golden State Warriors.
While the Warriors are much younger and faster than the Lakers, they clearly aren't as good.
Andrew Bynum and Pau Gasol will play according to Mike Brown's defensive system, and will prevent Stephen Curry and Monta Ellis from getting into the paint.
Kobe Bryant will be determined after losing to an inferior Blazers team and will explode against a poor Warriors defense.
Prediction: Win (7-2)
Los Angeles Lakers vs. Memphis Grizzlies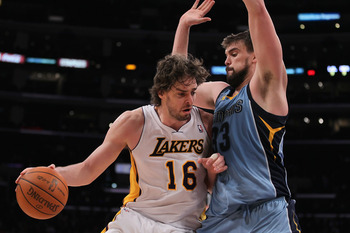 Jeff Gross/Getty Images
The 10th game on the Lakers schedule is at home against the Memphis Grizzlies.
This will truly be an exciting game as brothers Pau and Marc Gasol (I expect him to re-sign), will battle it out.
The Grizzlies are certainly capable of beating the Lakers.
Mike Conley will not have a hard time against Derek Fisher, and Tony Allen will play great defense against Kobe Bryant.
Meanwhile, Zach Randolph will rebound and continue to dominate offensively with his vast array of post moves. Marc Gasol will play good defense against Andrew Bynum, and he'll rebound effectively too.
I expect this game to be really close, but when the buzzer sounds, the Grizzlies will have just a few more points than the Lakers.
Prediction: Loss
Final Record Through 10 Games: 7-3
Keep Reading

Los Angeles Lakers: Like this team?