New York Mets: Analyzing Tuesday Night's Acquisitions
December 7, 2011
Abelimages/Getty Images
Yesterday was an extremely productive day for the New York Mets. The Mets ended the day with four new players and the loss of one player.
The craziness began a little after 9:00 p.m., when the Mets signed Jon Rauch to a one-year deal worth $3.5 million. Immediately after the confirmation of the signing, rumors of the Mets being close to finishing a trade began to circulate.
Those rumors came true a little after 10:00 p.m., only an hour after the signing of Rauch. The Mets released a statement that they have traded centerfielder Angel Pagan to the San Francisco Giants for Andres Torres and Ramon Ramirez.
A mere three minutes after the finalization of the trade, the Mets came to terms on a two-year, $12 million deal with Frank Francisco.
These events were crazy in real time. Mets fans' Twitter feeds were blowing up with news of the acquisitions, and the moves seemed to come quicker than fans could process.
Now that we have had time to evaluate and analyze these moves, we can take a deep look into them and what they might mean.
The Mets first acquisition of the night, Jon Rauch, projects to play a key role in the New York Mets revamped bullpen this season. Rauch had a down season in Toronto last year, as he posted a 4.85 ERA. He did, however, compile 11 saves while staying healthy throughout the season.
The Rauch signing was definitely not groundbreaking, but he will surely help the bullpen in this upcoming season.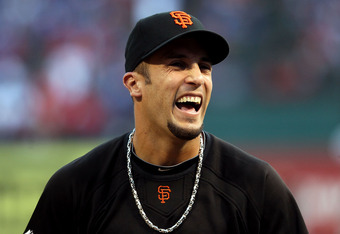 Elsa/Getty Images
It really started to get interesting once the rumors of a trade in the works began to surface. Soon enough, we would find out that the Mets unloaded Pagan for Torres and Ramirez.
The Mets really wanted to get rid of Pagan due to his lack of hustle and leadership. He's a talented player, but he had a dreadful season last year. Reports have came out from the Mets clubhouse that Pagan wasn't able to hold the burden of replacing Carlos Beltran. He got frustrated with himself, and that frustration plagued the rest of his season and ultimately ended his Mets career.
Sandy Alderson got good value in return for Pagan. The trade was centered around Ramirez, with Torres thrown in. Torres is a fantastic defensive centerfielder who is an extremely hard worker and leader.
Some Giant players have even said that Torres led the way for the team in their 2010 World Series run.
Torres does have some downsides, though. He is 34 years old and well into his decline. Torres is also not going to hit for a high average with the Mets. Expect him to hit for an average around .250, and he might have the power to blast around 10 home runs and the speed to steal 20 bases.
Torres is definitely not the long term answer for the Mets in center field, but he will be a more than serviceable stop gap. His attitude continues to garner praise from people all around the game. Torres is a great addition to the Mets.
Ramon Ramirez is a very nice bullpen arm who has put up great stats in past years. He might even get a shot to close for the Mets next season. Ramirez is nothing flashy, but he knows how to get outs and he's a flamethrower.
The Mets basically gave up a player that they simply didn't want and ended up acquiring two fantastic additions.
On to the Mets' final acquisition of Tuesday night, Frank Francisco. The Mets inked Francisco to a two-year, $12 million deal. Francisco is most likely going to begin the season as the Mets closer. He will lead the way of the Mets new, revamped bullpen.
All of these moves seem to be fantastic for the Mets. These players will help New York be competitive next season, and some of them might even become valuable trade assets if the team is not competing.
While these moves won't make Mets fans forget about the loss of Jose Reyes, they are definitely easing the pain of it. It also took Mets fans' minds off of Reyes for a little bit.
At the end of the day, the Mets are a better team today than they were yesterday. That is all the fans can ask for: improvement. The Mets have welcomed four great players to Queens and unloaded a player that they clearly wanted to unload from the team.
Tuesday was a very successful day for the Mets. Sandy Alderson showed Mets fans that he knows what he's doing and that he is dedicated to improving this team.