Cleveland Browns vs. Pittsburgh Steelers: Spread Info, Line and Predictions
December 7, 2011
Jared Wickerham/Getty Images
The Pittsburgh Steelers (9-3) continue to battle the Baltimore Ravens for the AFC North crown and a potential playoff bye. They can't afford to slip up against the Cleveland Browns (4-8), who appear destined to finish in the division basement.
Where: Heinz Field in Pittsburgh, Pa.
When: Thursday, Dec. 8 at 8:20 p.m. ET
Watch: NFL Network
Spread: Steelers -14
Pittsburgh is dealing with a lot of injuries, which is no surprise considering the team's smash-mouth style. They could really use an extra week off to rest up for a potential playoff run, and that will serve as extra motivation on Thursday night.
The Steelers have more talent from top to bottom than Cleveland, are coming off a huge win against the Cincinnati Bengals and have a 5-1 home record. Even though 14 points is a lot to give up in a divisional game, the Steelers should get the job done.
Pick: Steelers
Over/Under: 38.5
This game has the feeling of a grind-it-out affair. The Browns understand the only chance they have is if their offense can control the clock and keep the scores low. It will be up to Pittsburgh to do most of the scoring, and while it will be close, I think they'll fall just short of the line.
Pick: Under
Browns Key Injuries
Out: DB T.J. Ward (foot), LB Quinton Spears (hamstring)
Questionable: RB Peyton Hillis (hip), OT Tony Pashos (questionable), DB Mike Adams (shoulder)
Probable: QB Colt McCoy (knee), RB Montario Hardesty (calf), LB Chris Gocong (hip), DE Jayme Mitchell (ankle)
Steelers Key Injuries
Out: WR Emmanuel Sanders (foot), LB Chris Carter (hamstring), RB Jonathan Dwyer (foot), NT Chris Hoke (neck), WR Arnaz Battle (hamstring)
Doubtful: LB LaMarr Woodley (hamstring)
Probable: OG Ramon Foster (ankle)
Injury reports courtesy of NFL.com.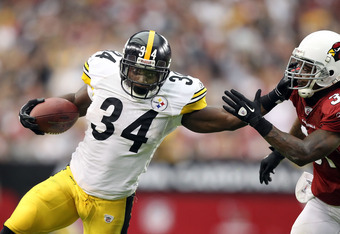 Christian Petersen/Getty Images
Fantasy Big Plays
RB Rashard Mendenhall (PIT): Mendenhall has scored 18 points in two of his last three games and gets a dream matchup against Cleveland's porous run defense. The Browns allowed Ravens running back Ray Rice to score 27 points last week.
Pittsburgh Steelers defense: The Steelers defense ranks fifth in average fantasy scoring and is coming off a 22-point outing vs. Cincinnati. Since Cleveland doesn't have many weapons to attack them with, Pittsburgh should still score well without injured linebacker LaMarr Woodley.
Keys to Browns Win
1. Establish the run: Whether it's Peyton Hillis, Montario Hardesty or Chris Ogbonnaya toting the rock for Cleveland, head coach Pat Shurmur must be sure not to abandon the run too early. The more Colt McCoy is forced to throw, the lower their chances of winning become.
2. Josh Cribbs: The Kent State product is the most explosive playmaker Cleveland has on its roster, so the Browns need to figure out how to get the ball in his hands more often, even if that means attempting a couple trick plays or using gimmick formations.
Keys to Steelers Win
1. Avoid overconfidence: Thursday night's clash is your prototypical trap game. The Steelers are coming off a huge win over the Bengals and travel west to face the surprisingly elite San Francisco 49ers next weekend. Pittsburgh needs to take care of business against the Browns first and foremost.
2. Don't let off the gas: Heading into what's sure to be a bone-crushing encounter with the 49ers, Pittsburgh's offense will need to be working like a well-oiled machine. If they mount an early lead, they need to keep their tempo up so they don't lose their edge.
Prediction: Steelers 27, Browns 10