Should San Diego Chargers Fans Be Happy with the Win Against Jacksonville?
December 8, 2011
Al Messerschmidt/Getty Images
I'm going to start this article off with an apology. Some Chargers fans might find what I have to say offensive or harsh, and they may even question my loyalty for a team that I grew up loving (my grandfather and parents were season tickets holders for 50 years).
That's ok, but the fact of the matter is the truth finally needs to come out about how bad the Chargers are this season. Some of you may agree with what I am writing, other fans probably won't.
It's okay—trust me.
Having been a San Diego Chargers fan for as long I have, you learn to weather the ups and downs of the inconsistent seasons the Chargers have. There have been those great years of back-to-back division championships, one amazing Super Bowl appearance and those horrible stretches in years past where the Bolts couldn't win a game even if it was handed to them on a silver platter.
However, I will be the first to tell you that I am looking for the imminent departure of head coach Norv Turner, and if there truly is a football god in heaven, the departure of Chargers' general manager A.J. Smith.
I don't know about most of you Chargers fans, but while Monday night's win against the Jacksonville Jaguars was a good boost for team morale, it really just confirmed how bad the Chargers are this season.
How this game made it on Monday Night Football, let alone prime time television, is beyond me. The Jaguars had just fired their head coach and are in the middle of an ownership change. The Chargers have head coaching and front office problems of their own.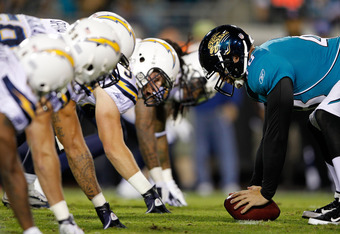 Mike Ehrmann/Getty Images
Maybe the NFL should consider flex-scheduling for Monday Night Football as well.
In all honesty, it was an incredibly lopsided game, minus the first 20 minutes of football when the Jaguars were actually winning by four points. Towards the end of the first half, it became the Chargers' show (which wasn't all that impressive either).
Was it really bad of me to root for the Jaguars hoping that it would lead to Norv Turner's firing the next day?
It was like watching a really bad (and I do mean really bad) high school football game. Almost as if the varsity team (the Chargers) were playing the freshman team (the Jaguars).
It was a farce, a fluke, a complete fraud. While a win is a win, Chargers fans should be disgraced with that win.
Seriously, is it only possible for the Chargers to win games against teams that have worse records than they do?
As of right now, yes.
Take away the fact that Philip Rivers is having an "off" season; the offense and defense look completely different and are nothing like last year's team, and the roster has been completely decimated by injuries.
And the Chargers still look bad!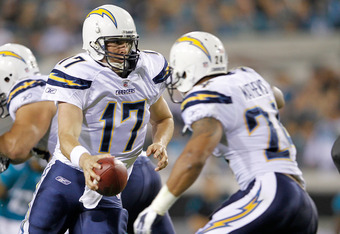 Mike Ehrmann/Getty Images
Could it be the crappy play-calling or lack of innovation on Norv Turner's part?
I believe so.
MNF analyst Jon Gruden commented on-air about how great of an offensive mind Norv Turner is. I wish I had a picture of the dumbfounded look on my face when Gruden said that. It was priceless!
Has Gruden not been watching the Chargers play this season? Has he not heard the rumors of Turner's possible firing?
Obviously not!
I think as Chargers fans we might want to reconsider having Jon Gruden as our next head coach especially with comments like that coming out of his mouth on national television.
As fans, the question we still need to consider is, "Do the Chargers have what is takes to make the playoffs and continue to win?"
Given the Chargers' remaining schedule, it is quite possible. Here is what remains of the San Diego Chargers' 2011 regular season schedule:
Buffalo 12/11
Baltimore 12/18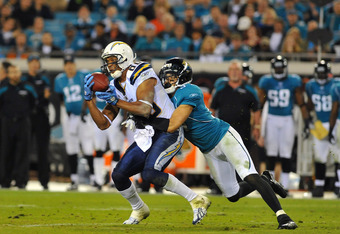 Al Messerschmidt/Getty Images
at Detroit 12/24
at Oakland 01/01
If the Chargers have found their winning ways in December once again, they could actually walk away from this season with another winning record, however it won't include the playoffs.
For the Chargers to make the playoffs, both the Broncos and the Raiders would need to lose every single game for the rest of the season. which begs the next question:
Would you really want a Chargers team riddled with injuries trying to make a successful playoff run?
At this point in time, no. The quicker Norv Turner and A.J. Smith are run out of town, the better!