2012 NFL Mock Draft: Teams That Will Capitalize on QB-Laden 1st Round
December 7, 2011
Ezra Shaw/Getty Images
Four teams will peg QBs in the 2012 draft to be the future of their team. This draft figures to be loaded with top QB talent and you can expect four QBs to be gone in the first half of the first round.
Three of these QBs are juniors. None of them have declared for the draft. The junior QBs are marked with an asterisk.
No. 1: Colts, QB, Andrew Luck
Andrew Luck is going No. 1. The only question is if the Colts will trade him or Peyton Manning.
The Colts would be wise to dangle both and see who brings in the most enticing offer. The best bet is that they give up Luck for solid veteran players and make a last run at a few Super Bowls with the proven commodity of Manning.
No. 8: Dolphins, QB, *Matt Barkley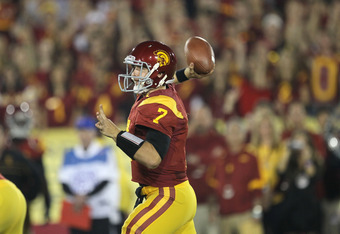 Stephen Dunn/Getty Images
The Dolphins need a franchise QB. They are going to have a slew to pick from. This choice is going to come down to Robert Griffin III and Matt Barkley.
In the end, the Dolphins will go with Barkley because of his lack of injury concerns and experience in a pro system.
Barkley is a safer pick. He will be able to step in right away and manage an offense. The Dolphins' late-season resurgence has shown they have the foundation of a solid run game and a very good defense.
This team will be in a position to make a run next year, and Barkley would be able to manage that offense from day one.
No. 9: Redskins, QB, *Robert Griffin III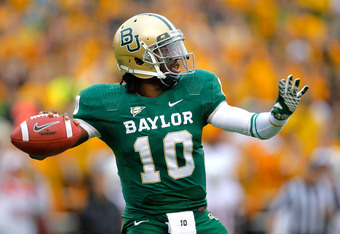 Sarah Glenn/Getty Images
The Redskins will be ecstatic if they can get their hands on Griffin. His ceiling is as high as even Luck's.
He has the athleticism, arm strength, touch and accuracy to do everything you would ever want a QB to do.
Griffin can break the pocket and make throws on the run. He could step in right away and be an upgrade over their current QB situation. While he will surely be prone to rookie mistakes, so is Rex Grossman.
No. 14: Seahawks, QB, *Landry Jones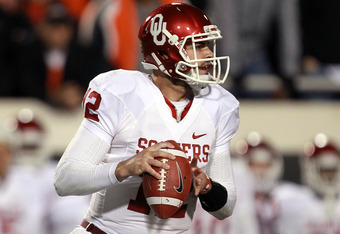 Ronald Martinez/Getty Images
Tavaris Jackson has done some good things in Seattle this season. However, the 28-year-old has not shown enough to be considered the long-term answer. The Seahawks will be looking for an upgrade.
Jones needs to improve his accuracy, but all the other prototypical pocket-passer attributes are there. He has good size and a strong arm. He also has put up some big numbers that prove he can produce on the field.
Richard Langford's Full First-Round Mock
*Draft order determined by combination of current records and projected finishes.
| No.  | Team (Record) | Player, Pos. |
| --- | --- | --- |
| 1. | Indianapolis Colts (0-12) | Andrew Luck, QB |
| 2. | St. Louis Rams (2-10) | Justin Blackmon, WR |
| 3. | Minnesota Vikings (2-10) | Matt Kalil, OT |
| 4. | Cleveland Browns (4-8) | Trent Richardson, RB |
| 5. | Jacksonville Jaguars (4-8) | Morris Claiborne, CB |
| 6. | Arizona Cardinals (5-7) | Jonathan Martin, OT |
| 7. | Carolina Panthers (4-8) | Michael Floyd, WR |
| 8. | Miami Dolphins (4-8_ | Matt Barkley, QB |
| 9. | Washington Redskins (4-8) | Robert Griffin III, QB |
| 10. | Tampa Bay Buccaneers (4-8) | Quinton Coples, DE |
| 11. | Philadelphia Eagles (4-8) | Alshon Jeffery, WR |
| 12. | San Diego Chargers (5-7) | Dre Kirkpatrick, CB |
| 13. | Kansas City Chiefs (5-7) | Riley Reiff, OT |
| 14. | Seattle Seahawks (5-7) | Landry Jones QB |
| 15. | Buffalo Bills (5-7) | Alfonzo Dennard, CB |
| 16. | Tennessee Titans (7-5) | Vontaze Burfict, LB |
| 17. | Denver Broncos (7-5) | Lamar Miller, RB |
| 18. | Chicago Bears (7-5) | Peter Konz, C |
| 19. | Detroit Lions (7-5) | Luke Kuechly, LB |
| 20. | Cincinnati Bengals (7-5) | Janoris Jenkins, CB |
| 21. | New York Giants (6-6) | David DeCastro, OG |
| 22. | Cincinnati Bengals (via OAK) (7-5) | Zach Brown LB |
| 23. | New York Jets (7-5) | Cordy Glenn, OG |
| 24. | Cleveland Browns (via ATL) (7-5) | Jarvis Jones, LB |
| 25. | Houston Texans (9-3) | Mark Barron, S |
| 26. | Pittsburgh Steelers (9-3) | Dont'a Hightower, LB |
| 27. | Dallas Cowboys (7-5) | Devon Still, DT |
| 28. | New England (via NO 9-3) | Chase Minnifield, CB |
| 29. | Baltimore Ravens (9-3) | Courtney Upshaw, DE |
| 30. | San Francisco 49ers (10-2) | Kendall Wright, WR |
| 31. | New England Patriots (9-3) | Mohamed Sanu, WR |
| 32. | Green Bay Packers (12-0) | Brandon Thompson, DT |