IMPACT Wrestling: Every Big Return and Debut in 2011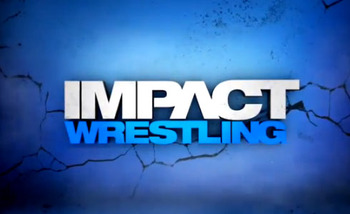 This is the second half of an article I published months ago. With that in mind, some of the beginning slides can be repeats from the slideshow in April.
I published an article on April 1 covering all the big returns and debuts for 2011. There were more than 15 debuts and/or returns in that short amount of time.
Now, imagine the amount of debuts and returns from this entire year.
I'm going to run through every single TNA return and debut that has happened this year.
Debut: Crimson (Dec. 30)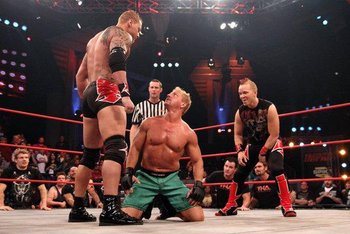 Crimson debuted on Dec. 30, 2010, but I felt that he is too big of a wrestler to leave of the list. He's on a huge undefeated streak and is definitely the rookie of the year.
Any TNA fan can tell you about the "Double J, Double M A" challenges from January.
In case you forgot, I'll give you a brief reminder.
Jeff Jarrett picked up a gimmick as an experienced MMA fighter. He had his own crew and "dojo." He challenged mostly plants (Indy wrestlers) from the crowd to an MMA Challenge. You win, you get $25,000 in cash. You lose, Double J would add you to his list and his level of arrogance would increase even more.
Well, one week Jarrett called out Amazing Red to accept the challenge. Red accepted and Jarrett beat him within seconds. Jarrett, hungry for competition, asked Red if he had relatives. Jarrett was even willing to fight Amazing Red's grandma if he had to. Red agreed to bring his little brother the following week.
Here comes Crimson. Standing 6 foot 6, 252 pounds. This was Red's little brother?!
He dominated Jarrett in the MMA Challenge, but Jarrett fled from the fight, thus keeping his MMA unbeaten streak intact.
Debut: Matt Hardy (January 9)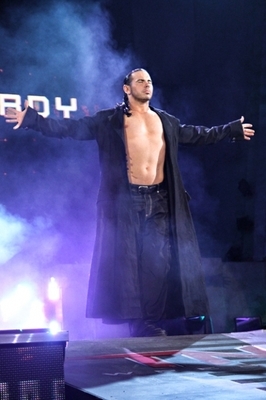 Matt Hardy made his TNA debut at Genesis 2011 as RVD's mystery opponent. Hardy defeated RVD in his debut match.
Hardy was a member of Hogan and Bischoff's faction, Immortal. Matt wouldn't find the success that his brother, Jeff, did in the group.
Matt had some good matches in his short time with TNA.
He had some good matches at Genesis, Victory Road and Lockdown.
Matt just couldn't find his place on the IMPACT roster and after dripping up with the law on several occasions, Matt was released in the same year he debuted. Sad, really.
Hardy announced his retirement from wrestling on Sept. 1 of this year.
Return: Scott Steiner (Jan. 27)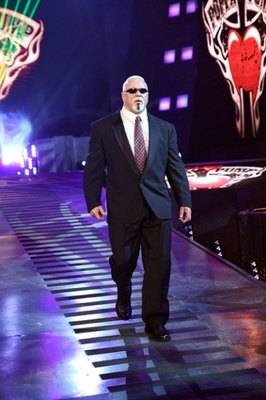 TNA had plans for a group to counteract Immortal.
The original plan was to have a Main Event Mafia reunion to fight off Hogan and Bischoff. The plan fell apart when former MEM members, Booker T and Kevin Nash, appeared in the WWE for the 2011 Royal Rumble match.
However, former MEM member, Scott Steiner showed up for IMPACT to save Kurt Angle, Crimson and Matt Morgan from Immortal and Fortune.
Strangely enough, Steiner and Angle would later join the group they were initially supposed to destroy. Scott Steiner is still a member of Immortal....if you even count Immortal as a stable anymore.
Debut: Rosita (Feb. 10)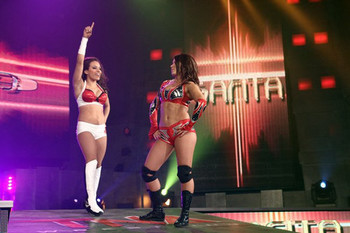 Rosita made her TNA debut on the Feb. 10 edition of iMPACT in an eight knockout tag team match. Sarita had stated the week prior that Rosita was her cousin and she was so happy to have her in TNA.
Rosita, Sarita, Tara and Madison Rayne defeated The Beautiful People, Winter and Mickie James after Rosita pinned Velvet after hitting a moonsault.
Since debuting, Rosita won the Knockout Tag Team Championships with partner, Sarita. Both Knockouts are still in the Mexican America faction but barely get any matches.
Rosita came into TNA looking strong but now can be considered a joke, based on her last match. (Knockouts Gauntlet)
Return: Hernandez (Feb. 10)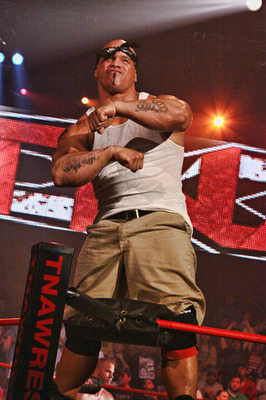 Hernandez returned to TNA after a year-long absence. He returned on the Feb. 10 edition of IMPACT as an ally to Immortal. He left as a face but came back as a heel.
He reignited his feud with former tag team partner and champion, Matt Morgan and has started a new stable in TNA called Mexican America. Hernandez lost to Morgan at Lockdown and the feud ended.
He and Anarquia would become Tag Team Champions for the later half of the year. Hernandez, you can say, carries the team.
He returned the same night Rosita debuted. Interesting.
Return: Traci Brooks (Feb. 17)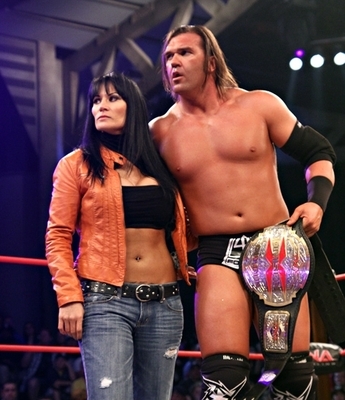 Traci made her TNA return on the Feb. 17 edition of iMPACT. She returned and helped save her real-life husband Kazarian from getting beat down by Robbie E and Cookie.
It wouldn't be the last of Traci.
She came back asking Eric Bischoff to be named the Knockout's Law and maintain order within the Knockouts division.
Bischoff threw her a curveball, made Karen Jarrett the VP of the Knockouts and ordered her to serve as a personal servant to Karen.
Return: ODB (Feb. 24 & May 19)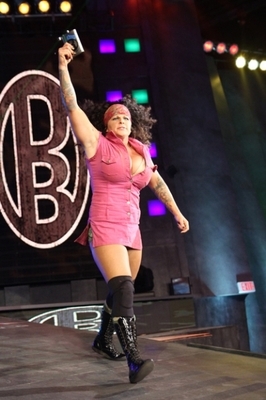 ODB returned to TNA on the Feb. 24 edition of iMPACT!
ODB accepted Madison Rayne's open challenge in a losing effort, but it was good to see the former Knockout Champion again.
Jobbing to Madison wouldn't be the last time TNA and ODB would cross paths.
On May 19, ODB returned again by attacking Velvet Sky. A whole storyline went on about ODB and Jackie trying to earn their IMPACT Wrestling contracts.
Debut: Angelina from Jersey Shore (March 3)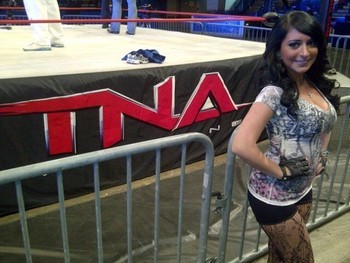 It's true. Angelina from the MTV series Jersey Shore was inside a TNA ring.
Angelina made her debut with Robbie E and Cookie. The three of them easily became friends based on their hatred on another Jersey Shore cast member that appeared in TNA, JWoww.
Angelina participated in a six-Knockout tag team match the week following her debut. She did virtually nothing in the match but was pinned.
Return: Sting (March 3)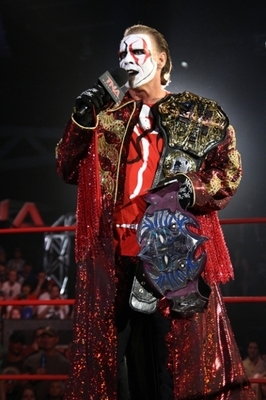 Sting definitely made the biggest impact in his return.
Sting returned on the March 3 edition of IMPACT as a surprise challenger to Jeff Hardy's TNA World Heavyweight Championship.
Sting won the belt, defended it at Victory Road then debuted a new World Heavyweight Championship belt on the March 16 edition of IMPACT.
The Icon was champion from that night until Slammiversary, where he dropped the title to Mr. Anderson only to win it back weeks later.
The Stinger main-evented Victory Road, Sacrifice, Hardcore Justice and No Surrender. He was a two-time Heavyweight Champion this year.
Return: Roxxi (March 10)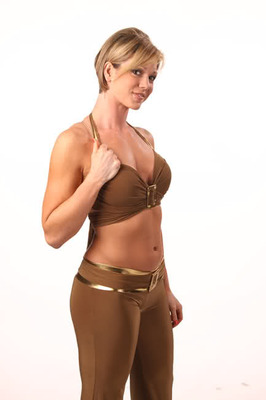 Roxxi made her third return to TNA on the March 10 edition of iMPACT!
Like ODB, she accepted Madison Rayne's open challenge in a losing effort, but it was good to see her again.
It was only a one-night stint for Roxxi. She jobbed to Madison and hasn't been seen in a TNA ring since.
Debut: Anarquia (March 13)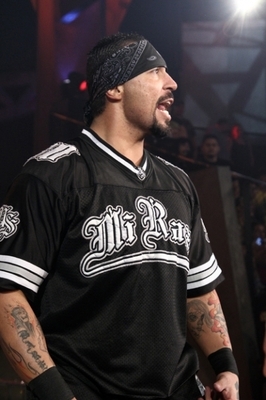 Anarquia made his TNA debut at Victory Road 2011. He was a planted fan and ran into the ring, only to be pulled out by security. He cost Matt Morgan his first blood match against Hernandez.
Hernandez let him in on his Mexican America stable and Anarquia became an official member of the TNA roster.
It's safe to say that he is the weakest link in Mexican America, if not all of IMPACT Wrestling.
Return: Alissa Flash (March 17)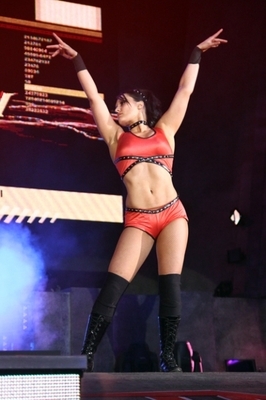 Her entrance was longer than her match
Flash made her return to TNA on March 17. She returned to accept Madison Rayne's open challenge but ended up losing.
Flash was attacked on the entrance ramp, dragged to the ring and quickly defeated. Big-time squash match.
It was a one-night stint for Flash.
Return: Abyss (March 24)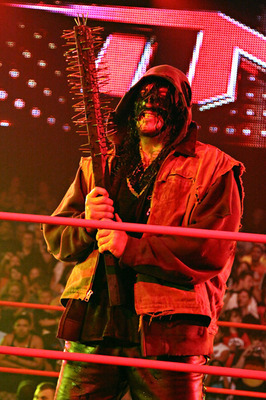 Abyss was attacked by Crimson, who stabbed him with "Janice," on the Jan. 20 edition of IMPACT. Abyss made a return on March 24, attacking members of Fortune.
Abyss is a former TV Champion, but he never defended the belt due to injury.
Abyss was used by Immortal in hopes of killing the X Division. He won the title from Kazarian but lost to Brian Kendrick at Destination X.
Abyss was kicked out of Immortal, turned face and is pretty much irrelevant to anything in IMPACT right now.
Return: British Invasion (March 31)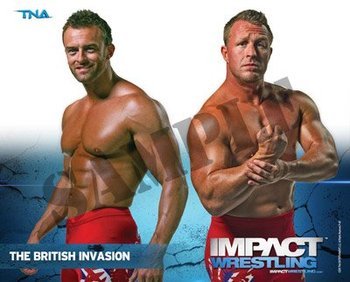 The British Invasion returned on the March 31 edition of IMPACT.
Eric Young told Taz and Tenay about a four-way tag team match at Lockdown. Problem was, EY only knew three of the teams.
Crimson and Steiner vs. Eric Young and Orlando Jordan vs. Ink Inc. vs. A Mystery Team.
That team was revealed to be Magnus and Doug Williams, who attacked Young and Jordan from behind.
Despite being the most experienced team in the match, the Brits lost at Lockdown and have been sparingly used on IMPACT ever since April.
They're the best tag team in TNA right now but aren't getting any TV time.
Return: Daniels (March 31)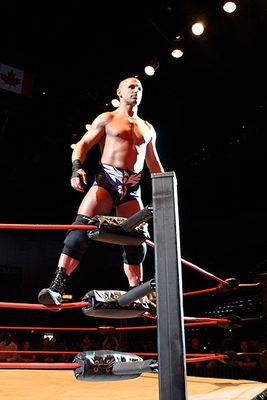 Prior to Lockdown, there was a cage in the IMPACT Zone to help promote the upcoming pay-per-view.
RVD, Sting and Fortune were being beaten down by Immortal inside the cage. AJ had been injured by Bully Ray weeks ago and Fortune was short one man in the beat down and their scheduled Lethal Lockdown match.
Daniels climbed to the top of the cage and jumped down, taking out all of the Immortal members in the process.
Return: AJ Styles (April 17)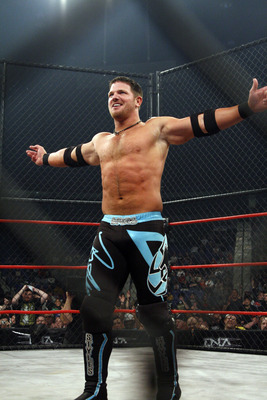 AJ Styles was injured a month before Lockdown at the hands of rival at the time, Bully Ray.
Bully Ray powerbombed AJ off the IMPACT stage and through a table.
AJ was out of action for a month but made his return where it mattered. Lockdown.
Fortune was down and in need of some help, and AJ came through. He helped Fortune take control of the match and pick up the win.
"The Phenomenal One" stood tall with Fortune to end a great pay-per-view.
Debut: Sangriento (May 5)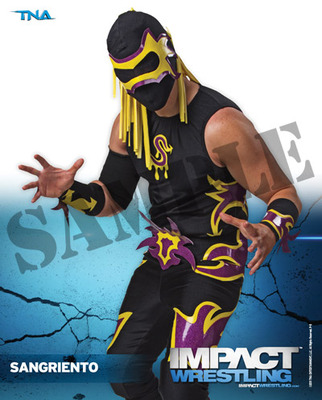 Spike TV executives wanted TNA to counteract WWE's recent signing of Mexican sensation, Sin Cara. True story.
That's how Sangriento came about.
TNA created this character and said he was from Mexico. In reality, it was former X Division Champion, Amazing Red under the mask.
Sangriento had a series of matches with Suicide before the character was just thrown away. It was a very short run for the Sangriento character.
Return: Mick Foley (May 12)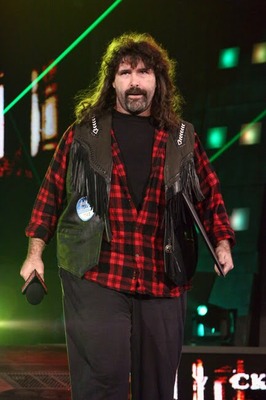 Former World Heavyweight Champion, "The Hardcore Legend" Mick Foley made another return to TNA.
Foley returned as The Network executive and planned on bringing change to TNA. Foley's first change was to make sure wrestling mattered.
He renamed TNA to IMPACT Wrestling and is the guy that started the entire X Division Showcase Tournament in July.
Mick Foley asked for his release as the X Division tournament was going on and later returned to WWE.
Debut: Chyna (May 12)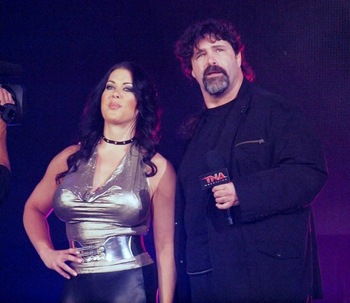 Chyna was brought in to TNA for one reason: Help Kurt Angle.
That she did. Kurt Angle was in need of a female partner to help remove Karen Jarrett from his sights so he can finally get Jarrett one-on-one.
At Sacrifice, Angle said he had a "mistress" to come help take care of Karen.
That "mistress" was Chyna.
Angle and Chyna got the win over the Jarretts and that was the last of Chyna in TNA.
Return: Jackie Moore (June 13)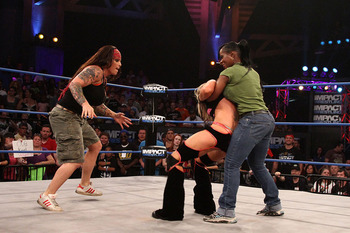 Jackie Moore returned to TNA once again.
She returned to help ODB feud with Velvet Sky and hoped to land a full-time spot on the IMPACT roster.
After Karen Jarrett came to power in the Knockouts division, Jackie and ODB's wishes were granted. They were official members of the IMPACT roster again.
Jackie has yet to be seen since the day she was awarded an official contract.
Return: Kid Kash (June 16)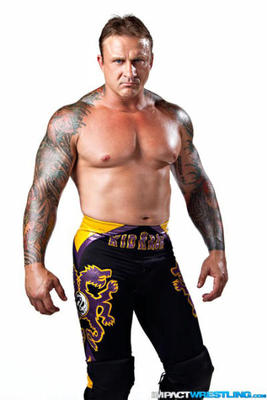 The former X Division Champion made his return to IMPACT Wrestling during the on-going "X Division Showcase" Tournament with the eventual winner earning a permanent spot on the roster.
Kash was impressive in his defeat against eventual winner Austin Aries.
Return: Jimmy Rave (June 16)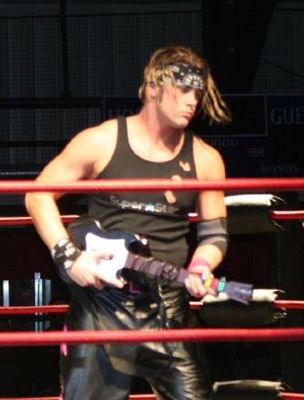 Yep. One third of the Rock N' Rave Infection, Jimmy Rave, returned to IMPACT and, yes, he brought his toy guitar with him.
Rave was another participant in the X Division Showcase. He was involved in a match also featuring Austin Aries and Kid Kash.
Return: Austin Aries (June 16)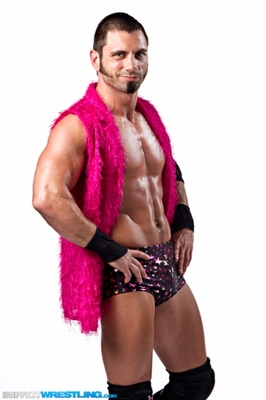 Aries returned in the same night and the same match as Kid Kash and Jimmy Rave.
Another subject of the X Division Showcase in June, Aries would eventually be the grand winner and rightfully earn his spot on the IMPACT roster.
I think Aries is one of the smartest signings of the year.
He's great on the mic and in the ring. Since his return in June, Aries is the current X Division Champion.
(He also wants the X Division renamed the 'A Double Division')
Debut: Zema Ion (June 23)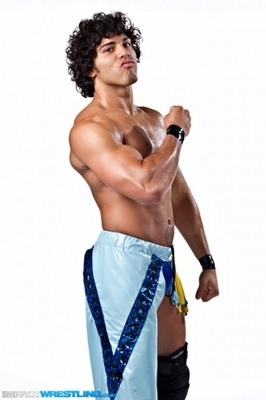 This X Division Showcase was four weeks long and featured three wrestlers a week who were not under contract. Expect to see the rest of those guys in coming slides.
Zema Ion was a part of the tournament.
He, like Aries, won his three-way qualifying match and would make it to the final four at Destination X in July.
Debut: Dakota Darsow (June 23)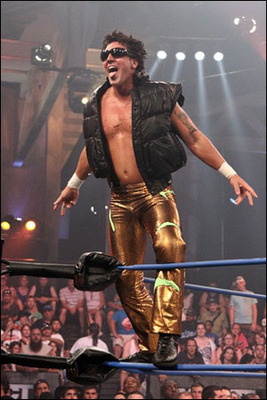 Dakota Darsow is the son of the Repo Man.
Darsow was one of 12 competitors in the X Division Showcase.
I was impressed with his debut, but he would lose the match to Zema Ion and would never be seen on an episode of IMPACT Wrestling since.
Debut: Federico Palacios (June 23)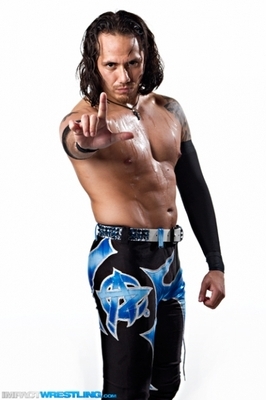 Also known as Azrael for those ROH fans out there, Palacios was yet another X Division wrestler fighting for his spot on the IMPACT roster.
He was the third man in the match between Ion and Darsow but would come short of victory.
Return: Jerry Lynn (June 23)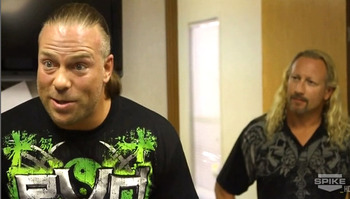 Jerry Lynn made his return to TNA in a backstage segment.
Rob Van Dam was discussing the X Division Tournament and bragging about being X Division before there was one. Lynn came from behind and corrected RVD by saying that they, both were X Division before there was a division.
Lynn issued a match against RVD at Destination X. At the event, Lynn lost but wasn't happy.
He continued to be a menace to RVD until he got what he asked for: a rematch at Bound For Glory.
Lynn once again lost to Rob Van Dam but this time, accepted defeat and hasn't been back since that night in Philly.
Return: Low Ki (June 30)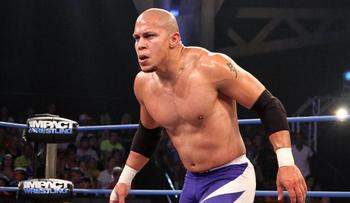 Former TNA X Division Champion and WWE NXT Season 3 winner, Low Ki would once again come back to IMPACT Wrestling.
(We all know his run in WWE was a sad joke.)
Low Ki won his three-way qualifier and would advance to the finals at Destination X to meet Austin Aries, Zema Ion and one more man.
Low Ki was defeated and hasn't resurfaced in either organization since then.
Return: Jimmy Yang (June 30)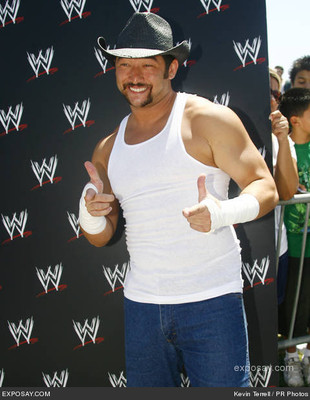 Before Jimmy Yang was widely known as the Asian cowboy, Jimmy Wang Yang, he was once a part of TNA in its early days.
Yang was one of three members in the group known as The Flying Elvises.
Yang returned with his "King" impression but would not get past the first round.
Yang was said to have money issues with TNA, but that seems sorted out and both parties have separated since.
Return: Matt Bentley (June 30)
This match featured three guys from the very early days of TNA.
Bentley started out in TNA in 2003 and stayed until 2007. He then appeared in a squash match against the debuting Vladimir Kozlov for the WWE.
Bentley returned to IMPACT but his returned ended up being a one-night stint. He did not advance to Destination X.
Matt Bentley was trained by his cousin, WWE Hall of Famer Shawn Michaels.
Return: Jack Evans (July 7)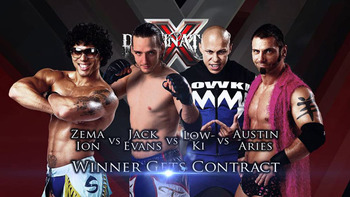 One of the most exciting wrestlers to watch in the tournament, Jack Evans, was once again seen in TNA.
Evans started out early with TNA in 2004 but it never worked out.
Evans was an easy fan favorite for his amazing 630 Splash. He would win his three-way match and be the final man in the four-way at Destination X.
Debut: Jesse Sorensen (July 7)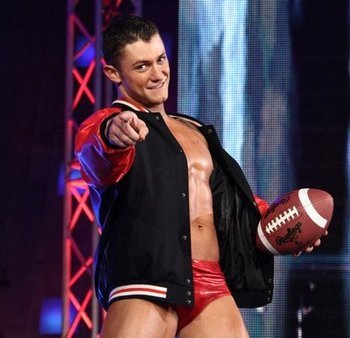 One of Evans' opponents in the three-way: Jesse Sorensen.
Sorensen had such an impressive showing in his three-way match, he received a contract even after losing and after the entire Showcase ended.
Debut: Anthony Nese (July 7)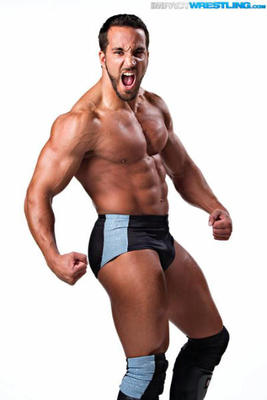 Nese would serve as the third and final man in the match also featuring Evans and Sorensen.
I was pretty impressed with Nese's performance despite the loss.
Debut: Mark Haskins (July 10)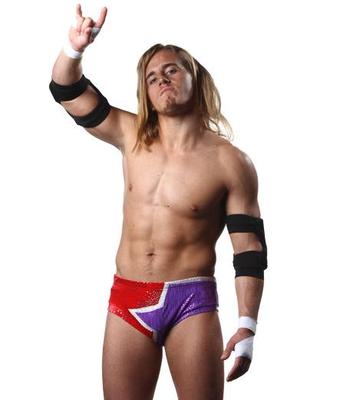 Mark Haskins is widely known the UK and made his TNA debut at the Destination X pay-per-view event.
When fellow Brit and former X Division Champion, Douglas Williams, hosted an open challenge, Mark Haskins was the one guy who stepped up.
Despite not being known amongst the fans in the IMPACT Zone, Haskins put up one impressive showing even in his defeat.
Return: Curry Man, Shark Boy and Suicide (July 10)

Around the 1:00 mark

In honor of the all X-Division pay-per-view, Destination X, all the big X Division stars came out.
Three of those stars were Curry Man, Shark Boy and Suicide, the three coolest masked wrestlers to ever step foot in a TNA ring.
Suicide, Sangriento and Curry Man were involved in a backstage segment. They were signing autographs when Eric Young showed up looking for a tag team partner.
None of the guys could team with EY for their own reasons.
Shark Boy came from nowhere and volunteered himself to be Eric's partner. Together, they defeated Generation Me.
Returns: X Division Guys (August 11)
Kid Kash, Jesse Sorensen, Anthony Nese, Mark Haskins and Zema Ion all received full-time spots on the IMPACT roster despite losing the "X Division Showcase" just one month ago.
Kash and Sorensen have gotten the most TV time out of the bunch as Nese and Haskins are never on TV.
Either way, the X Division finally looked strong again.
Debut: Ronnie from Jersey Shore (Nov. 3)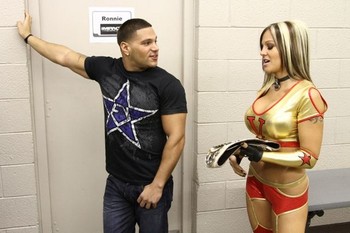 Nice EY shirt...
As Robbie E and Eric Young were feuding over the TV title, Big Rob and Little Robbie beat down Eric Young. EY said he would bring in a Hollywood star to help him in their feud.
Here comes MTV's Ronnie.
Ronnie's first night in IMPACT Wrestling ended in a beat down from Robbie E and Rob Terry.
The following week, Ronnie had his first official match. A tag team match partnering him with EY to face off against Rob and Robbie.
EY carried the match for his team but that doesn't mean Ronnie didn't get involved.
Ronnie hit Robbie with a scoop slam and Eric Young hit an elbow drop to win. Not bad, Ronnie.
Return: Jeff Hardy (Sept. 8)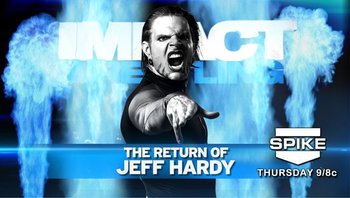 After screwing up big-time at Victory Road, Jeff Hardy was off TV to go and fix his personal life.
Many people questioned his future in TNA, but look at him now. He's in the World title picture.
Hardy's official return was on the Sept. 8 edition of IMPACT were he asked everyone for one more shot. He asked the fans, the wrestlers in the back and TNA management.
Hardy definitely did get that shot. If he beats Jeff Jarrett in a cage match at Final Resolution, Jeff Hardy will get a World title match at Genesis.
Return: Jesse Neal (Sept. 22)
Ink Inc. was off to a pretty good start in 2011.
They challenged Beer Money for tag team gold at Victory Road and even won a four-way tag team match at Lockdown.
Ink Inc. had another chance at tag team gold come Sacrifice, but Neal was injured by Hernandez at the end of the match.
Jesse Neal would be injured for four months but return to continue his fight with Mexican America.
Debut: Toxxin (Sept. 22)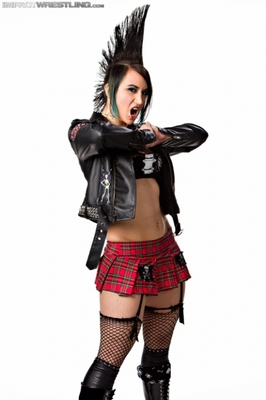 The segment when Jesse Neal returned was the same segment in which newest Ink Inc. member, Toxxin would debut.
Toxxin debuted (and Jesse returned) in the tattoo-parlor beatdown on Mexican America.
Toxxin has yet to wrestle a singles match but she was still pretty impressive in the mixed tag team match at Turning Point.
Ink Inc. has fallen off the radar in IMPACT as of late.
Return: Gail Kim (Oct. 20)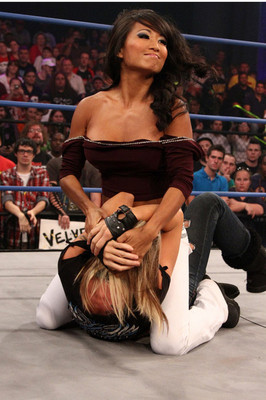 The inaugural Knockouts Champion, Gail Kim once again took over her Knockouts division.
She was queen of the division when it first started in 2007 and she's the queen of the division now.
She made an impact in her return by attacking champion at the time, Velvet Sky. Gail was also granted a title match at Turning Point against Velvet.
Two weeks before the pay-per-view, Gail teamed with Madison Rayne to win the Knockouts Tag Team Championships. At Turning Point, Gail Kim defeated Velvet Sky to become a two-time Knockouts Champion.
She took control of the Knockouts division in less than a month with a little help from Karen Jarrett.
The End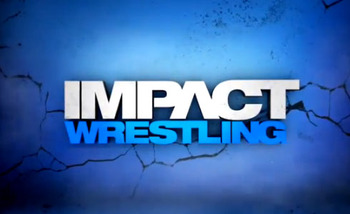 That does it. If I missed anyone's return or debut, let me know in the comment section. I'd hate to leave anyone off the list.
There was a total of 41 debuts/returns in TNA this year. That is a lot!
Thanks for reading and, again, let me know if I missed someone.
Keep Reading