Former NFL RB Warrick Dunn Teams Up with the Crown Royal Heroes Project
December 8, 2011
Warrick Dunn is renowned for his skills on the football field. The former running back for the Atlanta Falcons and the Tampa Bay Buccaneers played for 12 seasons, and during his tenure ran for 10,967 yards, making him one of just 25 players in history to join the 10,000-yard rushing club. 
What you may not know about Dunn, though, is the work he has been involved in off the field throughout his life. With his own organization and various other contributions, Dunn truly goes the extra mile to give back to local communities.
He is currently working with the Crown Royal Heroes Project, a cause aimed at honoring and recognizing military personnel, firefighters, police officers and all of the other heroes that make sacrifices for our nation. 
The Heroes Project will be holding events around the nation, which will involve stuffing Crown Royal signature purple bags full of items that will be sent to American troops overseas.
Dunn will be at Cowboys Stadium this Sunday, Dec. 11, for the Giants-Cowboys game. He will be on site in the East Plaza from 5 p.m. to 7 p.m. to stuff care packages for the troops. He encourages everyone in the area to come out and join in on the action with him.
I had a chance to speak with Dunn about the project, and how he feels about it. "To recognize the heroes in the community is very near and dear to me," Dunn said.
This cause is really hits home for Dunn, as his mother, Betty Smothers, was a police officer who was killed during an after-hours security shift when Dunn was just a senior in high school. She has been a major impact on him for his entire life.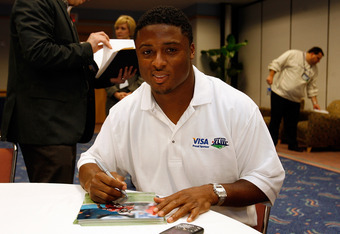 J. Meric/Getty Images
"She made a lot of sacrifices as a single parent of a family of six," Dunn said. "She's my motivation and she keeps me going. The Heroes Project is huge because it speaks volumes about people on this earth and how they sacrifice their time to keep us safe."
Dunn values all of our nation's service men and women, and would love to see everyone get involved and show their support as well.
If you live in the Dallas area, make your way out to the game on Sunday night and show your support for the heroes of America. The event will be serving spirits, so you must be 21 to participate, but everyone is reminded to drink responsibly. 
For all of you that are not located in the Dallas vicinity, you can still do your part to help out. Visit Facebook.com/CrownRoyal or CrownRoyal.com to fill out a postcard or personalize a bag, and it will be sent overseas to service men and women.
A $10 donation will be made to The Texas Wildlife Fund for every bag that is stuffed on Sunday. The organization is committed to generating awareness and gaining support for Texas volunteer firefighters.
You are all personally invited by Dunn to come out, so make sure you find your way to Cowboys Stadium this Sunday. 
Alex Welch is a Featured Columnist for Bleacher Report. Unless otherwise noted, all quotes were obtained first-hand.