Beef O'Brady's Bowl 2011: TV Schedule, Live Streaming, Radio, Game Time and More
December 7, 2011
The Florida International Golden Panthers will be bumping heads with the Marshall University Thundering Herd in the Beef O' Brady's Bowl in St. Petersburg, Florida.
The matchup pits two solid programs from normally under the radar conferences against each other with a shot at glory, conference representation and of course, bragging rights. 
Both FIU and Marshall have quite a bit of excitement and firepower on both sides of the ball and both programs will look forward to the opportunity to showcase their talent come game time.
Where: Tropicana Field, St. Petersburg, Florida
When: Tuesday, Dec. 20 at 8 p.m. EDT
Watch: ESPN/ESPN 3D/ESPN 3
Listen: Florida International- WRGP 88.1 FM in the Homestead, North Keys area; 95.3 FM in Miami; and 96.9 FM in North Miami. Marshall University- WMUL 88.1 FM. 
Betting Line: Florida International -4.5
Key Storyline
Considering both teams represent fairly under the radar conferences, the Sun Belt Conference and Conference-USA respectively, there are no giant ramifications pending the outcome of the game.
However, the 8-4 Golden Panthers had a good season and had a defense that went unnoticed for much of the season, inappropriately. The FIU defense is 16th best in the nation in terms of points against at 19.4.
Marshall, on the other side of the field, lost half their games to ranked opponents (West Virginia, Virginia Tech and Houston) and they, unlike FIU with a defensive unit, have more of a defensive specialist that they must be anxious to unleash.
Who Might Not Play for Florida International
QB Jake Medlock: Medlock is a freshman and played the role of backup for most of the season. He replaced normal starter Wesley Carroll midway through the season but then relinquished the role after hurting his shoulder at Louisiana-Monroe.
WR T.Y. Hilton: Hilton has been the team's most explosive offensive threat this season catching 64 balls for 950 yards and seven touchdowns. He has been hampered by a hamstring injury and may miss the bowl game meaning a lot more rushing for the Golden Panthers.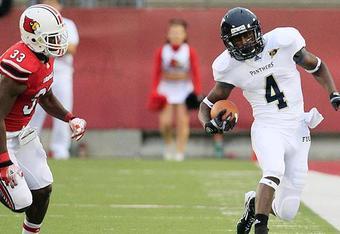 Who Might Not Play for Marshall
QB A.J. Graham: The dual threat sophomore spent time in the backfield for Marshall this season as both a quarterback, where he racked up over 700 passing yards, and as a running back, netting nearly 250 yards.
He had 10 total touchdowns on the season but unfortunately got injured in the season finale against East Carolina.
What It Means for Florida International
With the plethora of college football being played in the state of Florida, most of it normally being done at the highest level, it is remarkable that FIU finished the season with the most wins in the state (tied with Florida State who also had eight wins). 
The Golden Panther's 8-4 mark was the best in school history, and they look to finish the season strong with only their second bowl victory ever (the other came last season over Toledo in the Little Caesars Bowl).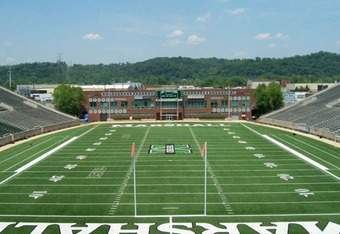 A victory could further establish FIU as a team to watch in the Sun Belt Conference in the years to come. 
What It Means for Marshall
Marshall's road to the Beef O' Brady's Bowl was not an easy one. They needed to win their final two games of the season to become bowl eligible and the did so knocking off Memphis on the road and then gutting out an overtime victory over East Carolina.
Coming out of Conference-USA is no joke these days. The Conference is home to Tulsa (8-4), No. 21 Southern Miss (11-2) and No. 19 Houston (12-1). Marshall would love a big win on the national stage to cement themselves as a contender in the conference going forward.
What They're Saying
David J. Neal of the Miami Herald is not expecting any issues with attendance saying the FIU students will easily buy out their allotment of tickets in addition to the fact that Marshall has 12 guys on their roster from the Miami-Dade or Broward counties. The stage is already set.
On the other side of the ball, Thundering Herd head coach Mike Hamrick had this to say about his program, fan base, and the potential bowl games offer, "It's important that our fans go and the reason why is we talk about being relative in college football, right now we're not relative and haven't been for a while, we're bowl eligible and going to go play in a bowl game in Florida, let's support that as fans, let's become relative again."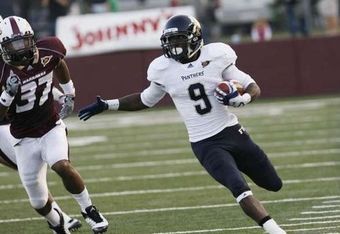 Florida International Player to Watch: Kedrick Rhodes
Rhodes, a 5'11" sophomore, is an explosive player out of the backfield that the Golden Panthers relied on for much of their offensive production throughout the season.
Rhodes ran the ball 224 times for 1,121 yards this year and eight touchdowns. He also caught 26 passes out of the backfield for 248 yards. Look for stellar production from the young back come game time.
Marshall Player to Watch: Vinny Curry
Curry stands in at 6'5" nearly 250 pounds and he packs as mean a punch as anyone out there. He makes his impact felt on every snap wreaking havoc on opposing running backs and quarterbacks alike.
Curry ranks second nationally with 21.5 tackles for loss, is tied for second nationally with six forced fumbles and tied for fifth with 11 sacks. He'll be all over the field that night, guaranteed. Him and Rhodes will clash throughout the evening.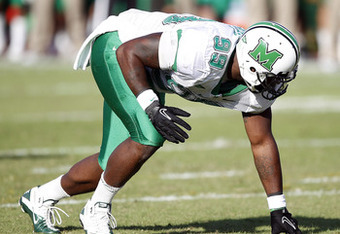 Key Matchup: Florida International Rushing Game vs Vinny Curry and the Marshall D-Line
Not often do you see a football program have more rushing touchdowns than passing touchdowns in 2011. In the spread offense pass happy world we live in, Florida International managed to pull it off and still win eight games. They had 15 total passing touchdowns and 17 rushing touchdowns (overall they ran the ball for over 1,800 yards).
Enter Vinny Curry, the lean mean tackling machine I mentioned earlier. Curry lives behind the line of scrimmage and in order for his Thundering Herd to have a shot at this game, he will need to pitch a tent back there. Curry can set the tone for his defense by hitting guys early and hard.
It will be great to see if the explosive running game off FIU, led by Rhodes, can avoid the mayhem Curry plans to unleash consistently throughout the night. 
Prediction:
Florida International 27, Marshall 21