NHL Trade Speculation: Alexander Semin for Jarome Iginla?
December 7, 2011
Gregory Shamus/Getty Images
With the NHL season well into the month of December, it's getting to be that time of year again, when trade rumors involving big-name players between underachieving teams begin to surface.  
On Tuesday, notorious trade informant Eklund reported a rumor involving Alexander Semin and Jarome Iginla on his website, HockeyBuzz.com.  
The proposed deal between the Washington Capitals and Calgary Flames would have Semin, top goaltending prospect Braden Holtby and two unspecified draft picks going to Calgary, with Iginla, Chris Butler and an unnamed prospect heading to D.C. in return.  
On the surface, this trade appears to be a lopsided one for the Capitals, as they'd receive one of the best veteran power forwards in the league in exchange for an enigmatic star forward and a goaltender who sits third on the team's depth chart.  
However, there's more to this trade than meets the eye.  
Iginla, though widely regarded as the top wingers of the last decade, has shown signs of aging this season with a big drop in terms of production.  
In Semin, the Flames would receive an immensely talented winger who appears to be in need of a change in scenery. Semin's offensive totals thus far are even more disappointing than Iginla's, as he's potted just five goals in 25 games.
With that being said, the financial implications of this deal may be what intrigues the Flames even more than the package of players they'd receive in return for their captain.  
Iginla's $7 million salary is one of many contracts that have been suffocating the Flames for the last couple of seasons. Calgary has more than $19 million committed to its top three players for the next two seasons, and another five players each making more than $3 million annually.  
Making matters worse, Iginla is one of 11 players on the roster who have either no-movement clauses or modified no-trade clauses in their contracts.  
Greg Fiume/Getty Images
Considering the fact that Calgary hasn't made the playoffs since 2008-09 and doesn't appear to be headed in the right direction about a third of the way through the 2011-12 campaign, a big change like the trading of the face of the franchise wouldn't be all that surprising.  
With that being said, there are a couple of obstacles that would appear to keep this trade from happening exactly as it's reported.  
First of all, the Capitals have zero cap space, and the salaries of the players they'd be receiving in this trade exceed that of the package they're sending in return. Semin's cap hit of $6.7 million and Holtby's salary of roughly $640,000 are obviously less than Iginla's $7 million and Butler's $1.25 million combined, so at least one other move on the Caps' part will need to take place in order for this deal to be executed.  
One possibility that General Manager George McPhee would have to explore is finding a team to take on Jeff Schultz's $2.75 million deal, or move underused power forward Mike Knuble, as either of which would alleviate enough cap space to enable the Iginla trade to happen. 
In addition, Jarome Iginla's no-trade clause means that he'd have to agree to leave town, which is no guarantee. Iginla loves Calgary, and has repeatedly said that he wants to remain a Flame for life, but it's no secret that the 34-year old superstar would love to raise the Stanley Cup before his Hall of Fame career is over.  
Though Washington has struggled early this year, the Caps have one of the most stacked rosters in the league, and there's no reason to believe that they couldn't turn things around and capture a fifth straight division title.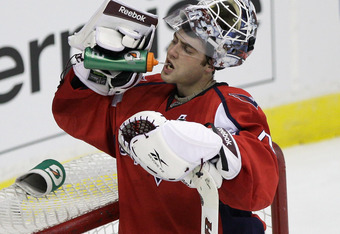 Rob Carr/Getty Images
Iginla would provide Washington with the veteran leadership and presence around the net that they've lacked this season, and the team would be in a position to make at least two serious runs at the franchise's first Cup.  
There's little doubt that Washington would 'win' this trade in the short-term, especially if Semin leaves Calgary via unrestricted free agency in July, but with time, the trade could pay dividends for the Flames.  
Holtby, though still honing his trade in the AHL with Hershey, is one of the most promising young goaltenders in the game, and he could prove to be the future replacement to Miikka Kiprusoff in the near future. He posted a 10-2-2 record during his call-ups to Washington in 2010-11, and he isn't a prospect the Caps would prefer to give up.  
At this point, though, McPhee must be beginning to recognize that there's something missing from this Capitals team, and it isn't something that can be addressed completely via a coaching change.  
If that's the case, ridding themselves of one of their handful of inconsistent stars while simultaneously welcoming a proven leader to their dressing room may be the answer.