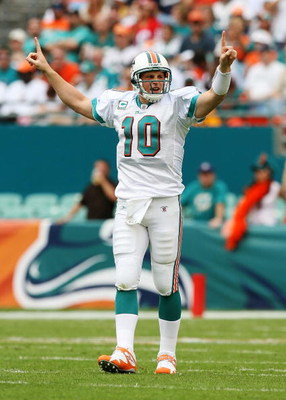 Wow, I can't believe this is the last week of the overall season for most of the league!
Looking back on this season that's drawing to a close, one can see that this NFL season has been one of the wildest in recent memory. And no matter how the games turn out, it's going to finish a wild one.
Let's get to the picks.
St. Louis Rams (2-13) at Atlanta Falcons (10-5)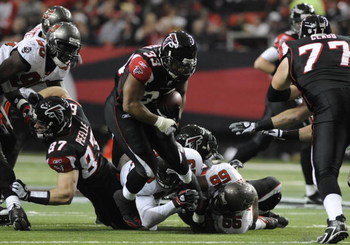 The Big Three in Atlanta's offense will be way too much for the Rams to handle.
Pick: Falcons
New England Patriots (10-5) at Buffalo Bills (8-7)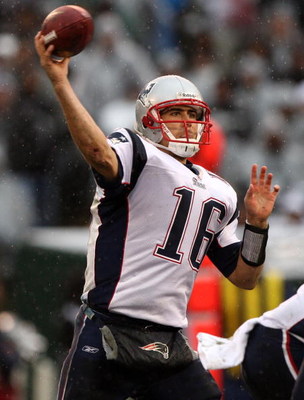 The post-5-1 Bills only win when their opponent breaks down and allows them to. For that reason it takes a very mentally weak team to lose them. That's not the Patriots.
Pick: Patriots
Kansas City Chiefs (2-13) at Cincinnati Bengals (3-11-1)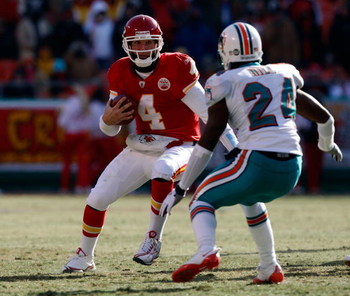 The Bengals have won two in a row for the first time all year. However, the Chiefs have been scoring a lot of points lately in games that they lost because their defense isn't good enough to contain better offenses.
Against the Bengals' fourth-rate offense, KC's defense should be able to hold just enough for the offense to win it.
Pick: Chiefs
Chicago Bears (9-6) at Houston Texans (7-8)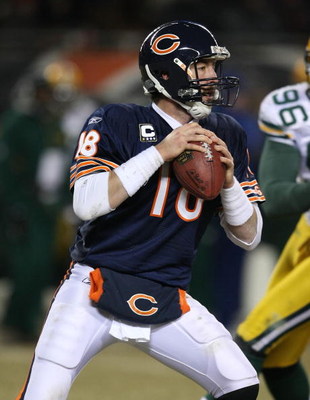 Call me irrational. Common sense tells me to pick the Texans because of their offensive firepower, but I'm picking the Bears on a hunch.
Pick: Bears
New York Giants (12-3) at Minnesota Vikings (9-6)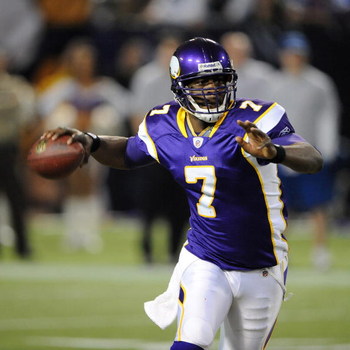 The Vikings should win because the Giants will be resting their starters for the playoffs, having locked everything up already.
Plus, Minnesota still hasn't won the NFC North, so it should need no motivation, especially playing at the Metrodome.
Pick: Vikings
Carolina Panthers (11-4) at New Orleans Saints (8-7)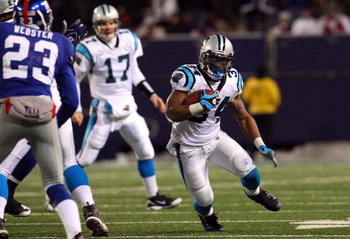 It's a battle of historic records. NFC South teams are undefeated in divisional games at home this season, but Panthers head coach John Fox and QB Jake Delhomme are a combined 10-0 at the Super Dome.
Drew Brees will certainly test the Panthers' secondary this week, as he needs 402 pass yards to break Dan Marino's single season record of 5,084 set back in 1984.
Still, even if Brees puts up monstrous numbers, the Panthers have a running game to match it.
RB DeAngelo Williams scored four touchdowns in last week's game against the Giants, one of top run defenses in the NFL. What do you think he's capable of against an average defensive team against the run?
And Carolina has the motivation necessary to win, needing a victory to retain the NFC's No. 2 seed, a first-round bye, and a home playoff game.
In addition, they have been resilient all season, never losing two games in a row, not even after their worst loss of the season.
Pick: Panthers
Cleveland Browns (4-11) at Pittsburgh Steelers (11-4)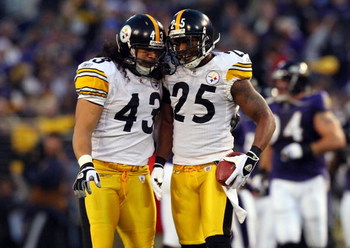 The Browns have never beaten the Steelers with Romeo Crennel as head coach.
Expect that trend to continue—even with Pittsburgh's starters sitting out the game as they wait for the playoffs, the Browns have nothing positive going for them, and haven't for weeks.
Pick: Steelers
Oakland Raiders (4-11) at Tampa Bay Buccaneers (9-6)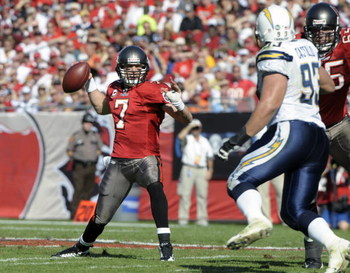 The Bucs are just about lifeless now that their defense has gone downhill since defensive coordinator Monte Kiffin has announced he's leaving.
That could be bad timing against a suddenly hot Raiders offense. Still, Tampa's offense can probably outscore Oakland's.
Pick: Raiders
Tennessee Titans (13-2) at Indianapolis Colts (11-4)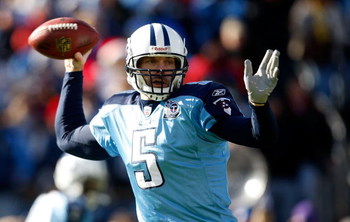 The Titans have no reason to play their starters, or give any effort. The Colts are set into the No. 5 seed, and they should rest their starters too. But I'm still gonna go with the Titans.
Pick: Titans
Detroit Lions (0-15) at Green Bay Packers (5-10)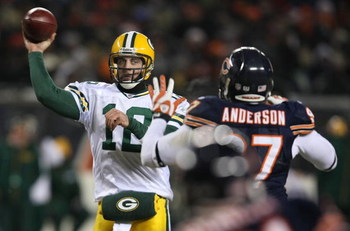 Early in the season the Packers burned the Lions for 48 points. The Lions have gotten no better since then.
Even if the Lions score the 25 points that they scored in that first meeting again, the Packers will outscore them.
Pick: Packers
Jacksonville Jaguars (5-10) at Baltimore Ravens (10-5)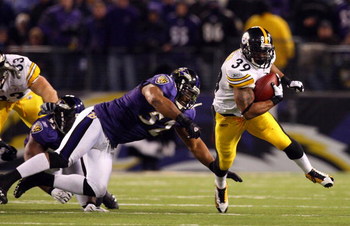 The Jags have no life left after their narrow loss to the Colts last week. The Ravens need a win to get into the postseason, so they will be playing with fire. It's incredibly difficult to stop a defense out for blood, especially one as good as the Ravens'.
Pick: Ravens
Seattle Seahawks (4-11) at Arizona Cardinals (8-7)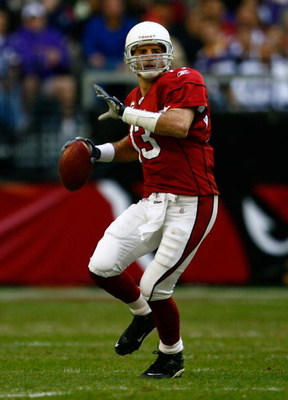 The Cardinals are still on autopilot, but they're back at University of Phoenix Stadium this week, out of brutal blizzard of Foxborough.
The Seahawks won last week, but beating the Jets isn't anything special these days. As crazy as it sounds...
Pick: Cardinals
Washington Redskins (8-7) at San Francisco 49ers (6-9)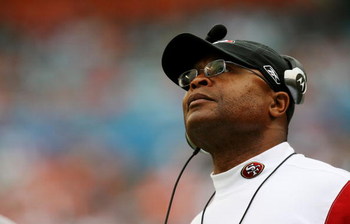 These are two teams going in opposite directions. Look for the surging team to win.
Pick: 49ers
Miami Dolphins (10-5) at New York Jets (9-6)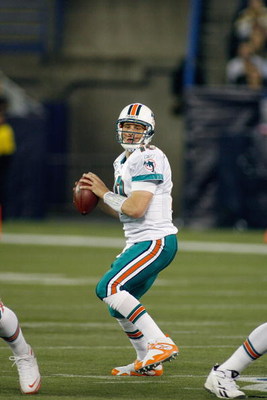 The Jets' moral has to be at a season low after nearly getting shut out by the Seahawks, and the Dolphins can win the AFC East with a victory. Look for Miami to pull off one of the greatest turnarounds in NFL history.
Pick: Dolphins
Dallas Cowboys (9-6) at Philadelphia Eagles (8-6-1)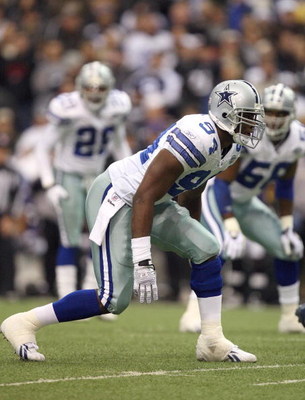 Both teams lost last week, but at least the Cowboys managed to hang a 24-spot up on the Ravens.
The Eagles only got a field goal against a Redskins team that was reeling worse than any other team (that title now belongs to the Bucs).
Pick: Cowboys
Denver Broncos (8-7) at San Diego Chargers (7-8)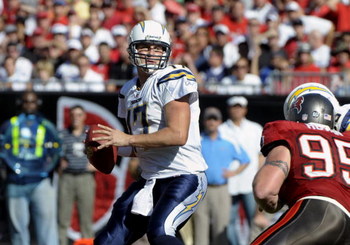 Wow, the Broncos are in trouble now. They had the chance to win the division for several weeks in a row and couldn't do it.
Now they have to go to SD and play a hot Philip Rivers with a notoriously bad pass defense for the division title. See ya in 2009, Broncos.
Pick: Chargers
Keep Reading

Carolina Panthers: Like this team?