2012 MLB Free Agents: Why Mark Buehrle Shouldn't Re-Sign with Chicago White Sox
December 7, 2011
Jonathan Daniel/Getty Images
Mark Buehrle has until late Wednesday night to answer the Chicago White Sox's arbitration offer, but if he's smart he'll turn them down and join another team. 
At the age of 32, Buehrle's primary focus needs to be on winning, and there won't be a lot of that going on for the White Sox in the coming years. 
Yes, he's been with Chicago for his entire career, but sometimes a change can be good. Buehrle is being coveted by multiple teams, and since he can basically have his pick, he had better chose the team with the best shot at winning a World Series. 
Jim Bowden of ESPN tweeted which teams are heavily pursuing Buehrle, which spells bad news for Chicago.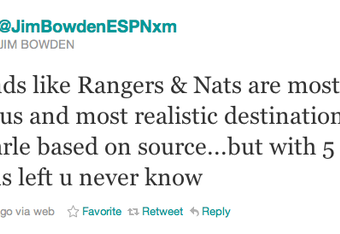 Things are up in the air right now, and ultimately it's up to Buehrle to decide. The money will be pouring in, but if he joins a team that has little to no shot of winning it all, then he will regret it.
According to sources, the other teams interested are the Miami Marlins and the Minnesota Twins.
Bill Ladson of MLB.com tweeted what kind of deal Buehrle is looking for.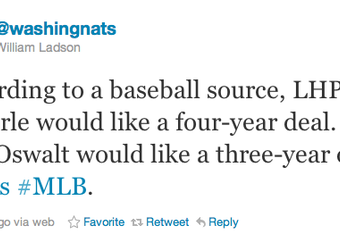 This would likely be the final years of Buehrle's career, but that all depends on how he is feeling when this new contract ends. 
Of course the White Sox would love to hold onto him, but other teams are much more enticing. 
While the Nationals are building a solid squad, I don't see Buehrle heading to the National League, but if he were to it'd be with his former coach Ozzie Guillen down in Miami. 
The best place for Buehrle to land would be in Texas. The Rangers have been to back-to-back World Series, and with their potent offense they're easily the favorites to win their division again. 
Having the taste of defeat on the biggest stage has stung the Rangers twice now, but adding Buehrle would help them in crucial moments. 
Texas is looking around just in case C.J. Wilson decides to sign elsewhere, but if there's a way the Rangers can keep him and get Buehrle they have to do it. 
Buehrle must put all of his attention towards winning, and since the Rangers give him the best shot and not the White Sox, it's time the ace packs his bags and leaves Chicago.