Each NFL Team's NBA Player Equivalent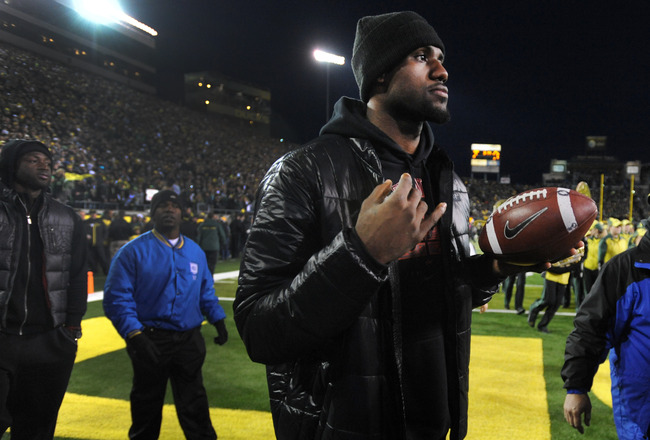 Steve Dykes/Getty Images
The NBA lockout is over, and with only weeks before the season kicks off, it's fun to compare some of the league's players to the teams of the NFL.
It might seem like a surprise that the two leagues and their players have so much in common, but that's changed with the shortened schedule for the season.
With fewer opportunities to tinker with their rosters in active game situations, teams may find themselves more willing to make big overhauls. Players will also have to adjust to what may be a very hectic travel schedule. All this will create an urgency that sports fans will love to watch unfold.
With that said, here are the NBA player equivalents of each NFL team
Arizona Cardinals: Deron Williams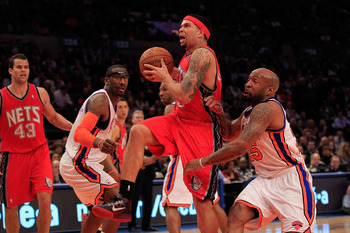 Chris Trotman/Getty Images
When a team gets stagnant, it's not a bad idea to go for a splashy free agent move. The New Jersey Nets did so in 2010, making a deal to bring in point guard Deron Williams.
Likewise, the Arizona Cardinals, unhappy with their quarterback prospects, shipped off cornerback Dominique Rogers-Cromartie and several draft picks for quarterback Kevin Kolb.
While neither pick-up has panned out so well in the short term (the Nets ended the season at 24-58, and the Cardinals are among the bottom feeders of the NFC), fans can only hope that these initial players moves can inspire further team improvements.
Atlanta Falcons: Stephen Curry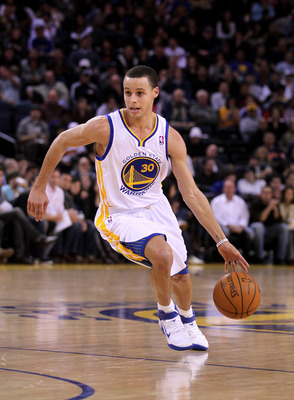 Ezra Shaw/Getty Images
Golden State Warriors point guard Stephen Curry is just one of many reasons for fans of the team to stay optimistic about the team's future. He can play with the best of the competition.
Curry's growth is similar to that of Atlanta Falcons quarterback Matt Ryan. Drafted in 2008, Ryan has been a major reason for the team's competitiveness in the NFC South.
The lesson: Pick a franchise guy, and let them mature in your organization.
If done correctly, it can be the solid foundation for growth out of any low expectation situation.
Baltimore Ravens: Kevin Garnett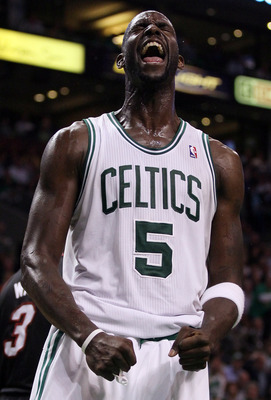 Elsa/Getty Images
It's not fun to see players age, especially ones as fierce as Kevin Garnett. The veteran power forward has a knack for playing defense not seen too frequently in his peers, and one wonders who will fill that void when he decides to hang it up.
Likewise, it wasn't fun to see Baltimore Ravens linebacker Ray Lewis sidelined with an injury the past few weeks. There appears to be no sign of stopping Lewis' dominant play, as he continues to age very gracefully.
While it can be assumed their playing time will run out soon, it would be nice to see them make a few more playoff appearances.
As Garnett would say, "Anything is Possible!"
Buffalo Bills: Brandon Jennings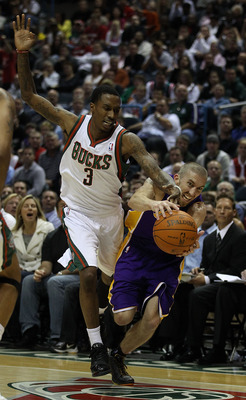 Jonathan Daniel/Getty Images
Brandon Jennings exploded onto the scene in his rookie year in 2009, after breaking a team rookie scoring record with 55 points in a game. However, that initial success overshadowed two things: First, he was a better passer than scorer and second, he still had a lot of learning to do. His 2010-2011 season was also marred with injuries.
Likewise, the Buffalo Bills surprised many this year after starting the season 4-1. However, this success overshadowed the fact the team was just not consistent enough to make a big-time run. Sitting at 5-7, they have a lot of thinking to do in order to correct the mistakes that doomed their season (especially on defense).
Needless to say, more people remember the way you finish than any hot start.
Carolina Panthers: John Wall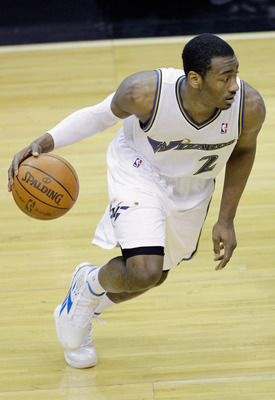 Rob Carr/Getty Images
It's noble for a player to say they are putting the team on their back, but sometimes that weight is too heavy.
See the case of John Wall. Wall, the rookie point guard out of Kentucky, did his best to turn the disastrous outlook for the Washington Wizards, but found his efforts downed quickly. The team finished with a lowly 23-59 record.
Likewise, Carolina Panthers quarterback has done his part to spark the team's offense, including breaking the rushing touchdown record for quarterbacks. However, those efforts have been ruined through a combination of ineffective defensive and special teams play.
Hopefully with more time (and some quality drafting/free agent grabs), these two teams will see their star rookies' efforts pay off with wins.
Chicago Bears: Brandon Roy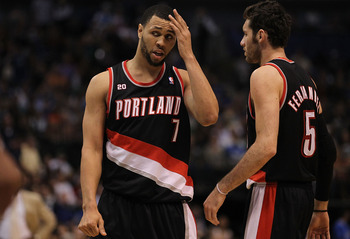 Ronald Martinez/Getty Images
Injuries can suck the life out of franchises, and that is evident looking at the Portland Trail Blazers and the Chicago Bears.
The Bears, once a playoff contender, look to have a tough road ahead after starting quarterback Jay Cutler broke his thumb (ending his season). Should the Bears stay with backup Caleb Hanie (like they're planning) or should they pursue a new quarterback, like the recently released Donovan McNabb.
Portland also has a big decision to make, given the injury background of Brandon Roy: Should the team keep him (and his hefty contract) around, or cut him and attempt to bring in some new talent.
Cincinnati Bengals: Blake Griffin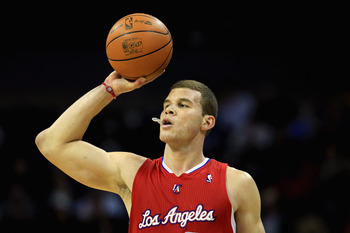 Streeter Lecka/Getty Images
It doesn't take a huge number of players to rejuvenate a franchise, and in that sense the Cincinnati Bengals have seen huge dividends from the drafting quarterback Andy Dalton and wide receiver A.J. Green. The Bengals, usual cellar dwellers in the AFC, have found themselves very close to a wildcard spot in the playoffs (they were the best in the AFC only a few weeks ago).
Likewise, the addition of Blake Griffin has turned the Los Angeles Clippers from perennial cellar dweller to a team with a little bit of swagger and enthusiasm going there way.
A dark-horse candidate for several free agents (provided team owner Donald Sterling could find a way to part with his money), the Clippers are not that far away from making the most unlikely of turn arounds.
Cleveland Browns: Brian Scalabrine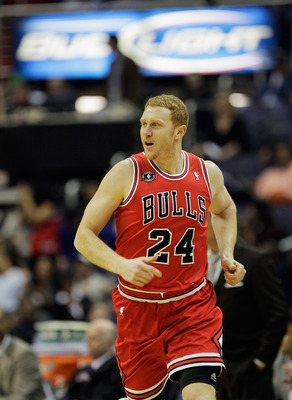 Rob Carr/Getty Images
Chicago Bulls forward Brian Scalabrine has had his share of detractors, and for good reason. He can be a complete offensive liability, and his strong defensive play usually wears out in a matter of minutes.
Likewise, the Cleveland Browns have been directionless
Despite this negative outlook, there is some reason for hope. Scalabrine during the lockout made his way to Italy, where his play with Benetton Treviso was very well received (check out this highlight reel from one of his games).
In other words, the Browns may want to find another league to dominate in to build up their confidence in order to hang in the NFL.
Dallas Cowboys: Lamar Odom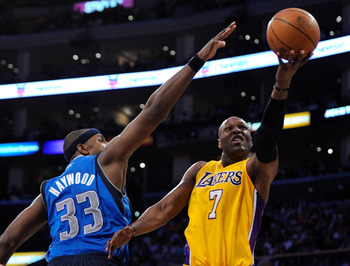 Kevork Djansezian/Getty Images
There is no doubt Los Angeles Lakers forward Lamar Odom is a good basketball player. However, Odom will always get more attention than he probably deserves, due to his reality television notoriety and marriage to Khloe Kardashian.
Likewise, the Dallas Cowboys are a good football team. However, the Cowboys will always get more attention (and prime-time game showings) than the team probably deserves, due to their notoriety and name cache as America's Team.
Denver Broncos: Rajon Rondo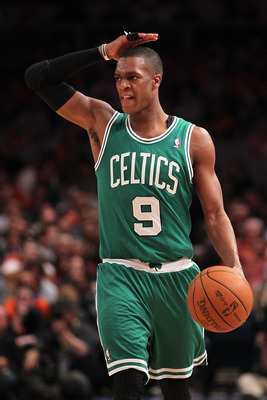 Nick Laham/Getty Images
Boston Celtics point guard Rajon Rondo is very successful, despite having a skill set that doesn't sit well with basketball commentators. His free throw shooting is terrible, he is not the best shooter, and he takes a lot of arguably unnecessary risks while going for steals on defense.
Regardless of these critiques, there is no doubting him when it comes to the team's winning percentage.
Likewise, the Denver Broncos and their quarterback Tim Tebow have also been ripped by purists of the game.
"Tim Tebow can't throw!"
"Tim Tebow can't handle the speed of the pro game!"
"Tim Tebow can't win!"
As much as it pains those critics to say it, Tebow and the Broncos are getting the wins. Now in a tie for the AFC West lead at 7-5, the Broncos have a chance to dish out the sweetest revenge to those who didn't believe in them.
Win.
Detroit Lions: Andrew Bynum
The Detroit Lions (mainly defensive tackle Ndomukong Suh) and Los Angeles Lakers center Andrew Bynum have both developed a nasty reputation for playing dirty, a reputation that has overtaken their otherwise positive reviews for their play.
Suh has been flagged several times for unsportsmanlike play (including the stomping on a Green Bay Packers player during a nationally televised game on Thanksgiving), while Bynum was slammed for his cheap shot on the Dallas Maverick's J.J. Barea (video attached).
If they're not careful, they may ruin their team's success and sour fans from watching them play.
Green Bay Packers: Kevin Durant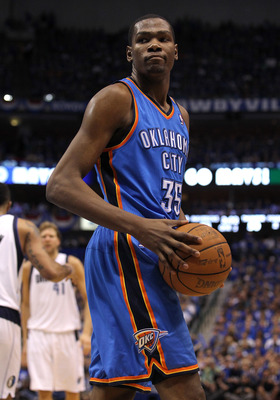 Ronald Martinez/Getty Images
The sky is the limit for the Green Bay Packers, as well as Oklahoma City Thunder forward Kevin Durant.
The Packers, sitting at a perfect 12-0, have handled all challenges thrown their way, and it's tough to imagine the kind of effort that will be necessary to bring them down.
Similarly, Kevin Durant is at the top of his game, and is on the road to tearing up the rest of the league. His Thunder team fell just short of making the championship last season, and with the same nucleus returning this season, they have to be odds-on favorites to make a deep playoff run.
Houston Texans: DeJuan Blair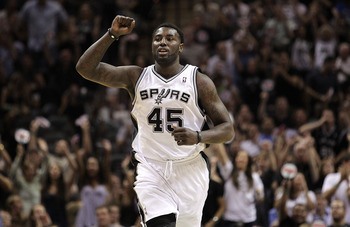 Ronald Martinez/Getty Images
The Houston Texans have been ravaged by injuries this season (particularly at the quarterback position), but may find inspiration in the San Antonio Spurs DeJuan Blair.
Blair now plays without an ACL, after sustaining so many injuries to the ligament. He does this thanks to the strength of his quadriceps and hamstrings, which handle the stress of constant jumping and landing.
His perserverance could be a good thing to think about as the Texans try to keep their team together with a literal bare-bones roster.
Indianapolis Colts: Joe Johnson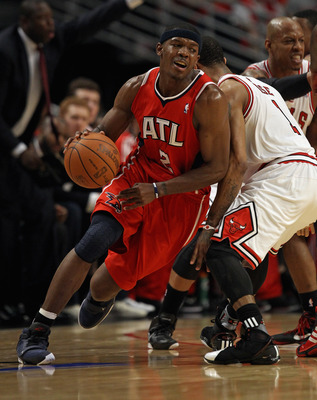 Jonathan Daniel/Getty Images
The Atlanta Hawks and Indianapolis Colts both have difficult decisions in whether or not to hold on to their star players.
The Hawks Joe Johnson, who received an outrageous 6-year, $119 million deal from the team in 2010, is now a prime candidate for the use of the team's Amnesty Clause, clearing them of their obligation to him under the salary cap.
Likewise, the Indianapolis Colts will need to decide soon on the future of injured quarterback Peyton Manning. With the team likely to receive the number one overall pick in next year's draft, the team is likely to go with Stanford quarterback Andrew Luck.
The Colts will need to decide if it's worth it to clear the roster of one of the greatest players in its history (while balancing the need to shed some excess contract).
The decision won't be coming any time soon, and it is not a slam dunk decision in any sense.
Jacksonville Jaguars: Metta World Peace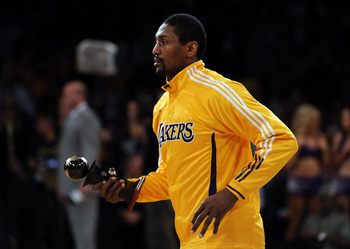 Harry How/Getty Images
Nobody does dysfunctional in the NFL quite like the Jacksonville Jaguars, and nobody in the NBA can do it quite like Los Angeles Lakers forward Metta World Peace (formerly known as Ron Artest).
The Jaguars ditched their quarterback David Garrard a week before the start of the regular season, and have now fired their coach and replaced their ownership within a matter of a week.
Likewise, MWP's track record of crazy activities is so long it might take a book (or at least several Bleacher Report slideshows).
On a related note, I'd like to thank my psychiatrist for helping me write this slide.
Kansas City Chiefs: Baron Davis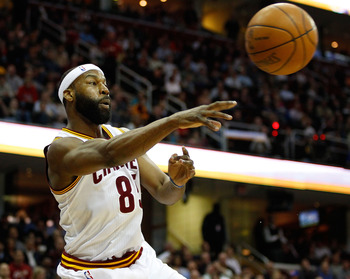 Jared Wickerham/Getty Images
It's tough to get motivated about the prospects of the Kansas City Chiefs, in a year marred by injuries and somebody called Tyler Palko (spoiler alert: he's not very good). While the Chiefs were great in winning the AFC West last season, they have completely killed that feeling of goodwill.
Likewise, it's tough to get fired up about Cleveland Cavaliers point guard Baron Davis. While he was great while playing with the Golden State Warriors, his unmotivated play and lackluster performance have completely killed all good feelings of good will.
For the Cavaliers sake, they hope Davis will be able to hang long enough for their first round draft pick Kyrie Irving to get acquainted with running the offense.
Miami Dolphins: Kevin Love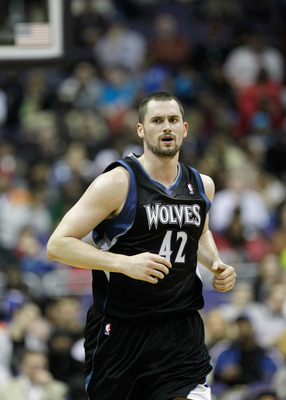 Rob Carr/Getty Images
There's a lot to be said for not giving up when the situation gets rough, so a lot of credit has to go out to the Miami Dolphins and Minnesota Timberwolves forward/center Kevin Love.
Love, the best player on the Timberwolves team (by far), set the example for his team through his relentless hustle, which led to 53 straight games with him posting a double-double.
The Dolphins, starting the season 0-7, went on to win four of the next five (the one loss was to the Dallas Cowboys by one point on Thanksgiving).
While they now sit at a depressing 4-8, they are a scary matchup for any playoff team that might be on the fence about their playoff opportunities.
Minnesota Vikings: Kyrie Irving
Mike Stobe/Getty Images
Sometimes the timing doesn't work out for teams, and in those cases there has to be a quick reaction to ensure there isn't too much damage done.
The Minnesota Vikings probably didn't think they'd need to turn to their rookie quarterback Christian Ponder so quickly. However, with starter Donovan McNabb failing to keep the team competitive (ignoring the problems at wide receiver and offensive line), the team decided to jump to Ponder. The team has seen its play become more competitive, and will have a lot to build on next season.
Likewise, the Cleveland Cavaliers may be hoping they can hold out Kyrie Irving from taking the starter role for a little bit, but will most likely not get that chance due to the likely lousy play of starter Baron Davis.
Either way, the Cavs will most likely have a lot of time to make up their minds if they want to remain competitive this year.
New England Patriots: Kobe Bryant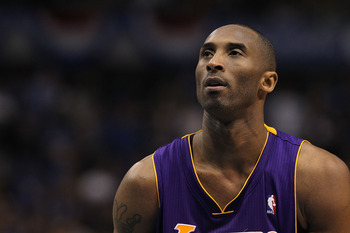 Ronald Martinez/Getty Images
One of the best players in the NBA, Los Angeles Lakers superstar Kobe Bryant has to be thrilled that he is no longer the most hated player in the league today (that honor is shared by the Big 3 of Miami). He can win as he pleases, and won't get the focused negative attention that he used to.
Likewise, the New England Patriots have to enjoy the fact that other teams have picked up the title of most disliked team in the game (that would be the Philadelphia Eagles, which will be discussed a little later in this slideshow).
Overall, it's a very good place to be at.
New Orleans Saints: Derrick Rose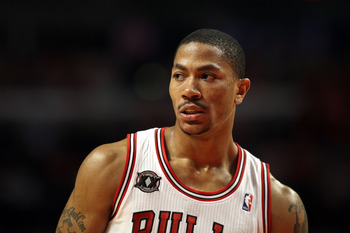 Jonathan Daniel/Getty Images
No matter if it's basketball or football, the game is much easier when you have a great distributor on your team.
The Chicago Bulls have one of the best distributors in the game in point guard Derrick Rose. In addition to having a real knack for finding his teammates, he has taken a leadership role that has helped the team become a near-guaranteed playoff contender.
Likewise, the New Orleans Saints are very lucky to have quarterback Drew Brees. One of three quarterbacks on pace to break Dan Marino's record for passing yardage in a season, he has also taken on a leadership role that led them to a Super Bowl only a few seasons ago.
There's no doubt that it's tough to pass on either the Saints or Rose's prospects in the near future.
New York Giants: Marc Gasol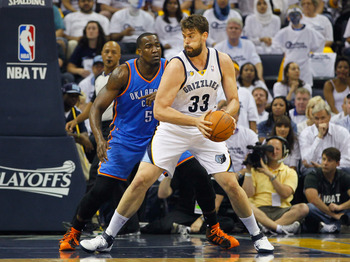 Kevin C. Cox/Getty Images
The New York Giants have seen their stock rise with the improved play of quarterback Eli Manning, younger brother of Indianapolis Colts star Peyton Manning.
However, with Peyton sidelined, Eli is coming into his own celebrity, as people realize he can do some pretty nifty things leading the Giants offense.
Likewise, Memphis Grizzlies center Marc Gasol was shrugged off as filler when the the Lakers dumped him for his older brother Pau only a few years ago. While at the time it seemed like a one-sided move, it now seems to be a (more) fair deal.
That perception has changed as Marc has started to become more comfortable in his game. That was evident as Gasol dominated the paint in the Grizzlies' exciting playoff run.
If he can keep it up, people will come to realize that the younger brother Marc is a pretty dominant force on his own.
New York Jets: Kris Humphries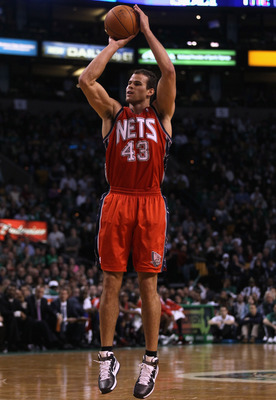 Elsa/Getty Images
The New Jersey Nets' Kris Humphries, better known as Kim Kardashian's soon to be ex-husband, will find that his actions on the court will soon be overshadowed by his off the court entanglements. Whether fair or not, it will more than likely create a few headaches they would prefer to do without.
Likewise, the New York Jets (along with quarterback Mark Sanchez) have a way of receiving way more interest in their off the field antics than anything they do on the field. Whether its Sanchez's romantic involvements or GQ photoshoots, or the videos of Rex Ryan, there's no doubt these different things will create extra pressure on them to perform well.
Regardless if its fair or not, the pressure will most likely create a few headaches they would prefer to do without.
Oakland Raiders: Chris Bosh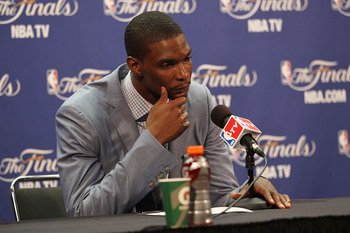 Mike Ehrmann/Getty Images
When the pressure's on, there is no escaping it. The harder you try to steer clear of it, the more likely it will continue to haunt you.
In this sense, Miami Heat forward Chris Bosh was considered by many to be the reason for a failed championship run in South Beach, with many considering his a sidekick to a more talented pairing of Lebron James and Dwyane Wade. Even with a perceived shrinking of Lebron James in a pressure-filled finals, many still pointed to Bosh as the one responsible.
Likewise, the Oakland Raiders made a bold course of action in signing Cincinnati Bengals quarterback Carson Palmer to replace the injured Jason Campbell. However, Palmer has been somewhat slow in shaking off the rust from his mini-hiatus, and with that struggle the Raiders have been putting on some bad losses (including a blowout loss to the Miami Dolphins Sunday.)
With the pressure of potentially choking away the AFC West divisional lead, the fault for a missed division title will most likely go to Palmer. Even if the defense continues to struggle and the injuries pile up, there will still be many pointing to the signing of Palmer as a turning point for the season going wrong.
Philadelphia Eagles: Lebron James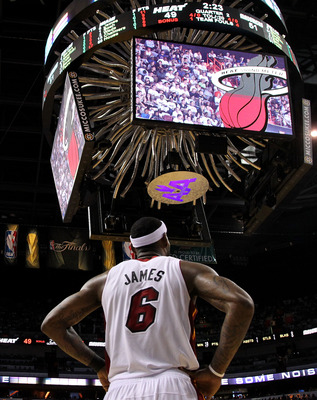 Mike Ehrmann/Getty Images
If there's one thing people like more than booing somebody they don't like, it's seeing those same people fail.
With that in mind, the internet (along with what appeared to be the entire state of Ohio) cheered wildly upon seeing Lebron James and the Miami Heat fall to the Dallas Mavericks in the NBA Finals last season.
Likewise, there are a lot of people very happy to see MIchael Vick and the Philadelphia Eagles fail this season, despite the addition of talent on both sides of the ball.
While both teams shouldn't be considered completely finished (the Miami Heat are favorites to win it all this season, and the Eagles will surely do better with a full offseason to improve), there's no doubt there are plenty who are hoping for their continual defeat.
Pittsburgh Steelers: Tim Duncan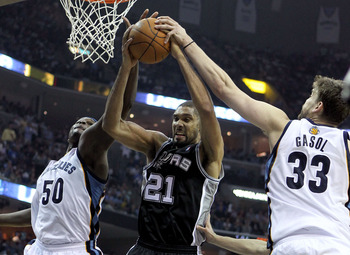 Andy Lyons/Getty Images
It's tough to imagine the game of basketball without San Antonio Spurs forward Tim Duncan being a threat to win it all, but it appears that he's reaching the end of the line. While he may have another year or two in the tank, he has clearly lost a step, and that is hurting the team's efforts.
Similarly, it's tough to visualize the Pittsburgh Steelers not being considered a contender. Even at 9-3, it appears they may be losing a step compared to the other upper echelon teams in the AFC.
It's way too early to call the Steelers out of contention, but it seems like they may need to step their game up if they want to continue holding off teams like the Baltimore Ravens (who beat them twice this season).
San Diego Chargers: Dwight Howard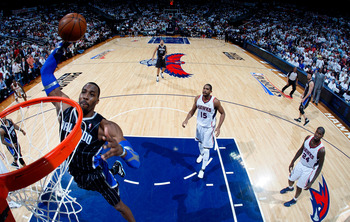 Kevin C. Cox/Getty Images
A tremendous talent, that while coming close to the ultimate glory of winning a championship, put together their worst performances in the clutch moments where they would be the most needed.
Wait...who am I talking about right now?
San Francisco 49ers: Zach Randolph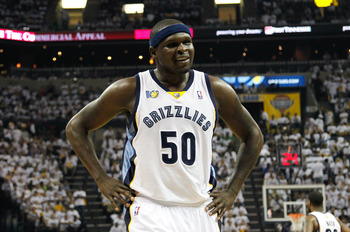 Kevin C. Cox/Getty Images
I think most people would be surprised to see Zach Randolph as one of the main reasons for the Memphis Grizzlies success. Randolph had been seen as a major trouble maker in stints in Portland and New York.
However, when he finally focused, he proved himself to have some major game (especially in the team's playoff series against the Oklahoma City Thunder).
Likewise, most people at the start of the season would be astounded if they were told the San Francisco 49ers would be near the top of the NFC this late in the season.
Led by head coach Jim Harbaugh, the Niners have found a way to make their previously dysfunctional parts co-exist, and with that the team has been able to put together some quality wins.
With this success already in hand, it will exciting to see how Randolph and the 49ers build on what they've done so far.
Seattle Seahawks: Tyreke Evans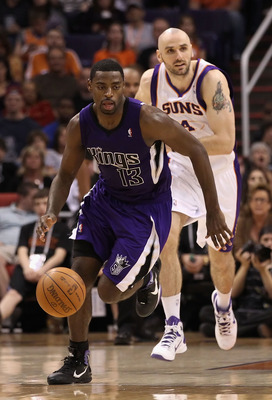 Christian Petersen/Getty Images
A little excitement can go a long way, and the Sacramento Kings Tyreke Evans has been able to show that in a big way.
Evans, no stranger to the highlight reel, has been able to garner some fan support for the Kings, after years of underwhelming squads and poor records.
Likewise, the Seattle Seahawks have found a few players (primarily Marshawn Lynch) that can provide a major spark for the team. Building off his big runs, the Seahawks notched a solid win over the Philadelphia Eagles last Thursday.
St. Louis Rams: Monta Ellis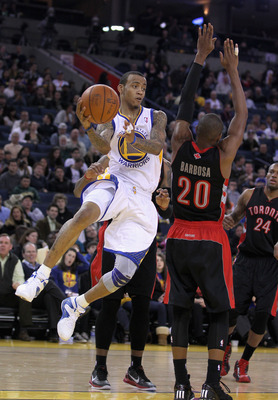 Ezra Shaw/Getty Images
The struggling St. Louis Rams could learn a lot from the Golden State Warrior's Monta Ellis: If you're not going to win, you should at least try to make it look good.
Ellis, despite his team's troubles, has seen his minutes and stats go up in almost every category. They may not be wins, but Ellis is definitely getting some quality time on the floor.
When the Rams have tried to follow this kind of advice, they've actually found some success. They looked excellent in their big upset win over the New Orleans Saints
Tampa Bay Buccaneers: Russell Westbrook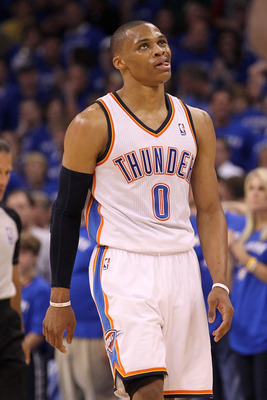 Ronald Martinez/Getty Images
The Tampa Bay Buccaneers are a young team, and as a result they've found themselves prone to making unlikely mistakes. While they have improved over the course of the season, they have still been on the receiving end of some ugly blowout losses.
Likewise, the Oklahoma City Thunder's Russell Westbrook has shown he has plenty of talent, but has erred in some of his decision making (like his insistence on taking last second shots during the team's playoff series versus the Memphis Grizzlies). While it's not exactly something that will ruin the Thunder's contender status, they will be things that will probably annoy fans of the team.
With age comes maturity, so hopefully these two teams will see some improvements in the years to come.
Tennessee Titans: Manu Ginobili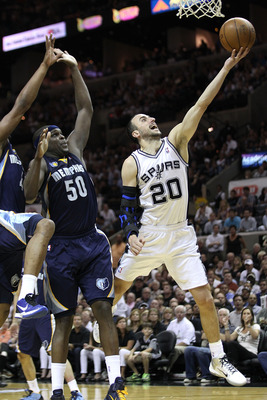 Jed Jacobsohn/Getty Images
The Tennessee Titans have seen some up and down play from its aged quarterback Matt Hasselbeck, and one has to wonder if the San Antonio Spurs guard Manu Ginobili is on a similar path.
The Spurs looked old and out of step as they were swept by the Memphis Grizzlies in the playoffs last season. While much of that drop in quality could be linked to an aging Tim Duncan, the team didn't get the best of performances from Ginobili.
The Titans have seen decent play from backup Jake Locker in limited appearances, and fans of the team will have to wonder how much longer they will keep the veteran Hasselbeck in the starter role (probably until they're officially out of playoff contention).
Likewise, fans of the Spurs will wonder how much longer the team will hold off a search for Ginobili's replacement.
Washington Redskins: Rashard Lewis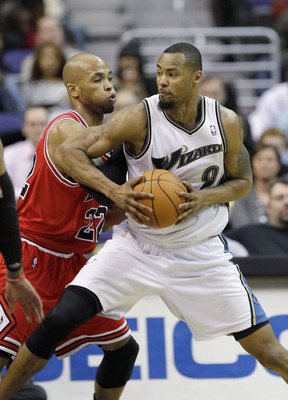 Rob Carr/Getty Images
Overvalued, overpaid, soon to be free agent Rashard Lewis is a perfect comparison to the Washington Redskins.
The NBA's new amnesty rules for teams to clear unruly contracts from their books was made for players like Lewis.
That kind of outrageous contract signing was previously the kind the Redskins would offer. Even though the the team now looks to build from within (or any way that doesn't require large payouts to guys like defensive lineman Albert Haynesworth), they still carry a reputation of poor spending after years of splashy contracts and underwhelming play.
Keep Reading