Jason Garrett: Is the Cowboys Head Coach the Solution, or Part of the Problem?
December 7, 2011
Tom Pennington/Getty Images
In December of last year, the Cowboys played the Cardinals in a game that was broadcast on the NFL Network. We all know the Cardinals beat the Cowboys 27-26, mostly because of a missed extra point by David Buehler. 
During the pre-game show, Jerry Jones visited the NFL Network set on the field to talk about the state of the Cowboys at that time, and which direction they might be going at the head coach position. He said some things during that interview that I initially believed indicated he would not be going forward with Jason Garrett. He mentioned that he had no doubt Garrett could be a head coach in the NFL, but the question was when?
Last season during Garrett's audition as interim-Head Coach, it was his first time as the head man at any level of football. He had only five years of coaching experience in total.  And as Jerry so eloquently put it, "We don't have time to have a bad time with the Dallas Cowboys." 
Meaning, because of the abysmal failure that was the 2010 season, they could not afford to start slow. They had to "hit the ground running." A rookie head coach, especially one with no level of head coaching experience, would have growing pains to work out.
Later in the interview, Deion Sanders mentioned the possibility of bringing in Jon Gruden or Bill Cowher. Jerry answered by saying:
"I'm a big believer in a challenge.  Doing something that's never been done before.  You know there's never been a head coach that won a Super Bowl with one team, that won it with another.  Never."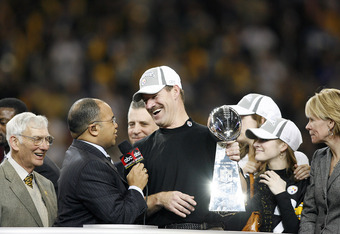 G. N. Lowrance/Getty Images
In my opinion, that statement was as strong an indication of what his plans were going forward as he could give without coming right out and saying he was going to hire Bill Cowher or Jon Gruden or some other Super Bowl winning head coach to be the next leader of the Dallas Cowboys.
Of course, we all know that didn't happen. Were there discussions with the Cowher's and Gruden's of the world about the job, and if so did negotiations simply break down and force Jerry to go with Jason Garrett?
If there were, they were as tight-lipped and secretive as it gets. There were absolutely no reliable sources indicating anything like that had happened. At least none that I ever found, and believe me when I say that I put countless hours into scouring the web for any hint of a sign.
The point is, the Cowboys this season have done exactly what Jerry said they did not "have time" to do. They stumbled out of the gates at 3-4, instead of "hitting the ground running."
Jason Garrett has had his share of rookie coaching mistakes, which have cost the team games against the New England Patriots, and most recently these Arizona Cardinals. These Dallas Cowboys continue to find dramatic ways to lose games, just like they did last season. Currently they are sitting at 7-5 thanks to a very soft schedule, but if you're a realist with any eye for football at all, you have to be worried as the Cowboys enter the home stretch of their season.
With an offense that struggles to score points against inferior opponents, an offensive coordinator who tends to abandon the running game if they are not consistently popping 10 to 20 yard runs, a head coach who struggles with game management decisions and a defense who is desperately trying to bail water from the sinking ship that is their secondary…you can't help but be worried.
Make no mistake, just like the previous four years, Jason Garrett is part of the problem instead of the solution. He refuses to own up to his mistakes, of which he's had plenty this year. Is a simple apology for screwing up too much to ask? Does he think if he accepts blame that Jerry will fire him on the spot? 
When trying to explain his decision not to call a time out with 24 seconds remaining in the game and a chance to run an extra play for better field position, Garrett tries to defend his position by saying a negative play would have taken them out of field goal range. To me, that sounds like gutless football. You may have been in field goal range at 49 yards, but just barely. With that much time left on the clock, and two time outs to work with, you should always play for position. 
Logic and common sense, would tell you that the closer you are to the goal posts, the greater the chance that your kick will succeed. You don't have to line up in a five-wide, shotgun formation and sling the ball downfield. A simple run between the tackles will suffice. Every yard you gain increases your percentage of making a field goal.
On the subsequent call for time out just before his kicker nailed a 49 yard field goal, Garrett tried to explain:
"Well, I think we were all watching the same thing. And you know the operation, it got to about eight, seven, six, and he's still backing up, and they were right there in my hip pocket and they said, hey, bang the time out. But I was seeing exactly what they were seeing."
In contrast, Mat McBriar and Dan Bailey both said they weren't worried about the time and weren't sure why the timeout was called. As the holder, it is McBriar's job to make sure the players are set and the ball is snapped in a reasonable amount of time. If he wasn't worried, and Bailey wasn't worried, why was Garrett? For that matter, why not call a timeout before even lining up for the kick? That way your players have plenty of time to prepare and set up.  Seems like a no-brainer with the game on the line.
Former Chicago Bears head coach, Mike Ditka, said on the radio show "Mike and Mike in the Morning" that he thinks, "the pressure's gotten to Jason and he's really over-coaching right now."  He went on to say, "If you fear success, you won't have success. If you fear failure, you shouldn't be out there anyway."
I whole-heartedly agree, Coach.