Predicting Every College Football Bowl
It's bowl season again! That means a number of things, including exciting last minute finishes, one last chance for seniors to make a statement and the BCS' annual ruining of college football! Every bowl helps gain exposure for the represented schools and future recruits can see what they are getting into. So let the pigskins fly and put the mouth guard in because these are the predictions for the 2011-2012 bowl season.
Begin Slideshow

»
Temple Owls (8-4) Vs Wyoming Cowboys (8-4)
The Owls have a pretty tough defense which is giving up only 13.8 points a game, good for 3rd in the FBS. They can also run the ball, with an average of 256.7 rushing yards per game, putting them 7th in the FBS. Temple even played Penn State tough before eventually losing 14-10.
The Cowboys have won 4 of their 8 games by less than 7 points. They haven't beaten any top colleges this year and have been blown out when facing strong competition.
I like Temple to pound the ball against Wyoming.
Prediction: Temple 30 Wyoming 10
Ohio Bobcats (9-4) Vs Utah State Aggies (7-5)
The Bobcats could have easily gone undefeated this year. All of their losses in the MAC were by 3 points or less. They played Rutgers well too, losing 38-26. They are 25th in the FBS in rushing with 201.9 yards.
The Aggies struggled early on in the season, starting 2-5. They narrowly lost to the defending champion Auburn Tigers 42-38 in the first week of the season. The Aggies are ranked 6th in the nation in rushing and 21st in scoring. Utah State comes in winning five in a row.
The more and more I look at the Aggies the better I feel about them. Look for a high-scoring game.
Prediction: Utah State 42 Ohio 34
San Diego State Aztecs (8-4) Vs Louisiana-Lafayette Raging Cajuns (8-4)
The Aztecs are a decent rushing team, with 194.2 yards per game, but it's the Aztecs tougher schedule that makes me believe they will win. They have played Michigan, TCU and Boise State and I believe that experience will pay off.
The Raging Cajuns may have the coolest name but I don't believe that will get them anywhere in this bowl game. They will have a big home crowd also but the Cajuns' weak schedule is a concern.
I like the Aztecs in this one.
Prediction: San Diego State 33 Louisiana-Lafayette 21
Florida International Golden Panthers (8-4) Vs Marshall Thundering Herd (6-6)
The Golden Panthers have had some bad losses to Duke and Arkansas State but have been playing well as of late. They have a solid defense that holds opponents 19.4 per game–good for 16th in the nation.
Marshall faces a tough challenge coming to the Golden Panther's back yard and playing. They are pretty average across the country in stats and that shows in their record at (6-6).
I like the Golden Panthers to take advantage of the home crowd.
Prediction: Florida International 23 Marshall 10
TCU Horned Frogs (10-2) Vs Louisiana Tech Bulldogs (8-4)
TCU had a great season, with it's only losses coming to Baylor (50-48) and SMU (40-33 in OT). They were able to beat Boise State, which was a signature win for the Horned Frogs. They have a potent offense which is scoring 41.7 points a game, 9th in the nation. TCU also brings a good ground game ranking 20th overall.
The Bulldogs didn't have a tough schedule but it's always impressive when a small school beats a SEC team, which the Bulldogs did when they beat Ole Miss. The Bulldogs come into this bowl winning seven straight but I don't believe it will be enough to overcome TCU.
TCU is used to the role of David but they play Goliath in this bowl.
Prediction: TCU 48 Louisiana Tech 24
Arizona State Sun Devils (6-6) Vs Boise State Broncos (11-1)
The Sun Devils started off the season hot but ended it with head coach Dennis Erickson being fired. ASU had wins over Missouri and USC at the beginning of the season but have lost four in a row since. The Sun Devils are a good passing team ranking 11th with 310.2 yards a game but I just don't think the Sun Devils will be able to handle Boise State.
The Broncos are one of the schools that will be leading the charge to get rid of the BCS after being passed up yet again. Boise State's only loss this year was a crushing 36-35 defeat against TCU. They are 2 points away from being undefeated. The Broncos are top 10 nationally in passing yards, scoring and scoring defense and Kellen Moore is looking to send a message to the NFL.
These Broncos will not be fun to ride.
Prediction: Boise State 38 Arizona State 28
Nevada Wolf Pack (7-5) Vs Southern Mississippi Golden Eagles (11-2)
One thing Nevada can do is run the ball. The Wolf Pack are 8th in the nation with 251.8 yards a game. They don't have any signature wins on the season and I don't expect them to end the season with one either.
Southern Mississippi is coming off an impressive whooping of the previously undefeated Houston. That win ended Houston's BCS dreams. The Golden Eagles can score, averaging 37.8 points a game. They both run and pass the ball effectively.
I'm choosing the Golden Eagles but I think this will be a close game.
Prediction: Southern Mississippi 30 Nevada 27
Missouri Tigers (7-5) Vs North Carolina Tar Heels (7-5)
The Tigers have played some good football but good football doesn't always result in wins. They lost 38-28 to then #1 Oklahoma, 24-17 to #20 Kansas State, and 42-39 to Baylor. The Tigers like to pound the ball on the ground and it shows with their 11th ranked rushing offense.
The Tar Heels have sputtered since a strong season, they are currently on a 2-4 stretch. They don't particularly excel in any category, and have played a much weaker schedule than Missouri did. They will need to bring their A game if they want to win.
The Tigers are too much for the Tar Heels.
Prediction: Missouri 21 North Carolina 14
Western Michigan Broncos (7-5) Vs Purdue Boilermakers (6-6)
The Broncos had a solid season and they will look to conclude it with a win against Purdue. The Broncos love to pass the ball, ranking 8th in the nation with 328.8 yards through the air. That usually results in points at 35.6 good for 18th in the FBS.
The Boilermakers have had a rough season. The Big Ten had some good teams this year, Purdue wasn't one of them. They struggles will continue this year against the Broncos.
The Broncos go through the air for the win.
Prediction: Western Michigan 23 Purdue 17
Louisville Cardinals (7-5) Vs North Carolina State Wolf Pack (7-5)
Louisville has played pretty well this season even when they lose. The most points the Cardinals lost by was nine, on the road to Cincinnati. Louisville has a stout defense that only gives up 19.2 points per game, good for 14th in the nation. Louisville also had a solid win against West Virginia.
When the Wolf Pack lose, they get crushed. The worst losses have come against Cincinnati 44-14, and Florida State 34-0. They have a signature win against Clemson this year but that's about it.
I like Louisville to take this one.
Prediction: Louisville 31 North Carolina State 30
Toledo Rockets (8-4) Vs Air Force Falcons (7-5)
Toledo has played very well as of late, winning their last 7 of 8 games and they like high scoring games. They have scored 44, 45, 49, 54, 58, 60, and 66. That's a lot of points. They average 42.3 points per game good for 8th in the nation. They can also run the ball.
The Air Force is known for pounding the ball on the ground. They are 2nd in the nation with 320.3 yards per game on the ground. I fully expect the Falcons to have some long drives, so Toledo might not be able to score in the 50s.
This will be almost certainly high scoring game.
Prediction: Toledo 49 Air Force 45
California Golden Bears (7-5) Vs Texas Longhorns (7-5)
California has been one of the safest bets in college football this year. They lose when they are suppose to and win when they are supposed to. Losses include Oregon, USC, Stanford, and UCLA but they have won the games they are suppose to, with wins against Utah, Fresno State, Oregon State, and Washington State.
Texas is still trying to find it's way back to being a powerhouse in football. They have been pretty streaky this year, even though they have lost 3 out of the last 4, the games have been competitive.
I think the Longhorns will rise up for this bowl.
Prediction: California 27 Texas 30 OT
Florida State Seminoles (8-4) Vs Notre Dame Fighting Irish (8-4)
Florida State has a great defense. They have held opponents under 20 points in the last 7 games. Overall, the Seminoles are 4th in the nation to holding their opponents to 15.2 points per game. The Seminoles prefer to pass through the air than pound on the ground.
Notre Dame was a lot closer to a BCS bowl than people think. The Irish started the season losing 23-20 to South Florida and on a last-second catch against Michigan. If that didn't happen, the Irish would be 10-2–with their losses coming to Stanford and USC.
This should be a great game.
Prediction: Florida State 21 Notre Dame 20
Washington Huskies (7-5) Vs Baylor Bears (9-3)
The Huskies are looking at a tough challenge in trying to stop Heisman winner Robert Griffin III. The Huskies aren't exactly setting the world on fire as of late, instead losing 4 out of 6 games. Washington has a solid offense that scores 31.5 points a game.
Baylor is the team on fire. Winning 5 straight and scoring over 40 points in all of the contests except one. Robert Griffin III has owned much of college football in the offensive stat department. Baylor is 5th in passing yards, 18th in rushing yards and 6th for points scored.
I don't think this one will be close.
Prediction: Washington 17 Baylor 45
BYU Cougars (9-3) Vs Tulsa Golden Hurricanes (8-4)
BYU has had a solid season and have been coming on strong as of late. Part of it is the Cougar's defense that ranks 23rd overall. BYU played only one game against a ranked opponent, and that was a 17-16 loss to #24 Texas.
I'm not sure how an hurricane can be golden but that's apparently what they are in Tulsa. Tulsa was on a 7-game winning streak before being crushed by Houston. One thing that Tulsa has done is go out and play quality opponents. Playing Oklahoma, Boise State, Oklahoma State, and Houston should help.
Experience pays off.
Prediction: BYU 30 Tulsa 34
Rutgers Scarlet Knights (8-4) Vs Iowa State Cyclones (6-6)
Rutgers don't have any wins that stand out but they do have a solid defense that ranks 12th in the nation with giving up just 18.8 points per game. They do have a flaw and it's the run game. Rutgers average isn't even above 100 yards per game.
Iowa State is known around the nation for destroying the BCS Championship dreams of Oklahoma State in a double OT victory. They are average in just about every category and I believe they have already played their best football in wins against Texas Tech and Oklahoma State.
Rutgers D weathers the Cyclones.
Prediction: Rutgers 17 Iowa State 7
Mississippi State Bulldogs (6-6) Vs Wake Forest Demon Deacons (6-6)
Playing in the SEC isn't easy; Mississippi State came out pretty beaten up. They were able to beat all the opponents they should have yet couldn't come up with an upset but they do have a solid defense that gives up less than 20 points a game.
Wake Forest has lost 4 of their last 5 games. They can pass the ball but that's their only weapon on offense. They have played tough opponents well beating Florida State and losing to Clemson by only 3. I think they can stick with the Bulldogs.
Getting whooped on by better SEC teams pays off.
Prediction: Mississippi State 35 Wake Forest 28
Iowa Hawkeyes (7-5) Vs Oklahoma Sooners (9-3)
Iowa may be one of the most inconsistent teams in America. They lose one week, win the next. Oklahoma will try and stop WR Marvin McNutt, who is a complete stud, yet Iowa is pretty pedestrian across the stat board.
Oklahoma is one of the most dangerous passing teams in the nation. Sooners rank 4th in the nation with 365.1 passing yards per game. The Sooners also average over 40 points a game, good for 10th in the nation. They had a rough game against Oklahoma State but I believe they will bounce back.
Iowa plays well in bowl games so it will be closer than people think.
Prediction: Iowa 24 Oklahoma 34
Texas A&M Aggies (6-6) Vs Northwestern Wildcats (6-6)
The Aggies have a very nice profile for a 6-6 team. They rank in the top 25 for passing yards per game, rushing yards per game, and scoring per game. They lost to Oklahoma State by 1, Arkansas by 4, and went to 4 OT before losing to Kansas State.
Northwestern QB Dan Persa will have to play his best game of his career if he wishes to go out a winner. Northwestern is a very balanced offense ranking 35th in passing and 36th in rushing. The Wildcats defense is a bit shaky at times.
Texas A&M plays in their backyard in this bowl and that homefield advantage should see them through.
Prediction: Texas A&M 35 Northwestern 17
Georgia Tech Yellow Jackets (8-4) Vs Utah Utes (7-5)
The Yellow Jackets have one of the best dual threat QBs in the nation in Tevin Washington. He is the reason the Yellow Jackets boast the nation's 3rd best rushing attack and why Georgia Tech tends to score a lot of points also.
Utah, though, has a good defense that I believe can slow down Tevin Washington. Utah also played well for it's first year in the Pac-12 finishing 3rd in their division. I expect the Utes to come out and be ready for their bowl game.
Utes D gets it done.
Prediction: Georgia Tech 20 Utah 23 OT
Cincinnati Bearcats (9-3) Vs Vanderbilt Commodores (6-6)
The Bearcats didn't play a ranked opponent all year. Their defense showed up this season and is ranked 20th in the nation. Cincinnati prefers to run the ball instead of throwing it and I think that can do just that against Vanderbilt.
The Commodores either win by blowing out opponents or they just lose. It's one or the other. Watching the first quarter of this game should show who wins this bowl game. If Vanderbilt is winning by 10 or more they will win, if it's close they will probably lose.
Cincinnati keeps it close for a game.
Prediction: Cincinnati 28 Vanderbilt 20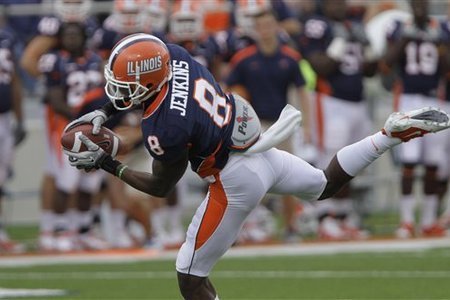 Illinois Fighting Illini (6-6) Vs UCLA Bruins (6-7)
Illinois got off to a hot start, starting 6-0. Then the Fighting Illini took a dive losing their last 6 games and head coach Ron Zook was fired in the process. The defense has been the only steady unit on the team. They rank 21st for points given up in the nation.
UCLA played in the Pac-12 championship game against Oregon and actually stuck with them for a few quarters. The defense gives up a lot of points though ranking 96th in the nation. I don't expect UCLA to be up for the Fighting Illini.
Illinois stops the bleeding.
Prediction: Illinois 42 UCLA 27
Virginia Cavaliers (8-4) Vs Auburn Tigers (7-5)
The Cavaliers record is good but if you look closely, it's not as impressive. They beat Indiana by 3, Idaho in OT by 1, and Duke by 10. The Cavaliers are coming off a 38-0 blow out loss to Virginia Tech but while the loss isn't surprising, it should at least have been competitive.
The Tigers are hurting after winning the national championship with Cam Newton. Having no Cam Newton has led the Tigers to a rough season. They have a few good wins in a tough SEC against Mississippi State and South Carolina.
I don't expect this game to be a pretty one. Lots of turnovers.
Prediction: Virginia 17 Auburn 31
Houston Cougars (12-1) Vs Penn State Nittany Lions (9-3)
Houston, Houston, Houston... So close to the BCS but couldn't close it out. Houston's loss in their last game shouldn't stain Case Keenum's great season, where he threw for over 5,000 yards and 45 touchdowns. The Cougars rank 1st in both passing yards per game with 443.8 and points scored with 50 a game.
As for Penn State, well... 2011 saw the end of Joe Pa and the sex scandal. Penn State will be relieved to end this season and I don't believe they will be very fired up. They have a great defense that is 5th in the nation. I just don't believe the defense can carry this team to a victory.
Happy Valley can't wait for this season to end.
Prediction: Houston 38 Penn State 21
Michigan State Spartans (10-3) Vs Georgia Bulldogs (10-3)
The Spartans are arguably the Big Ten's best team. The combination of Kirk Cousins and B.J. Cunningham is one of the deadliest in the nation. Cousins is now the winningest QB ever at MSU, along with owning the record for most touchdown passes ever thrown. B.J. Cunningham is MSU's all time leader in receptions. The MSU defense is one of the best in the nation ranking 9th. All 11 starting members of the defense won some type of award from the Big Ten.
The Bulldogs are coming off a thumping from LSU. They have a solid defense that ranks 17th in the nation in giving up points. Sophomore Aaron Murray will try and continue his breakout season and throw against the Spartans. These two teams played a few years ago in the Capital One Bowl.
Spartans should win round two.
Prediction: Michigan State 38 Georgia 31
Nebraska Cornhuskers (9-3) Vs South Carolina Gamecocks (10-2)
The Cornhuskers are very talented running the ball, ranking 13th in the nation with over 223 yards per game. They are a mostly one-dimensional team in their offensive attack because they don't pass too often. Nebraska has been very inconsistent this season when playing better teams. It's a toss up which Nebraska team will come out.
South Carolina had a great opportunity to play for a national championship this year, having Alabama and LSU off their schedule. They ended their championship bid pretty early losing to Auburn and than to Arkansas. They can count on their defense that ranks 13th in the nation.
Gamecocks show more ability to run the ball.
Prediction: Nebraska 20 South Carolina 35
Ohio State Buckeyes (6-6) Vs Florida Gators (6-6)
If only this bowl was played next year, when Urban Meyer is the coach of the Buckeyes....
Many people, including myself, thought Ohio State would be better than 6-6, even with their suspensions. Ohio State is still Ohio State with all the talent but they just couldn't get it together this year. The Buckeyes are on a 3-game losing streak and Braxton Miller has been questionable in his decision making.
The only games Florida hasn't been competitive in was blow out losses to Alabama and LSU. Florida defense checks in at 25th in the nation. I don't expect this game to be high scoring or pretty. Lots of pounding the ball, lots of turnovers, lots of usually happy faces disgruntled.
Florida prevails in the ugly bowl.
Prediction: Ohio State 23 Florida 26 OT
Wisconsin Badgers (11-2) Vs Oregon Ducks (11-2)
Wisconsin dominates almost every statisitcal category The Badgers are top ten in rushing yards, defense and top 5 for points scored. Montee Ball is the best back Wisconsin has had since Ron Dayne rumbled through Wisconsin–Ball has an incredible 32 touchdowns on the ground.
Oregon is an exceptional running team, also ranking 5th in the nation, and that has resulted in lots of points with the Ducks being 3rd in scoring. Oregon has two incredible running backs in LaMichael James, and Kenjon Barner.
First defense to stop the other team's offense wins.
Prediction: Wisconsin 49 Oregon 56
Stanford Cardinals (12-1) Vs Oklahoma State Cowboys (12-1)
Stanford is a good team through and through. They are top 25 in rushing yards, scoring and defense. They are 26th in passing yards. This will be Andrew Luck's last game before becoming the number one pick in next year's NFL Draft.
The Cowboys have blown out EVERY team they have faced this year... except that 3OT loss to Iowa State. But the fact is they are 2nd in scoring and 2nd in passing, and Justin Blackmon is an animal with the ball and has a nose for the endzone.
I think it should be a great game.
Prediction: Stanford 38 Oklahoma State 41
Congratulations to the Sugar Bowl committee for selecting historically the worst match up ever in the BCS. Don't take my word for it you can read this.
Michigan Wolverines (10-2) Vs Virginia Tech Hokies (11-2)
The Wolverines had a good turnaround on defense this year, going from the worst ever in program history to ranking 7th in the nation. The Wolverines also rank 12th in rushing, mainly due to the combo of Denard Robinson and Fitzgerald Toussaint. Michigan is one of the easiest teams to plan for, stop Robinson from rushing, force him to throw and he turns into an interception machine. If you can't stop him, have fun watching his cleats.
As long as the Hokies aren't playing Clemson they should be okay. Their only two losses came both times to Clemson. The Hokies rank 8th in the nation in defense which is how they win the majority of their games. I think the Hokies can make enough plays on defense.
So how does the NCAA stop the BCS from making more money minded decisions?
The Hokies get the better of Coach Hoke.
Prediction: Michigan 31 Virginia Tech 35
West Virginia Mountaineers (9-3) Vs Clemson Tigers (10-3)
West Virginia can sling the old pigskin around, ranking 7th in the nation with passing yards per game. That results in points, good for 19th in the nation at 34.9. The Mountaineers have some questionable losses to Syracuse and Louisville.
Clemson started off hot and as late has stalled out besides beating Virginia Tech. The Tigers don't really excel in anything besides passing. Clemson has played some good quality opponents and has won and lost some of those games.
I think Clemson pulls this out.
Prediction: West Virginia 21 Clemson 37
Kansas State Wildcats (10-2) Vs Arkansas Razorbacks (10-2)
The Wildcats find ways to win because they don't rank in the top 25 for any of the major stats. One player that is carrying this team is dual threat QB Collin Klein. He has 26 rushing touchdowns and 12 passing touchdowns. Klien has also compiled over a 1000 yards through the air and ground.
When your only two losses come from Alabama and LSU, you know you're a pretty good team. The Razorbacks can sling the ball around ranking 13th in the nation. Tyler Wilson will try to lead the Razorbacks to victory through the air.
Very tough decision but I like the Razorbacks.
Prediction: Kansas State 38 Arkansas 40
Southern Methodist University Mustangs (7-5) Vs Pittsburgh Panthers (6-6)
SMU's best game they played this year was against TCU. They won it 40-33 in OT. The Mustangs tend to pass the ball more than they run it–they rank 22nd in passing yards per game. Not having watched the Mustangs this year, I'm not sure what to expect from them.
The Panthers had a good win against South Florida. All the teams they lost to were formidable opponents. They are pretty average across the board in the stat department but something tells me they will find a way to pull off the upset.
Panthers take down the Mustangs.
Prediction: SMU 13 Pittsburgh 17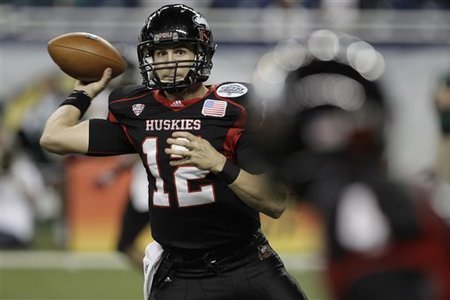 Arkansas State Red Wolves (10-2) Vs Northern Illinois Huskies (10-3)
The Red Wolves have a good recipe for success and that's a passing attack ranked 17th and a defense ranked 15th. The only ranked team that the Red Wolves played was Virginia Tech. It wasn't competitive but it could of been worse.
The Huskies also have a recipe for success but it's the complete opposite of the Red Wolves. Ground and pound the ball with their 9th ranked rushing attack and score a lot of points with the Huskies being the 13th best scoring offense.
The Huskies have won 8 straight, make it 9.
Prediction: Arkansas State 27 Northern Illinois 42
Alabama Crimson Tide (11-1) Vs LSU Tigers (13-0)
Alabama looks for revenge in this title game. They have the best defense in the nation. They are giving up only 8.8 points per game making them 1st in the nation. Trent Richardson will have to get going on the ground for the Tide early and often to relieve pressure from their QB.
The Tigers own second best defense in the nation giving up 10 points per game. Both teams are high scoring teams but I see a similar scoring drought for both teams that we saw in the first game. The honey badger will get a return TD to help the offense.
Alabama won't attempt a field goal in this game. Low scoring but it's incredibly hard to beat a team twice in the same season. Alabama will make it near impossible. LSU will have a chance to win the game on the final drive but I think the Tide step up.
Prediction: Alabama 21 LSU 20