NHL Realignment: 7-Team Conferences Open the Door for NHL Expansion
December 7, 2011
Rich Lam/Getty Images
The NHL announced last night that realignment is now official.
The results? Two seven-team conferences, and two eight-team conferences.
As a Red Wings fan, I can't say that I'm the biggest fan in the world of this realignment, but it is better than the alternative of putting the Red Wings in the Southeast division.
The distinction between the four divisions (with two having seven teams and two having eight teams) leads to a further discussion about whether or not there is room to add two more expansion franchises to make it four eight-team conferences.
So, where would the NHL put these teams?
Let the speculation begin!
For starters, let's introduce the new conferences:
Conference "A": Anaheim, Calgary, Colorado, Edmonton, Los Angeles, Phoenix, San Jose, Vancouver
Conference "B": Chicago, Columbus, Dallas, Detroit, Minnesota, Nashville, St. Louis, Winnipeg
Conference "C": Boston, Buffalo, Florida, Montreal, Ottawa, Tampa Bay, Toronto
Conference "D": Carolina, New Jersey, New York Islanders, New York Rangers, Philadelphia, Pittsburgh, Washington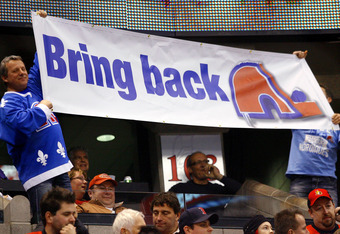 Phillip MacCallum/Getty Images
So, forget about the "Western Conference" teams because they are all in the eight-team conferences. Instead, focus more on the "Eastern Conference" teams.
Both new eastern conferences are short one team compared to their western counterparts.
So, where to put these teams?
How about Quebec City to start? It hasn't had a team since the Nordiques left after the 1994-95 season. In true Quebec fashion, its attempt to bring a team back was thwarted by nothing more than a failed agreement on naming rights.
But if they could get over that naming rights issue, could Quebec be next in line to support a franchise?
Well, for one thing, it wouldn't be getting the Phoenix Coyotes after their legal battles. Any city that is a prospect for fielding an NHL team would think twice after watching the Phoenix legal debate.
But Minnesota, Columbus and Atlanta (now Winnipeg) managed to pull the strings on an expansion franchise, and according to some, Quebec City could fund a new team.
Next on my list would be another team in Toronto.
Now, hold your objections; the Greater Toronto Area holds about five-and-a-half million people. Putting another team in the GTA would not be out of the question, as there are plenty of fans that are waiting for a breath of fresh air from the Maple Leafs, who can't seem to qualify for the playoffs these days.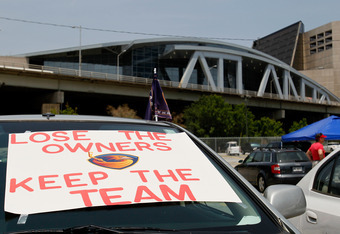 Kevin C. Cox/Getty Images
The GTA also holds more people than any other extended metropolis in Canada.
Putting a team there would open up a great opportunity for "Torontonians," who are sick and tired of the storied Maple Leaf franchise, to get another team to support. And it would create another rivalry for Toronto fans.
My final city in the mix would be Atlanta.
I know Atlanta just had its team taken from it, moved to Winnipeg and called the Jets. But let's be realistic: There were teams worse in attendance than Atlanta over the past few seasons (New York Islanders and Phoenix Coyotes, anyone?).
Atlanta was justifiably robbed of its team because it didn't have any fans attending home games, coming in third for worst attendance.
But, Atlanta wasn't losing money, unlike the Phoenix Coyotes. It could still hold a team, and it could still have fan support.
So Quebec City? Atlanta? Another team in the GTA?
Am I crazy? I feel like the four divisions of eight teams will work out eventually.
Comments, questions, concerns?
Follow Isaac on Twitter for more article updates.