BCS Controversy: Boise State Coach Chris Petersen Among Many Who Hate BCS
December 6, 2011
Doug Pensinger/Getty Images
There's no doubt that the Bowl Championship Series that the NCAA employs has many, many aspects that are wrong with it. After watching the bowl selection show Sunday night, I just continued to scratch my head, and I believe these are the worst selections the BCS has ever made.
According to ESPN.com, Boise State head football coach Chris Petersen let the media know how he felt about the BCS Monday.
"Everybody is just very tired of the BCS," Petersen said.
"I think that's the bottom line. Everybody is frustrated. Everybody doesn't really know what to do anymore. It doesn't make sense to anybody. I don't think anybody is happy anywhere."
I'm sure teams like Michigan and Virginia Tech are most certainly happy, but I understand exactly where Petersen's frustration is stemming from.
Petersen's Boise State Broncos were left out of the BCS conversation after finishing 11-1 and seventh in the final BCS standings. They will make an appearance in the MAACO Bowl Las Vegas.
While the Broncos are being kicked to the curb, teams like Michigan and Virginia Tech are making the Sugar Bowl. Since I am a diehard Michigan fan, I'm not going to say we didn't deserve it, but at the same time, I am not biased; therefore, teams ranked ahead of us with a better record should make a BCS bowl before us.
Virginia Tech, on the other hand, I just cannot wrap my head around. Yes, the Hokies only have two losses, but let's look at the circumstances here. Clemson beat the Hokies twice, by a combined score of 61-13, and the Hokies' most recent drubbing at the hands of Clemson came just a day before the final BCS rankings were unveiled.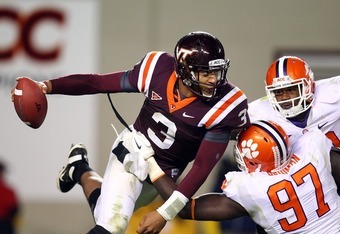 You would think getting pulverized by the same team twice in one season would pretty much disqualify you from BCS contention. Think again.
Virginia Tech also hasn't beaten a currently ranked team in the BCS top 25 all season long. At least Michigan beat No. 20 Nebraska, and rather handily might I add.
It is truly sad, as Sugar Bowl Chief Executive Officer Paul Hoolahan stated that Virgnia Tech's proven history of bringing fans to New Orleans was "extremely important." Does this imply that no attention was paid to the Hokies' dismal output against Clemson Saturday night? I think it does. That statement just proves that fan attendance and ticket sales is more important than giving the bid to a much more deserving team.
ESPN college football analyst Kirk Herbstreit was, for the most part, against this matchup, saying "is this what it comes down to? BCS at-large selections are all about who can sell tickets and fill hotel rooms?"
Herbstreit made this point Sunday night after the unveiling of the bowl selections, and it was a long time coming to prove a point I have been making for a long time now.
Teams like Arkansas, Boise State, Kansas State and Baylor were all overlooked in favor of Michigan and Virginia Tech, why? These schools have fantastic fanbases, bigger than Arkansas, Boise State, Kansas State and Baylor.
Herbstreit also stated that Virginia Tech "couldn't have looked worse" in a 38-10 drubbing at the hands of Clemson Saturday night in the ACC Championship Game. This is also a fantastic point, because I really don't understand how you position yourself for BCS supremacy by getting beat by four touchdowns in a championship game just a day before bowl selections.
Brett Deering/Getty Images
This is what the BCS has come down to, complete and utter disregard for your body of work and what will sell tickets and fill hotel rooms.
Oklahoma State was one of the largest snubs in BCS history. The Pokes, coming off a 44-10 annihilation of the Sooners in the Bedlam game Saturday night, finished the season 11-1. Statistically, the Cowboys have a better body of work than Alabama, who barely beat out the Pokes in the final BCS standings to sneak their way into the title game.
Oklahoma State defeated five ranked teams this season, four of which are still ranked. The Crimson Tide also defeated five ranked teams, but only three of them are still ranked in the final BCS standings. All in all, Oklahoma State had a bit tougher of a schedule, thus they should've been selected to go the the BCS National Championship Game.
Chris Petersen, Boise State head coach, believes a change is coming, and I am hoping he is right. There is no morality to this system. If you have a respectable record and a great fanbase, you're likely to get chosen. We can only hope that one day, the NCAA will eliminate this fraud of a system and follow the footsteps of college basketball.