Hyundai Sun Bowl 2011: Bold Predictions for Ga. Tech vs Utah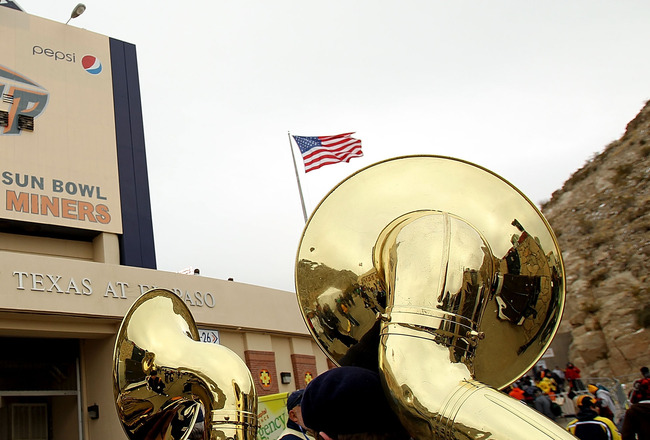 Ronald Martinez/Getty Images
The 2011 Hyundai Sun Bowl features two teams with very different philosophies.
The Utah Utes have a balanced offensive attack and a stout defense, while the Georgia Tech Yellow Jackets depend on their potent rushing attack.
The Utes defense allows less than 20 points a game, whereas the Yellow Jackets score nearly 35 points a game. Something has to give in a game where there are so many differences between these two teams.
The Georgia Tech Yellow Jackets defeated their first six opponents before struggling down the stretch. Despite losing four of their last six games, they finished the season at 8-4.
The Utah Utes' season was the exact opposite. They lost four of their first seven games before winning four of their last five to finish 7-5.
The game will take place in El Paso, Texas on Saturday, December 31, 2011 at 2:00 p.m. ET.
Read on for several predictions for the 2011 Sun Bowl.
The Yellow Jackets Will Look to Establish Their Passing Game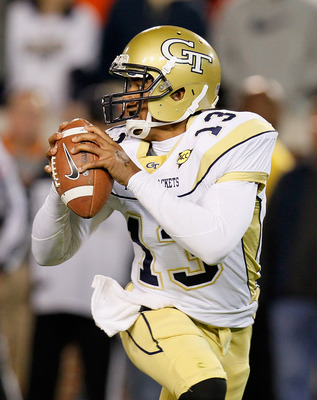 Kevin C. Cox/Getty Images
Georgia Tech's junior quarterback, Tevin Washington, is known for his running ability above all else.
He is the team's leading rusher, and the Yellow Jackets boast the No. 3 rushing offense in the country. Running for 316.8 yards a game, the Yellow Jackets are explosive on the ground. Washington himself has run 222 times for 890 and 14 touchdowns.
Even though he is the team's quarterback, he is like another running back. He has only thrown the ball 135 times and has completed only 63 passes. While his 46.7 completion percentage is poor, he is averaging over 11 yards a completion. He has thrown for 1,515 yards, 10 touchdowns and eight interceptions.
Basically, he is enough of a threat passing the ball to keep defenses honest. I expect the Utah Utes to sell out to stop the run and Washington to put the ball in the air early and often. By the time Utah adjusts to this, the Yellow Jackets will start running the option, and Washington will make them pay.
Georgia Tech's coaching staff knows that Utah expects them to run a ton, and they will mix it up.
Utah Will Get into a Shootout with Georgia Tech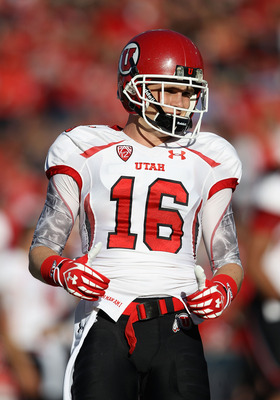 Christian Petersen/Getty Images
A lot of the predictions I have heard so far seem to think this game will be a low-scoring affair.
I expect the opposite: a high-scoring shootout. Utah will struggle to stop the Georgia Tech offense, and Georgia Tech will struggle to stop Utah as well. The Yellow Jackets give up about 26 points a game, and that won't change now.
They will simply try and outscore the Utes, as they have tried to do all year long. The Yellow Jackets focus more on scoring than they do playing defense, which is typical in both the ACC and the Pac-12. Utah is good defensively, but they haven't faced an offense like Georgia Tech. It's impossible to simulate an offense like they run at Georgia Tech.
Look for the winner to score close to 40 and the teams to combine for 65-plus.
Tevin Washington Will Account for over 400 Total Yards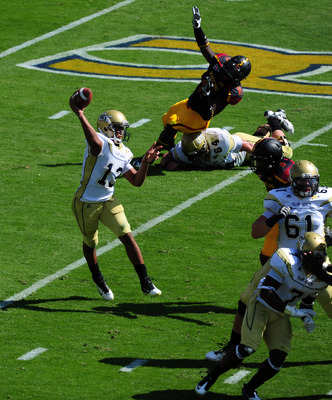 Scott Cunningham/Getty Images
Georgia Tech quarterback Tevin Washington has only approached 300 passing yards in a game once this season. He completed eight of 13 passes for 271 yards and three touchdowns in the Yellow Jackets' first game of the season.
I expect Washington to throw the ball at least 25 times for close to 300 yards and to rush for about 115. He will turn the ball over at least once, but remember, he has averaged over 11 yards per completion on the season. I would be surprised if the Yellow Jackets don't take at least three or four shots deep.
The Utah Utes haven't faced an offense like this yet, and it will surprise them. After all, you can only hope to contain an offense that averages near 320 yards on the ground each game. Nobody has been able to stop it.
Don't expect that to change now.
John White IV Will Run Wild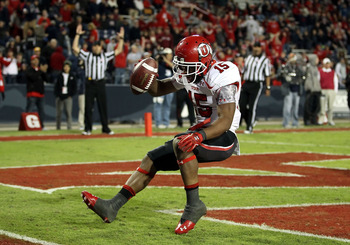 Christian Petersen/Getty Images
Utah Utes Junior running back John White IV is a superstar.
He is the biggest threat on the Utes offense by far, accounting for most of the team's offense. He has 290 carries on the season for 1,404 yards and 14 touchdowns. If not for an injury early in the game against the Colorado Buffalo's, he would have over 300 carries! He also has 12 receptions for 47 yards and two touchdowns.
White is questionable with an ankle injury, but he is expected to play. The Utes best wide receiver, DeVonte Christopher, is dealing with a chest injury that has his status for the Sun Bowl up in the air. White will get a lot of carries either way, but if Christopher can't go he will get a ridiculous amount of carries.
I look for him to get 35 carries and to make the most out of them. He will run for 175 yards and score twice.
Jon Hays Will Serve as a Game Manager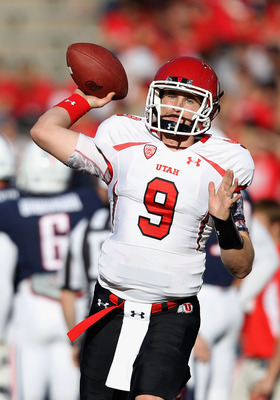 Christian Petersen/Getty Images
Utah Utes quarterback Jon Hays will throw only when he has to.
Hays has thrown more often than even he would like a couple of times this season. In games in which he has thrown more than 15 passes, the Utes have lost. Look for him to throw about 15 passes, all short routes and screens.
If Hays is allowed to pass often and down the field, the Utes don't have a chance. He threw three interceptions in two different games where he passed the ball all over the place.
He should embrace the game manager role and realize this gives his team the best chance at a victory.
Even with All of the Scoring, Game Will Be Sloppy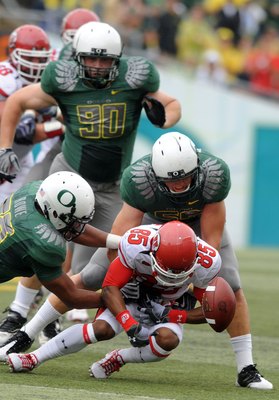 Steve Dykes/Getty Images
Even though I expect a lot of offense, I think it will be a sloppy game.
There will be a lot of false starts and holding penalties as both teams will be fired up for the bowl game. Technique will be out the window, as both teams will let their emotions take over in this one. Adrenaline can be an athlete's worst enemy if they cannot control it!
There will be a few turnovers as well, at least two per team. There is a reason both teams have lost a few times. While there is plenty of talent on both rosters, they have lost nine games combined. These are two above average teams that make mistakes that keep them from being great.
It will be a good game, but the ball will be switching hands often.
Prediction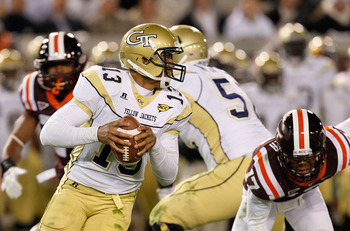 Kevin C. Cox/Getty Images
Georgia Tech wins a thriller, 42-37.
Both defenses might as well have stayed at home in this one. I expect over 600 yards of total offense in this game, as well as one of the most exciting bowl games we will see this season. Sometimes the games you least expect to be good turn out great.
Tevin Washington will be named the MVP of the 2011 Sun Bowl, and John White IV will be a close second. These guys will light up the stat sheet and be each of their team's go-to guy. White is banged up, but he has a month to get healed up. Both he and Washington know how important they are to their team's success, and they will deliver.
Defense wins championships, but offense will win this game.
Keep Reading