Detroit Red Wings: Does NHL Realignment Mean One More Year for Nick Lidstrom?
December 6, 2011
Gregory Shamus/Getty Images
For the record, the proposed four-conference NHL isn't quite set in stone.
Though the NHL Board of Governors has approved the format, the NHLPA still needs to sign off on the radically different structure in order for it to truly be the NHL of the future.
That said, there's no indication that the NHLPA is going to throw a monkey wrench into the works.
For all intents and purposes, the 2012-13 NHL will be comprised of four conferences, yet unnamed (and man, what a bonus if we can get real names like "Campbell" and "Smythe" back into the mix) will feature two eight-team groups and two-seven team groups.
The Red Wings will be a part of one of the former that is essentially the current Central Division lineup with Dallas, Minnesota and Winnipeg added to it.
From a Red Wings fan perspective, there's a lot to like about this setup.
First, it grants the team the long overdue wish of playing most of their games in the time zone in which they reside—what a concept.
For years, the NHL saw the Red Wings as perhaps the only way to a sure-fire sellout in arenas located in Phoenix, Anaheim, Los Angeles and Nashville; cities with teams that saw tepid fan engagement and lackluster talent become the norm for their NHL clubs.
However, in recent years, Anaheim won a Stanley Cup, Nashville became a legitimate dark-horse threat every time the playoffs rolled around, Los Angeles has spent and built their way into Stanley Cup talk and Phoenix, well, three out of four isn't bad.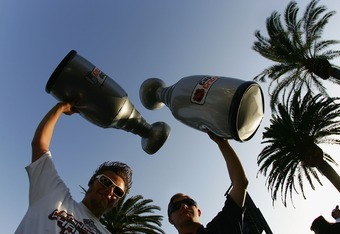 Harry How/Getty Images
The point is, the progression and success of these so-called, non-traditional market franchises has made the need to keep the Detroit Red Wings awkwardly positioned in the Western Conference decreasingly important.
The next thing to love about this arrangement is the fact that the NHL's longest standing and recently re-heated rivalry won't be put on ice.
The near 90-year-old grudge between the Detroit Red Wings and Chicago Blackhawks was threatened once before, between 1974 and 1981, when the Red Wings were grouped into the Norris Division and the Blackhawks were aligned with the Smythe Division.
However, in 1982, the two enemies were rightfully united into the Norris Division, which eventually became the Central Division we have today.
Current realignment scenarios simply had the Red Wings joining the Eastern Conference, which would help with the time and travel issues, but would tear apart a long-standing rivalry each team and city has come to cherish with an intensity only hate can engender.
The more appropriate time zone alignment and the preserved Chicago/Detroit rivalry are two huge gets for Detroit Red Wings fans.
However, there might be an even bigger one that isn't as readily obvious—Nicklas Lidstrom.
I can't remember the last time a 41-year-old was legitimately considered the most valuable component of a professional sports franchise, however, that is exactly what Lidstrom continues to be in Detroit.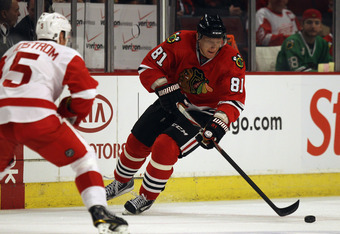 Jonathan Daniel/Getty Images
Lidstrom is on pace for 61 points this season and a whopping 19 goals from the blue line, but that's not even the best thing about his game.
His defensive awareness and ability to read plays is still other-worldly and offensive studs half his age rarely find away around No. 5 in Detroit.
That Lidstrom, at 41, can still play the game better than the vast majority of human beings is without question.
In fact, his level of play makes one wonder if this guy is human at all; my going theory is that he was made, not born.
Regardless of his true origins, whether or not Lidstrom will continue to play in the NHL has become a question that rears its head every summer.
Lidstrom is taking his career year-by-year, as well he should.
He certainly has nothing left to win, has made more money than he, his kids or grandkids could ever spend, and is now routinely mentioned, with increasingly close proximity within the same sentence, with Bobby Orr when it comes to the best NHL players of all time.
At this point, it is only his love of the game that is keeping him in the league.
Though that love has kept him coming back over the past few summers, the rigors of an 82 game regular season combined with grueling playoff run takes its toll on the fittest of men, no matter their age.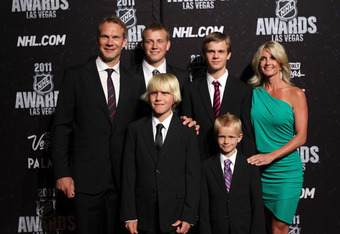 Bruce Bennett/Getty Images
The commitment to that grind is something Lidstrom has had to routinely find within himself before deciding to, once again, autograph another one-year contract.
He will no doubt go through that process again this summer, although this time, he'll have the prospect of playing in a cushier time zone, with reduced travel and even a better playoff schedule come April.
The reality of playing 82 games amidst reduced fatigue and travel could be just enough to keep Lidstrom in Detroit for one more year.
I'm all for the team playing more within their time zone, and surely love the fact that the Red Wings/Blackhawks rivalry will remain intact, but, for my part, realignment could bring nothing better for the Red Wings than the return of what I'm convinced is a Swedish-made cyborg with a 100-year half-life.
Follow Matt on Twitter: http://twitter.com/MAhutter12