NFL Playoff Picture: Seattle Seahawks and Wild-Card Hopefuls You Can't Write off
December 6, 2011
Jay Drowns/Getty Images
The wild-card hunt is wide open in both conferences and with teams like the Bears, Bengals, Giants and Lions spiraling out of control, it's making ways for completely off-the radar teams like the Seattle Seahawks to make a move and steal away a wild-card spot.
Nobody believes in the Seahawks, and understandably so. This is a team that already has seven losses, including embarrassing performances against the Redskins and Browns.
They've also got huge victories though that people tend to overlook. They've won on the road against the Giants and have taken down the Eagles and Ravens at home.
They close out the season with games against the woeful Rams, banged up Bears, 49ers and beatable Cardinals. They fact that they play the 49ers at Qwest makes a seemingly hopeless outing a huge potential for an upset.
They've got ground to gain, but with the NFC wild card frontrunners completely falling apart, if and when they beat the Rams this week, people are going to be forced to acknowledge the Seahawks as a wild-card threat.
They aren't the only off-the-radar team ready to burst into the wild-card picture either. Here is a look at the playoff picture for both conferences, along with other unlikely hopefuls that are impossible to write off.
                     NFC
Rank
Team
Wins
Losses
1
#Packers
12
0
2
#49ers
10
2
3
*Saints
9
3
4
*Cowboys
7
5
5
Bears
7
5
6
Falcons
7
5
7
Lions
7
5
8
Giants
6
6
9
Seahawks
5
7
       AFC                               
Rank
Team
Wins
Losses
1
*Patriots
9
3
2
*Ravens
9
3
3
*Texans
9
3
4
*Broncos
7
5
5
Steelers
9
3
6
Bengals
7
5
7
Titans
7
5
8
Raiders
7
5
9
Jets
7
5
*Current Division Leader
#Clinched Division
The Raiders just got spanked by the Dolphins in an embarrassing 34-14 beat down. Don't let that embarrassing loss fool you though. The inconsistent, but the always dangerous Raiders remain within striking distance of the AFC West crown and are still a threat in the wild-card hunt.
They've got a tough game at Lambeau lying in front of them and facing the Chiefs on the road, Lions and Chargers won't be a cake walk, but Darren McFadden's likely upcoming return on December 18th will bring new life to the Raiders.
They've got the weapons to make a move and even though their strength of schedule isn't working in their favor and there are a lot of teams fighting over one spot, the Raiders aren't packing it in just yet.
Factors like Rolando McClain's idiocy have the power to deter a talented team like the Raiders from their goals, but we should still see them reenter playoff talks heading into Week 16.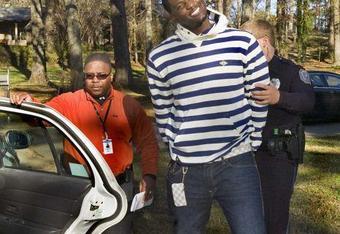 Chris Johnson has decided to join the party. It appeared as though CJ2K had regressed into CJ1/2K after getting a giant pay day, but he's rushed for 130 or more yards in three of his last four games.
Better late than never.
With Johnson finally showing up and the Titans finishing the season with three home games and matchups with the Colts and Jaguars, the Titans could easily obtain a winning record.
It's likely going to take 10 wins to earn a wild-card spot in the AFC, but that isn't out of the question for Tennessee anymore.
They've won three out of their last four and though taking down the Saints is a stretch, their games against the Jaguars, Colts and a T.J. Yates-led Texans team are all manageable games.
Other Wild-Card Hopefuls Who've Got a Serious Shot:
Pittsburgh Steelers (Lock)
Notable Exclusions: