Lakers Trade Rumors: Dwight Howard and Chris Paul in Los Angeles Is a Pipe Dream
December 6, 2011
Sam Greenwood/Getty Images
There are reports the Lakers are intending to go after not one but both of the most sought after free agents, Chris Paul and Dwight Howard. There are no such rumors that they are trying to include Santa Clause and the Easter Bunny, but the chances are about the same.
This. Trade. Will. Never. Happen. 
The reports say what the Lakers would offer—Andrew Bynum and Pau Gasol for Dwight Howard and Pau Gasol straight up for Chris Paul. The only part of these trades that work for the receiving teams is essentially the money. Everything else is a screaming rip off. 
Andrew Bynum is the main "attraction" in the Magic trade. He's averaged a whopping 55 games per season in his six years as a pro. He's missed 28 games or more on four occasions. The Lakers would like us to believe that now he's going to be a complete and healthy player and the next coming of Dwight Howard. 
Then why are you so eager to trade him?
The reality is that Bynum does have a huge upside, but it's also true that he only can realize that upside while he's on the court. There's a reason that the Lakers are still trying to move him while there's still some chance someone else will take him. His fragility has a growing reputation and with one more injury he will be untouchable. 
Apart from that Bynum has two years left on his contract should Orlando pick  up their option, which they presumably will. They would also have two years left with Lamar Odom, again, if they pick up the option.
On Lamar Odom and that end of the deal, what do they gain? Sure Odom is a nice player, but he's also about to turn 32.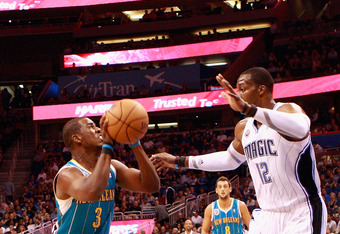 Sam Greenwood/Getty Images
The best case scenario is that Bynum works out, and one year from today, they are where they are right now, with their star center entering free agency. 
In what way does this deal work out for Orlando? There is a reason they already may have turned the deal down and had the Lakers trying to include Andrew Bogut and Milwaukee in a three-way deal.
Bynum may or may not be on the Magic's list of suitable replacements for Howard in a potential deal that also would have to include young players on rookie contracts and draft picks. The Bucks' Andrew Bogut may be a better fit, a notion that has conjured speculation in the agent community of a three-team deal that would land Bynum in Milwaukee, Bogut in Orlando and Howard in L.A.
The problem is that the Lakers don't have young players on rookie contracts or draft picks that are worth  anything.  
As far as the Horents go what is their incentive in taking on Pau Gasol, whose best years are behind him and not ahead of him? At 31 he's not prehistoric, but he's certainly on the tail end of his prime.  
There's not just the age at play though. There's also the size of his contract. Making $19 million a year that's a lot of salary cap to absorb from a single player that's going to give you 18 and nine but not a lot of defense. 
It's not just about whether the Magic or Hornets are able to get "enough" in these deals either. It's whether or not they can get more from anyone else. The Nets have reportedly put Brook Lopez and two first round draft choices on the table for Howard. The Bulls have supposedly offered Noah and their choice between Deng and Boozer.
Now you might argue that the Odom and Bynum are a better pair that Noah and Deng/Boozer, but it's a close conversation all things considered but there's one big advantage the Bulls tandem has. The Magic aren't sitting in the same scenario a year from now.
Additionally the Bulls have other assets they could include in the trade such as the Charlotte pick and the promising Nikola Mirotic who is under contract for three more years in Europe but has an NBA-ready game. 
There are also the Clippers who are in the hunt and have a tremendous amount of young talent and assets they can offer in exchange for Paul and/or Howard and unlike the rest they only need to land one via trade. The other they can easily get via fee agency, especially if they have the promise of playing with one another and the young Blake Griffin.
The other teams in the hunt offer things that the Lakers can't too, young players either in their prime or yet to enter it to play with them. Even if the Lakers were to manage the unlikely coup, then they'd have just the other to play with long term.
Sure there's Kobe Bryant but at 32 years old he's already played more minutes than all but seven guards in NBA history.  He's had a great career, but he's had it, past tense. Deron Williams, Derrick Rose and the like have their great careers ahead of them. 
Other teams, like the Knicks, Bulls, Clippers and Nets, have the ability to put much  more in the way around the stars going forward and therefore be a more appealing package to sign an extension.
The other part of the deal that hurts the Lakers long term is the new luxury tax penalty and Kobe's massive contract. The Lakers are either going to be paying massive fines or else they're going to have to cut ballast, and that means it's going to be hard for them to build around the duo if they did acquire them. 
Lakers fans will want to prop up the prestige of being a Laker and of playing with Kobe Bryant. These things have their appeal, but realistically, they don't have as much appeal as playing for another franchise that can offer them more money and a chance for more future rings. 
The Magic and the Hornet are looking for young players whom they can build around. Neither the players in the 30s or the brittle Bynum are players that can be relied on to do that and other clubs are going to be offering other, better deals for Paul and Howard. 
Paul and Howard are looking to be with teams that can offer them a chance to compete not just for a year or two, but for the duration of their contracts. Other teams offer more than that to them. 
The Lakers dealing for both is only realistic if you're a Laker fan with your fingers crossed. The rest of us, here in the world of reality, where Santa Clause and the Easter Bunny don't exist, recognize this.