College Football Bowl Season: More BCS BS and Other Bowl Stinkers
January 16, 2017
College bowl season is upon us again, and once again we are eagerly anticipating such bowl traditions as the Meineke Car Care Bowl of Texas, the BVBA Compass Bowl and the Kraft Fight Hunger Bowl.
What?
You cannot be serious?
As many folks have stated in the past, there are too many bowl games. There is nobody out there, with a bowl sponsor being the exemption, that can tell me there are 70 teams that are worthy of going to a college bowl game.
I will start my rant by saying first off, LSU vs Alabama is the correct pick for the title game. "I" is not something a true journalist is supposed to use these days, but then again, this is more of a blog than a forum for real journalists, and real journalists are being sent to the unemployment line and being replaced by 22-year-olds that barely know who is the mayor of the town that they cover.
But anyway, I am going to go on a rant about what I think about the 35 bowl games and how they mean absolutely nothing in the 21st century.
When "I" was growing up, and yes, I am using the CNNIreporter format here, I remember maybe 20 bowls at the most. As a Big Ten fan, the Rose Bowl was the numero uno bowl to go to with the Citrus (Capital One), Outback (Hall of Fame), Sun Bowl, and Alamo Bowl being the five tie ins. There were no Texas, Pizza, or Hamburglar Bowls to go to.
Back in those days, and by the way, I am only 30, the bowl season started with the Las Vegas Bowl, a matchup between the MAC champion and the Big West champion. There was no New Mexico Bowl, or R&L Carriers New Orleans Bowls for second rate teams to go to.
As a Northwestern fan, I am happy to see them play once again on New Years Day against Texas A&M, but should they be there? "My" answer is no. 6-6 teams that get fat on FBS bottom feeders and win just 3 conference games do not belong.
The primary example is the Kraft Fight Hunger Bowl, which should be renamed the Kraft gets fatter for making money off of poor people and a bowl game. This matchup features Illinois (6-6) vs UCLA (6-7). A game in which neither team has a tenured head coach, and neither team has beaten anyone.
In fact, UCLA is coming off a 50-0 loss to in town rival USC, and Illinois is coming off a loss to Minnesota. Yahoo sports has already labeled this as the worst of all the bowl games.
Once again it is all about all the $$$ the bowls generate for the sponsors and the universities. Who cares if you are playing in the penis deficiency bowl, your school is earning a coll million just for showing up, and by the way, "I" would definitely buy a Penis deficiency Bowl T-shirt... Hint hint for bowl numero 36.
As many people have stated, there is little marquee value in saying that you went "bowling" in college football. When all you have to do is go 6-6, that puts a damper on "marquee" match-ups during the college bowl season.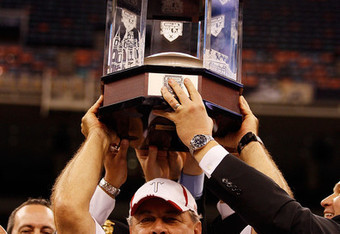 Simply put, if players and or students saw some of the $$$$ brought in from these 3rd rate bowl, games, it would be different. However, keep expecting to pay 20k a year for tuition and for Eric Cartman to keep not paying the "Crack baby Basketball players", and if you aren't familiar with that reference, you should check out last Spring's South Park season on Netflix.
The bottom line of this rant is that I, and many others are tired of the way the NCAA runs the show. There are too many bowls, the system for selecting them sucks, and there will NEVER be a playoff system.
I personally could care less about any of the bowl games. I consider myself a die hard Northwestern fan, but do not care about there bowl game either. They shouldn't be there, as about 39 others shouldn't. P.S. Love ya Coach Fitz, nothing personal....
Like the country it is all a bunch a bureaucratic  BS. It is maybe even a soap opera, because nothing ever seems to come to a resolution. 15 bowl games would be the way to go. It brings marquee value to the bowl system once again.
Besides, what is next, the Vagisil Yeast infection bowl?
But as Dennis Miller always says, that is just "my" opinion, I could be wrong....
Oh and P.S. sorry to all of my journalism teachers for using the terms "I" and "me", I guess I am just too much of a "me" person to succeed in the true business of journalism....