WWE: John Cena; the Divided Line and Where He Will Land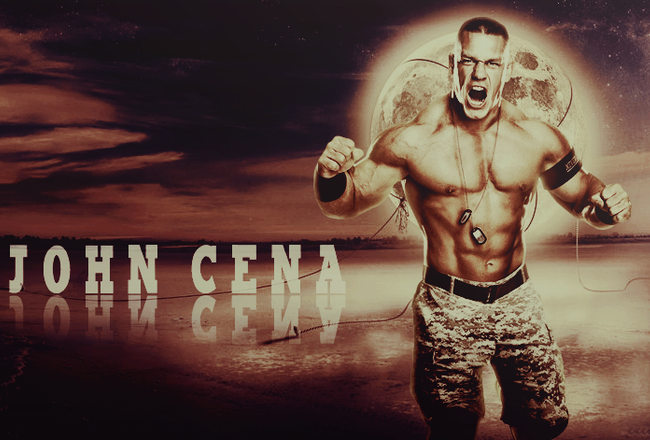 Man is a being with free will; therefore, each man is potentially good or evil, and it's up to him and only him (through his reasoning mind) to decide which he wants to be.—Ayn Rand
In WWE, there are the good guys and the bad guys. We label them the faces and the heels. Each superstar in the typical professional scheme must choose a side. Are you someone meant to be booed or cheered?
At times, it is not up to the superstar or even the company. The audience and fans surrounding the business make the decision. When a heel becomes great at his role, he sways the audience with his ability and talent and they begin to cheer him.
Conversely, when the fans believe a face is becoming stale, they boo him. When this trend manifests itself in the WWE, it transcends the ideas and direction of the company. This, almost always, leads to that superstar changing his side on that finely-laid line.
This is a simple process that should be unbreakable when working with a star to turn his reactions around. However, there are those rare few who simply make this system fail. They are those stars that need to be in their roles to help the business. They are the ones who get boos and cheers aplenty.
Rarely do stars like this come around. In WWE today, in fact, only one star has become so important to the business that he simply cannot be changed so easily. That man is John Cena.
Cena has moved more merchandise and sold more pay-per-views for WWE then almost any other star in the history of the company. He has held the entire business on his back for years. He has been the WWE for years now and remains so.
However, lately, there has been a wave of hate and emotion surfacing against Cena. With The Rock popping up and Punk surging to fame, Cena has seen his infamy in the business rise astronomically as of late.
He is booed out of his hometown. He has been given more heat in Madison Square Garden and the Allstate Arena in Illinois than any heels could ever dream of. Yet his sales hold constant. He is still the face of WWE, and he is in line for the biggest match of his career at this year's WrestleMania.
How can a star that sells this well be turned heel? How can a guy this big be replaced if he turns bad?
These are the questions that WWE is wrestling with at this very moment as they debate whether to turn him or try and sway the WWE universe toward him as a face. No one has any idea what WWE has decided yet (maybe not even WWE itself), but they have begun to work toward a solution.
Where does that solution lead? Where should it lead? Well, I propose looking back. Back all the way to the beginning of Cena's career to find the answer.
The Beginning
John Cena began his career as a young, random star. He looked good but lost in his debut match against Kurt Angle. After a few months, Cena began his first and only heel run in the company and turned into a heel rapper.
In two years, he would get the fans to hate him with his raps and self-assured attitude. This hate would quickly rise to fame over that time; eventually, Cena found himself competing, in a losing effort, against Brock Lesnar for the WWE Title.
During this time, Cena would personally become one of my favorite stars. A heel Cena was one of my very first introductions to WWE, so I immediately clung onto his gimmick and persona and watched him grow as a performer.

The Lesnar match, followed by a strong showing against Undertaker soon thereafter, would cause Cena to get the crowd on his side. As was expected of WWE, they turned him face, and he became a fan favorite.
I know I was one of the many behind Cena at this point. He was a good and charismatic performer who simply drew the audience in. His work as a heel blended perfectly into his face role, going from being a rapper without a hope to a rebel with a cause.
Cena would turn never turn heel again after this.

Becoming the Face of a Generation and Polarizing a "Universe"
It happened gradually after Cena became a face. He would become US Champion. He would pull off a monstrous FU (or AA, as we now know it) on Big Show at WrestleMania, causing his strength to slowly become renowned.
One year later, Cena would win the WWE Title from JBL.
Cena would hold that title for an amazing 280 days before dropping it to Edge, who would cash in at Money in the Bank; Cena, though, would get the title back quickly and run with it for another 133 days. During this amazing year, the WWE Universe was already beginning to turn on Cena.
At WrestleMania XXII, Cena would wrestle Triple H, who would be cheered incessantly while Cena was booed—even though Cena was supposed to the face in the contest. This would happen in the Allstate Arena in Illinois, the same arena in which he would be booed five years later against Punk at the Money in the Bank pay-per-view.

He would again lose the title because of Money in the Bank—this time by RVD—in the face of the most lopsided audience reaction in Cena's career as a face. Cena would be booed out of the arena. No one would take his T-shirt and he would be told he could not wrestle.
The reactions at this point were troublesome, but they did not seem to matter much, as the fans were generally on Cena's side at most arenas. He would get back the WWE title once again. This time, he would hold the title for the longest reign in over 19 years at 380 days.
He would only lose the title due to vacating it after a serious pectoral muscle injury. The time off was good for Cena, as it would put the crowd on his side when he came back unexpectedly at the 2008 Royal Rumble.
By this time, Cena was the face of the company. The long title reigns helped WWE fully become a company again, as Cena would become surprisingly mainstream for WWE. He would then go the next few years holding the WWE title, again and again while fighting through dangerous injuries.
The King of the Mountain Can Only Fall
By 2010, it had become mostly a foregone conclusion that Cena was firmly at the top of the company. There were others, mainly Batista, who became stars, but none were as important to the business as Cena.
He was the center. He was the main event. Everything was given to Cena, and it started to eat away at people. That initial negative reaction was coming back, slowly. It started in the so-called IWC, where hate for Cena was becoming fairly regular.
Common fans still cheered. They still applauded. They still believed in the superhero figure that Cena had become. It didn't matter that he was hogging the spotlight because he was Cena. He was the man that the young people needed to look up to.
It seemed as though Cena had grabbed the world by storm and would never let go—even with the vocal minority fighting him.

Why would anyone turn on Cena?
The answer to that came soon enough.
The Moment That Changed the Tide
Cena was at the top of the world. He had everything. Then one night changed the face of the company. Many may remember what happened on June 7, 2010, and many may look back now and say it wasn't that important.
However, they would be wrong.
Eight stars from the first season of WWE's new show NXT came out and destroyed Cena, CM Punk, the ring and the announcers. In fact, they destroyed everything. It was so brutal and so unique that it caught the attention of every wrestling fan.
This group called themselves Nexus and began an all-out war with WWE—especially with Cena. They were a group able to get anything they wanted. This would eventually lead to many unique moments.
Nexus would lose significant steam after an embarrassing loss to Cena. This loss would actually lead to the downfall of the Nexus, though it would also show even the common fans that this character of Cena's simply could not work.
In the last great act of the group, Barrett would beat Cena in a match after which Cena would become a member of the Nexus if he lost. It was a powerful thought that made many people begin clambering for a heel turn from Cena.
Could Cena actually begin to help Nexus? The answer quickly was given: no. Cena would destroy the group from the inside; he was even used in a firing angle that would last all of two weeks (not once with Cena off TV).
Around this time, Randy Orton had become a huge face for the company, and his cheers eclipsed even those for Cena, though he was certainly not the face of the company yet. While Cena was gallivanting around and destroying this exciting group, Orton became a star and the first real competition to Cena became clear.
However, it was all just a test run. A final nail in the coffin needed to be hammered in order for Cena to lose even the regular audience. That nail came swiftly in the form of one electrifying man.
The Two Stars That Transcended Cena
February 14, 2011. The lights went out. The guest host of WrestleMania was about to be named. Then a chill ran over the whole viewing audience as the phrase "If you smell what the Rock is cooking" burst over the speakers.
What a moment! The Rock coming back home for a time was phenomenal. It would become so much more, though, when his awesome promo neared its close. He began to rail on Cena of all people. This would begin a long feud that will culminate at WrestleMania XXVIII.
The problem for Cena in all this was that he simply couldn't match Rock's popularity. It turned crowds against him. It made common stars begin rooting for his opposition. The once respected and cheered Cena had lost the fans to a star.
However, another star came out of the back to finally match Cena as a legitimate draw in comparison to him. That man was Punk. A star who had been a great heel for a while and never really seemed like someone that WWE would back.
That changed when Punk ripped out *the* promo. It may have changed the company. It may have caused a new era. However, the only thing that is for certain is it made Punk a superstar.
From that moment on, Punk would go shooting straight to the top. His amazing match with Cena would quickly make him a star that could not be matched. He would soon become a draw as big as—then even bigger than—Cena.
Cena would lose the fans as Punk took them. Punk had the audience eating up his every word, and Cena could not take the onslaught. With Rock and Punk, there was too much to fight. He had lost the support of the fans.
Decision Time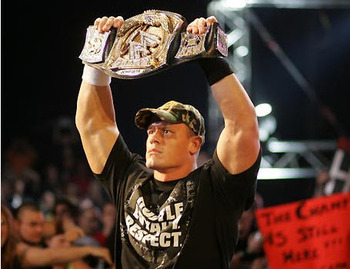 Now we reach a turning point. Should Cena be turned into a heel? Can Cena be turned into a heel?
The answer was not simple, and it remains complicated even now. How do you turn the most important asset in your business?
There is obviously a problem when more than half of your audience cannot stand your face of the company. There is a problem when they all say he cannot wrestle or that he is not the star they want to see.
So, WWE had to make a decision, and it all began last week.
The Solution
Piper's Pit: Cena came out and was told by the Hall of Fame legend Roddy Piper that he needed to wake up, that he needed to react, to feel the energy of the crowd. It was a powerful moment as Cena tried his best character explanation in his defense and Piper simply slapped him.
There was no comeback for that. Cena took the shot and left. This seemed to point toward a change in the weather for Cena, most likely a heel turn, but nothing was certain until we watched this week.
Cena faced Zack Ryder in a match in which the winner would get a title shot and the loser would get nothing. Cena won this match and got a WWE title shot against Punk; however, he took away Ryder's US title shot.
That sounds fairly heel-like to me, but it didn't end there. Cena went to the back and forced Laurinaitis to give Ryder another shot under one condition: Cena forfeit his WWE title shot.
In what could end up becoming one of Cena's most defining moments, he told John Laurinaitis that he had been champion many times and that Ryder deserved the shot. Cena would go ahead and give away his title shot, giving Ryder a US title match against Ziggler.
Cena admitted to his dominance in WWE. He admits that the fans don't care for him. He simply goes out there and competes each night for them and for his fans that still cheer. That moment was one that will live on as inherently important to Cena's change.
What Does It All Mean?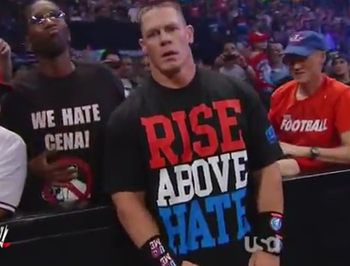 Cena's past tells us that the road to pushing him has been long. No one has seen more success or held the title for so long in decades. The idea that Cena has been a face for so long begs the question: Why didn't anyone ever think a change should come?
Well, this solution is creating that change. But is WWE ready for this to mean a Cena heel turn? After two weeks and looking back at Cena's tumultuous and polarizing history, all I can say is that the signs point to this situation not being an easy fix.
The solution set in motion has two possible solutions: one, Cena turns on Ryder down the stretch, causing him to turn heel or, two, Cena uses this moment to grow into a much less polarizing face figure.
For six years, Cena has been a face—longer than most other stars ever last on one side of the spectrum. However, at the end of the day, it doesn't mean that Cena has to become the bad guy. He is still that same face of the company, but we all are in agreement that he needs to change.
No more being the underdog. No more of his unaffected states. He cannot go on winning championship after championship, never angered by any failure. He needs to show the emotion he showed in defense of Ryder last night and that Piper tried to spark in him.

He needs to become a new type of face that transcends the old standard that Cena himself has helped establish. No superhero comebacks. No acting as though he is not already a legend among the stars.
Or he needs to become a powerful heel that embraces his direction. This makes perfect sense for Cena against Rock, but it might become troublesome in the long term.

What Cena needs to do—and what WWE will give him—is a turnaround that will make him likeable or intentionally heat-grabbing. A turnaround that will put his career, in the eyes of the fans, back on track.

While I would love a heel turn as much as most, the idea of change is not simply found in a dramatic turn across that line. It can be internal. A slight change that can radically help create a face star that we can all cheer for.
That is what WWE wants, and that is what they are dangerously fighting to accomplish. WWE will turn Cena, and they must choose whether it is into a heel or back to a face.

It is possibly the most dangerous decision in WWE history, and one misstep could cause them to completely change their minds or ruin their chances. I can say at this moment that it seems WWE is leaning toward a face change rather than a heel turn.
However, I am not confident that even WWE is sure where this is all leading. History shows that stagnation has destroyed Cena, and that needs to change. I'm not sure that WWE is confident yet about what that change is.

Thanks for reading!
Leave you own thoughts!
Keep Reading