Child Abuse Scandals in Sports Show a Need to Step Up
December 6, 2011
Justin K. Aller/Getty Images
Sports has a long history of revealing the best and worst in our culture.   
The foolishness of racism was exposed as athletes such as Jackie Robinson, Jessie Owens and William O'Ree broke color barriers and inspired Americans of all backgrounds. 
Limitations imposed by sexism were overcome by the examples of Jackie Joyner-Kersee, Billie Jean King and numerous others.
With the recent scandals at Penn State and Syracuse, the sporting world is now being forced to confront the heinous crime of sexual abuse towards children.
Make no mistake though, this is not a football or basketball problem.  It's a society problem.  As Penn State alum Matt Millen said in a teary ESPN interview, "This is about people.  And if we can't protect our kids, we as a society are pathetic."
This is also not the first time child abuse has affected the sports community.  Reports are now indicating that former Boston Red Sox clubhouse manager Donald Fitzpatrick (deceased) may have sexually assaulted young boys in baseball clubhouses for up to 20 years. 
The abuse was allegedly first reported to Red Sox management in 1971, and became obvious enough that players like Jim Rice were warning kids to stay away.  Amazingly, Fitzpatrick remained unpunished until 1991, when one of his former victims attended a game in Anaheim with a sign reading "Don Fitzpatrick sexually assaulted me."
After this incident Fitzpatrick took an "indefinite leave of absence" and would go on to accept a plea deal, thus avoiding any jail time.  The Boston Red Sox paid hefty settlements to the victims, and the story never became major news.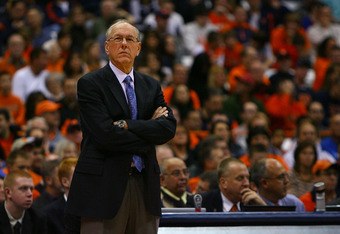 Nate Shron/Getty Images
While the failure of the Boston Red Sox to protect children from abuse is similar to that of Penn State, the difference in reactions has been dramatic. 
Take Jim Boeheim for example, head coach of the Syracuse men's basketball team.  When his longtime friend and assistant Bernie Fine was accused of molesting two former ball boys last month, Boeheim responded the same way countless others have in the past.  He questioned the accusers motives and defended the accused molester.
However, after reflecting and spending a day at the McMahon/Ryan Child Advocacy Center, a visibly troubled and emotional Boeheim spoke to the press in a postgame news conference last week.  In his remarks he apologized, saying that he had "misspoke very badly" and vowing to do "everything (he) can do" to get the message out about child abuse.
Boeheim isn't the only one responding to this issue.  Sports analysts, commentators and players have continued to weigh in and discuss abuse, a subject that until recently was unheard of on sports TV and radio.
Outside of athletics, the effects of the recent scandals have also been widespread.  The President of the United States voiced his support of victims and many celebrities are doing likewise.  Last week, Tyler Perry, a child abuse survivor himself, even penned an emotional open letter (a very worthwhile read) in Newsweek magazine expressing his support for one of the victims of the Penn State tragedy.
Many victims themselves appear to be emboldened by recent events.  Child abuse hot-lines in Pennsylvania and elsewhere have reported dramatic increases in calls from survivors ready to seek closure.
At the very least, sports has put a spotlight on the prevalence and heartbreaking consequences of child abuse.  The question now is if we as fans and citizens will take the next step by not just acknowledging the problem, but doing a better job of protecting our children. 
Now is the time for the sports world to stand as an example of providing a safe haven for youth and shielding them from predators.  It's time to show that looking the other way when abuse is suspected will not go unpunished, and that doing everything in our power to protect children is expected.
Most of all, its time for sports to use its unique way of inspiring people to empower and give hope to abuse survivors as they seek justice and healing.