2011 FCS Football Playoffs: Quarterfinal Preview and Predictions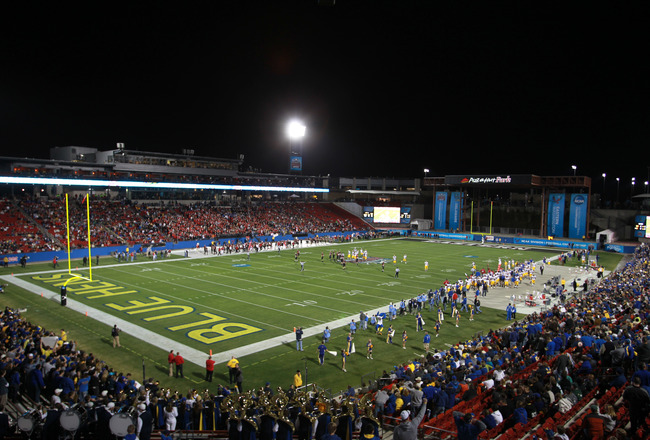 It's the Elite Eight of FCS college football, ladies and gentleman.
The FCS playoffs enter the quarterfinals this weekend. Montana and Northern Iowa will kick off the festivities in Missoula this Friday night on ESPN, and the three other matchups will take place this Saturday.
So let's get to the quarterfinal games, and take one step closer on the road to the national championship in Frisco, Texas.
Quarterfinal Round (Dec. 9/10)
Montana State @ No. 1 Sam Houston State
No. 5 Northern Iowa @ No. 4 Montana
Maine @ No. 3 Georgia Southern
Lehigh @ No. 2 North Dakota State
Montana State Bobcats @ No.1 Sam Houston State Bearkats
Sam Houston State remains as the only undefeated team in the FCS at 12-0.
The Bearkats struggled to put away a feisty Stony Brook squad, however, winning 34-27. Despite the win, Stony Brook outgained Sam Houston State in passing yards and total yards.
In the game, quarterback Brian Bell threw for 161 yards at two touchdowns.
Montana State comes into Huntsville fresh off a close 26-25 win over New Hampshire, where the Wildcats scored a touchdown with six seconds remaining, but missed the game-tying extra point.
The Bobcats rushed for an 232 yards on the ground, but struggled holding on to the football by committing four turnovers.
The Montana State defense regrouped from the loss to rival Montana with a strong performance against New Hampshire—especially on the ground, where they held the Wildcats to 48 yards rushing.
Sam Houston State has been impressive all year, but they haven't played a team, particularly on defense, as strong as Montana State. Look for the Bobcats to upset the No. 1 seed.
Prediction
Montana State 38
Sam Houston State 34
Semifinal Game
Northern Iowa at Montana winner
No. 5 Northern Iowa Panthers @ No. 4 Montana Grizzlies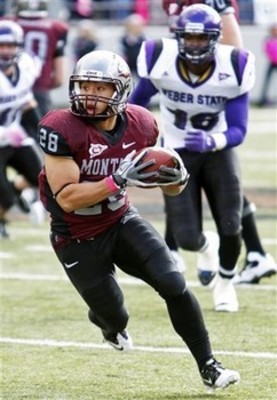 The Grizzles followed up their impressive regular-season finale victory over Montana State with an even more impressive performance against Central Arkansas 41-14 in the second round.
Montana, led by cornerback Trumaine Johnson and linebacker Caleb McSurdy, blew out the Bears with solid defense the entire game, including a 31-0 shutout in the first half.
Additionally, Montana's offense was on fire with 229 yards rushing and 27 first downs.
Northern Iowa will come in to this game with a 28-21 victory over a strong Wofford team.
Fourth-quarter touchdowns, including a 1-yard run by David Johnson, and a fumble recovery in the end zone by Phil Wright sealed the deal for the Panthers.
While the Panthers are currently 10-2, four out of Northern Iowa's last five victories have been decided by seven points or less.
I really like Montana's chances with their strong running game against a Northern Iowa that gave up 457 yards on the ground to Wofford. Look for the Grizzly running backs to lead the Grizzlies to victory this Friday night in Missoula.
Prediction
Montana 38
Northern Iowa 17
Semifinal Game
Montana State @ Sam Houston State winner
Maine Black Bears @ No. 3 Georgia Southern Eagles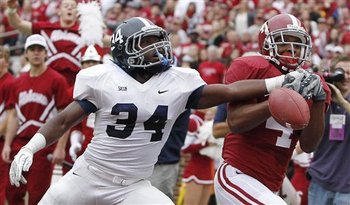 Georgia Southern is fresh off a wild 55-48 victory over Old Dominion. While the Eagles gave up 560 yards of offense, they also put up 607 yards, with 477 of those yards on the ground.
255 of those rushing yards were by impressive freshman running back Dominique Swope.
Quarterback Jaybo Shaw was also seven-of-11 through the air for 130 yards.
Maine is coming off an extremely impressive 34-12 victory over the favored Appalachian State Mountaineers.
Maine's defense was great, especially on the ground where they held the Mountaineers to only three yards rushing.
Senior quarterback Warren Smith was also very exciting with 250 yards through the air and three touchdown passes.
This game is very tough to pick. The statistics and other signs point to a Georgia Southern victory, but Maine could surprise like they did against Appalachian State. Regardless, look for the Eagles to advance.
Prediction
Georgia Southern 42
Maine 34
Semifinal Game
Lehigh @ North Dakota State winner
Lehigh Mountain Hawks @ No. 2 North Dakota State Bison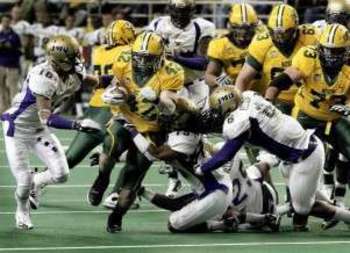 North Dakota State overpowered James Madison 26-14 in the second round of the playoffs.
The Bison excelled on the ground with running backs D.J. McNorton, who had 19 carries for 154 yards, and Sam Ojuri, who had two touchdowns.
The Bison also have one of the best defenses in the FCS. They have only given up an average of 14.6 points per game, leading the Missouri Valley Conference in scoring defense.
Lehigh is flying high after a 40-38 upset over Colonial Athletic Association champion Towson in the second round of the FCS playoffs. The victory marks their 10th straight coming into Fargo.
Mountain Hawk quarterback Chris Lum went an impressive 36-of-48 for 351 yards.
Both North Dakota State's and Lehigh's offenses have been extremely impressive throughout the entire season. However, North Dakota State has a stronger defense that will be key to the Bison advancing. Look for the gold and green to continue on the road to Frisco.
Prediction
North Dakota State 27
Lehigh 21
Semifinal Game
Maine @ Georgia Southern winner
Keep Reading