2011 Bowl Games: The Biggest Flaw for Every Team
Jonathan Ferrey/Getty Images

Perfection is a pipe dream.
Everyone has a weakness.
Superman's is kryptonite, Ohio State was Michigan's and Brett Favre's was throwing into double coverage.
Going into the bowl season, we hear a ton about what makes each of these teams deserving of their place in a postseason game.
But what are their weak spots?
Where might every bowl squad find themselves susceptible, particularly in their bowl matchup?
Every bowl team can be found here, along with their particular area of deficiency.
Begin Slideshow

»
Rob Carr/Getty Images

The Owls are one of only four teams that average fewer than 124 yards through the air per game.
Bernard Pierce has been a beast in the run game, which allowed the Owls to win enough games, but to take that next step, they need a more effective passing game in the future.
Against a team like Wyoming, it could work, but they are going to have to complete a few passes to take the win from the Cowboys.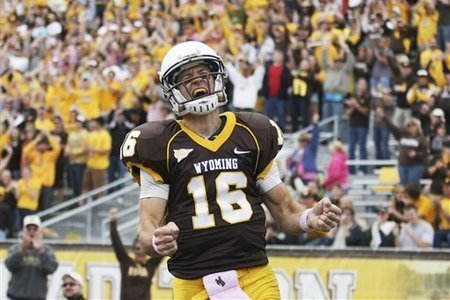 The Cowboys, while earning a winning record this season, are just mediocre across the board.
It's not a specific weakness, but one day, you get a team that makes plays when needed and pulls out the win, and other days they absolutely flop, hard.
The rushing game is strong, and the defense is so-so, quarterback Brett Smith is effective, usually.
Against a Temple team that will grind it out and run the ball down your throat, the Cowboys are going to have to execute well and play a disciplined brand of football to win.
Averaging over eight yards per punt return is about the middle of the FBS pack.
The problem for the Bobcats seems to be that their game against Utah State will be hard fought, as both teams play good defense, comparatively, and field position will be huge.
Maybe Tyler Tettleton will get on a roll and the Bobcats will be able to just rely on him to carry them.
Too one-dimensional.
That one dimension, the running game, is superb, but you have to be able to throw the ball successfully to win big games.
Sure, the Aggies can beat Ohio, but they have to be able to execute the passing game effectively to make it happen.
Leon Halip/Getty Images

Brady Hoke is gone.
Sure, the Aztecs lost some talent at receiver, However, Ronnie Hillman and Rryan Lindley were back for this season, and yet they could only muster a 4-3 record in the MWC.
Lindley and Hillman are solid players with the potential to lead an explosive offense, but the playcalling needs to get better, and the Aztecs better not underrate those Ragin' Cajuns.
ULL, surprisingly enough, looked pretty good this season en route to an 8-4 record.
But that mascot...
He's red, and his name is Cayenne, I couldn't help but point him out.
Please change it, it hurts to look at him.
Look, they beat the Big East champ early in the season.
That's not saying much.
However, FIU struggled to score points at times, putting up only 25 total in their last two losses.
Consistency will be the key here, and T.Y. Hilton will need to play a large role.
The Herd is in trouble in their bowl game.
They are 98th in the country at points per game, scoring only 22 per contest.
It will be tough to keep up with FIU scoring only 22 per game, especially since the Thundering Herd defense is not that great.
Otto Kitsinger III/Getty Images

TCU has progressed immensely this season, particularly Casey Pachall at quarterback.
Their defense is in the top third in the country when you take their average number of yards allowed over the course of the season.
However, against teams with winning records they drop down to 60th in the country.
La. Tech is a difficult match-up, and if they Frogs don't find a way to limit their offensive production, they will lose their bowl game.
These guys played a pretty solid schedule. and beat the teams they were supposed to, taking control of the reformatted WAC.
As a matter of fact, three of their four losses were by a combined nine points.
TCU is a tough draw, and will undoubtedly come out and punch La. Tech in the mouth.
To hang, the Bulldogs are going to have to continue to draw from their early season experiences, and make plays when necessary instead of folding when games get close.
Norm Hall/Getty Images

The Sun Devils' defense is speedy and scary.
They also screw up on a regular basis.
ASU leads the nation in penalty yards per game, giving up a ridiculous 78.8 yards every contest.
It's been tough to win games with that many mistakes.
Against a disciplined Boise State team, this could be an issues if not tightened up.
Otto Kitsinger III/Getty Images

As much as Chris Petersen finally feels obligated to join the BCS whining, he doesn't have much of a leg to stand on.
The Broncos played two semi-legitimate teams, winning against Georgia and losing to TCU.
This is a big one for those whose perception of the Broncos has still not changed.
If they do not blow ASU out of the water, those who question the weakness of their schedule will have more fuel for their fire.
Something has to give here, we either give them credit for winning against nobody, or we continue to bash the schedule, I'm going to go with the latter.
Otto Kitsinger III/Getty Images

Chris Ault is a great coach, and I'm sure he will find a way to deal with this for one more game, but the Wolf Pack are going to be low on running back depth in their bowl game after Mike Ball was dismissed from the team.
Lampford Mark has been coming on strong, more effective in scoring the ball and taking over for Ball, but it gets pretty slim behind him in the depth chart.
Bob Levey/Getty Images

No, contrary to what their head coach might say, the Golden Eagles do not belong in the BCS.
All I have to say is UAB.
If that's how he really feels, and the Eagles are slightly overconfident, they will get smacked by Coach Ault and the Wolf Pack.
Jamie Squire/Getty Images

This Missouri team is tough to peg.
On paper, they appear to be an experienced squad capable of hanging with anybody.
Their five losses this season say otherwise.
So what is different this year from last season?
James Franklin.
Statistically, he has been very good, amassing 20 touchdowns through the air, and 13 on the ground.
However, any time the Tigers have faced a decent defense, he has struggled.
Both Oklahoma schools and Kansas State held him below 54 percent completion percentage, and he threw four pick against those defenses.
He has to be efficient against a better than you might think UNC defense if the Tigers are to get the "W".
Geoff Burke/Getty Images

This is one team that is scary.
Their defense is capable of shutting teams down, and Bryn Renner and Giovani Bernard have emerged as extremely viable offensive threats.
So how did they lose five games?
The answer is simple.
In all save one of their losses, Bernard was held to fewer than 4.5 yards per carry.
If Mizzou can limit those rush yards per attempt, UNC will lose.
Western Michigan gets to face an erratic Purdue team in Detroit.
Their biggest weakness is slowing opponents down, as they allow over 434 yards per game.
However, Purdue has struggled to move the ball on a regular basis this season, and if the Broncos are going to tighten up, this is a great opportunity to do so.
After all, the Boilermakers lost to Rice earlier in the season.
Joe Robbins/Getty Images

The Boilers have had some turmoil at the quarterback position, but seem to have found some consistency at the position with Caleb TerBush.
That said, they are so dang inconsistent.
They matched Ohio State blow for blow, but fell to Rice.
They started Illinois' nosedive. and yet could not hang with Wisconsin.
Whichever team shows up will determine the result of this game.
Other than the fact that they play in the Big East, the Cardinals biggest difficulty is their inability to put up points at times.
In their losses this season, they have only been able to muster just over 13 points a contest.
We might want to name this game the "Inconsistency Bowl" in honor of the Cardinal and their opponent, N.C. State.
Mike Glennon has nearly made Tom O'Brien look good after dismissing stand out quarterback Russell Wilson.
However, the Wolfpack is woeful running the football.
They average an abysmal 108.2 yards running the ball per game.
Any time your offense is that one dimensional, especially against a team such as Louisville that can tighten the screws on defense, you are going to struggle.
Toledo has trouble stopping plays in the backfield, which can be a problem against a team that runs the ball like Air Force.
They average only 5.25 per game against FBS teams with winning records, which is middle of the pack.
Against the Falcons, that won't be enough.
Otto Kitsinger III/Getty Images

Any time you allow your opponent to convert over half of their third downs, it's going to be tough to win.
The Falcons allow their opponents to convert with startling regularity.
Not conducive to a bowl win.
Ezra Shaw/Getty Images

Penalties, penalties, penalties.
The Golden Bears give up more than 74 yards per contest in penalty yardage.
That is ridiculous.
Whether it's shooting yourself in the foot, or giving the opponent free yardage, that is not a good stat.
Tighten up, guys, tighten up.
Sarah Glenn/Getty Images

All right, I will come out and say it.
Mack Brown is the problem in Austin.
The only years he has had a successful team are the years when he receives transcendent quarterback play from the position.
Neither David Ash, nor Case McCoy has delivered that kind of play at all this season, leaving the Longhorns a mere two games better than last season's record.
You could go with the quarterback position, but for my money, Brown is overrated.
Al Messerschmidt/Getty Images

Yet another team that seems to enjoy giving up free yardage.
Jimbo Fisher needs to get his team disciplined.
They average a ridiculous 69.3 penalty yards per game.
Forgive me if I feel this is a bit excessive, and one of the reasons the Seminoles should have never been on our BCS watch lists.
Great, their game with Notre Dame is going to basically be the penalty champs against the team that can't hang onto the ball...fun.
Ezra Shaw/Getty Images

If we take away the turnovers, the Irish are a top ten team in 2011.
Unfortunately, that's not possible.
The Irish have a turnover margin of -13.
That's ugly.
Greg Reid and Xavier Rhodes have to be licking their chops.
Stephen Dunn/Getty Images

The Huskies have a pretty solid offense.
The problem seems to be that they can't stop opponents on third down.
And their bowl opponent, Baylor, converts roughly 45 percent of their third down attempts.
Keith Price is going to have his work cut out for him to keep up with RGIII and the Bears.
Sarah Glenn/Getty Images

Robert Griffin III and Kendall Wright help this Baylor offense to be one of the most explosive offenses in the nation.
Unfortunately, Art Briles has not been able to put together the defense to match.
The Bears rank a miserable 109th of 120 in scoring defense.
Of course, with RGIII at the helm, they have been able to outscore just about everybody, but as demonstrated by their three losses, when they face an explosive offense with the capability to slow them a little bit, they struggle.
Sarah Glenn/Getty Images

BYU has been playing exceptional ball for Bronco Mendenhall since their beat down at the hands of Utah, 54-10.
The weaknesses are hard to pick out.
However, they do struggle to justify their weak schedule.
They have beaten only one opponent (Utah State) with a winning record, and might find the sledding tough against a battle-scarred Tulsa unit.
Brett Deering/Getty Images

Weakness, what weakness?
The Golden Hurricane have lost four games, but every one of them was to a team ranked in the top ten at the time.
If absolutely forced to pick a weakness, I would have to go with a defense that allows too many points.
Of course, when you play Oklahoma, Oklahoma State, Houston and Boise State, your defense is probably going to look bad.
Given that BYU does not have the offense that those teams have, Tulsa is in good shape.
Elsa/Getty Images

The Scarlet Knight's failures this season have not been the fault of receiver Mohamed Sanu.
He is one of the most underrated players in the country.
That said, even he cannot do it all alone.
Greg Schiano's squad cannot run the ball.
It's that simple.
If they could, they would have won the Big East, easily.
Red zone efficiency is key to winning games.
Unfortunately for the Cyclones, they sometimes struggle in this category.
They are tied for 113th in the nation in this category, scoring on only 69.5 of their red zone trips.
Butch Dill/Getty Images

Um, where to start?
They began the season overrated, couldn't hang with anybody nearly as good as them, and snuck in by virtue of having the minimum six wins.
Let's list those wins: Memphis, Kentucky, Ole Miss, UAB, La. Tech and Tennessee Martin.
So basically, this team can't keep up with decent teams from BCS conferences.
Enter Wake Forest...
Wow, this may be one of the worst bowl games available not featuring Illinois and UCLA.
Wake went a miserable 5-2 in their last seven games, and barely managed to beat Duke in that span by a mere point.
Their rushing game is weak, as in 96th in the country in yards per game, and they struggle to keep teams out of the endzone.
If Mississippi State plays near their potential, the Dekes are in for a very long day.
Eric Francis/Getty Images

The Sooners have some inside information.
It seems the last time these two met, the Hawkeyes had a freshman safety on the roster by the name of Bob Stoops.
Since the Hawkeyes' offense has not changed much since then, the Sooners have the edge.
I kid, I kid.
The Hawkeyes are to darn inconsistent to win this one.
Defensively, they don't have the pass-rushers to pressure Landry Jones into his usual mistakes.
They might pull out the surprise against a less than motivated Sooner squad, but it's a longshot.
Ronald Martinez/Getty Images

The injuries have piled up, and this season has been disappointing, but where the Sooners struggle is holding onto the ball.
They have given it away a ridiculous 28 times on the season, 14 of those via Landry Jones' errant throws.
While they have the talent and the ability to beat Iowa, it is questionable whether they will be motivated, and if they aren't, turnovers are going to be an issue.
Darren Carroll/Getty Images

Where to begin?
The Aggies are coachless, can't hold a double digit lead in the fourth quarter, and are headed to the SEC.
Let's go with turnovers.
The Aggies are -8 in the turnover margin category, which makes it tough to hold leads.
Granted, they get to play Northwestern, who is not exactly a defensive powerhouse, but if they don't clean things up, they will give the Wildcats one of their rare bowl victories.
Eric Francis/Getty Images

Pat Fitzgerald was a great linebacker for the Wildcats back in the day.
Somehow, that defensive success does not translate to his team.
The Wildcats allow nearly 410 yards per contest to their opponents.
Against a Texas A&M team that regularly approach the 500 total yards mark, the defense will be a huge liability.
Scott Cunningham/Getty Images

You cannot win big on a regular basis and not pass the ball.
Tech struggles to pass, by choice.
Sure, the rushing game is great, but third and long means you are screwed.
Utah ranks in the top ten in rushing defense, and will give the Yellow Jackets fits.
Christian Petersen/Getty Images

The Utes improved toward the end of the season, but it was more a product of weaker opponents than anything else.
UCLA, Washington State, Arizona and Oregon State account for more than half of the Utes' victories on the season.
I believe they will find a contest against Georgia Tech difficult, but manageable.
The biggest weakness they will have to protect is their less than potent offense.
They will have to keep the ball and grind out yards to keep the Jackets from scoring too many points for them to keep up.
Tyler Barrick/Getty Images

Zach Collaros is expected to be back for the Bearcats.
This might be more of a hindrance than a help.
Jumping right into the action after an injury and long layoff is not always conducive to top-flight performances.
Grant Halverson/Getty Images

James Franklin has this program heading the right direction, but still has work to do.
The Commodores cannot win close games.
They lost four out of five games this season in which the final score was decided by less than a touchdown.
Jonathan Daniel/Getty Images

Momentum is key.
The Illini have none.
After starting the season 6-0, they turned around and finished it 0-6, barely edging their way into a bowl game.
Whitney Mercilus is a sack machine, totalling 14.5 on the season, but unless the Illini find some way to get motivated without a head coach and an interim coach that won't guarantee he is staying, it's going to be difficult to win.
Steve Dykes/Getty Images

Let's skip the plethora of weaknesses and instead dwell on the fact that a team with a sub-.500 record gets to appear in a bowl game.
That's right, the Bruins won the Pac-12 South by virtue of USC's post-season ban, thereby securing their 6-7 record with a loss to Oregon in the conference championship game.
They petitioned the NCAA and got into a bowl game at 6-7.
That's ridiculous.
The defense has remained stout throughout the entire season.
However, Mike London's squad has a tough time scoring points at times, averaging just over 23 per game.
Against an Auburn defense that has grown over the course of the season, this will be a problem.
Kevin C. Cox/Getty Images

Expect a low scoring affair folks.
Both teams struggle to put points on the board, and the Tigers struggle at times to even complete a pass.
With defenses zeroing in on Michael Dyer, Chizik and Gus Malzahn are going to have to get creative to put up some points.
Bob Levey/Getty Images

Case Keenum is incredible, no doubt about it.
That said, Penn State has got to be salivating right now at the prospect of taking on the Cougars.
They demonstrated against USM that they are so one-dimensional on defense they can be slowed.
Without an effective running game, it will be a long day in the trenches for Houston blockers, as Jordan Hill, and Devon Still will be zeroing in on Keenum.
Justin K. Aller/Getty Images

Devon Still got snubbed, that's all there is to it.
As for a weakness, it's the Lions' inability to put the ball in the endzone.
19.8 points might not cut it against Case Keenum, but if Still and the defense play as they have at times this season, it might be enough.
Andy Lyons/Getty Images

There are few weaknesses to be found here.
If there is something to pick on, it might be their rushing game.
They average only 142.9 yards oer contest on the ground, which is a little worse than average.
Georgia has had a stiff defense, and if they can succeed in slowing down the run game, they will be able to feast off of the Spartans passing game.
Scott Cunningham/Getty Images

Inability to hang with solid teams is the issue in Athens.
Anybody with half a brain saw them starting 1-1, at best, and then finishing the season without another regular season loss.
Why?
Because they played nobody until the SEC Championship game after week two.
Aaron Murray will likely cause some issues for the State secondary, but if the Dawgs remain true to form, they will implode under pressure...
Eric Francis/Getty Images

Taylor Martinez is the guy the entire team hinges upon.
If he makes his reads like a hyper junior high quarterback making his first start(see Wisconsin game), the Huskers are in for a long day.
If the coordinators stick to the run game, and Martinez does not kill drives with costly mistakes, the Huskers will be in it at the end, it's that simple.
By the way, Rex Burkhead is a monster.
Streeter Lecka/Getty Images

The Gamecocks are somewhat offensively challenged.
Against a Nebraska defense with the potential to play a pretty tight game, this could become an issues.
SC averages only 375 total yards per game, but their stout defense covers that deficiency pretty well.
Given Nebraska's offensive struggles this season, this might be a low-scoring game.
Jamie Sabau/Getty Images

There is a ton going on for the Buckeyes, and much of it is good.
That said, quarterback Braxton Miller is the biggest liability for OSU in this game.
He has had great moments, and is progressing rapidly, but Florida has some playmakers on defense, and Will Muschamp will have a great scheme for him.
I think the Buckeyes win, but Miller will have a turnover or two.
Al Messerschmidt/Getty Images

Expect to hear chants of "Urban Liar" at this one.
The Gators are in trouble.
Teams that cannot convert third downs struggle.
Florida has converted just over 30 percent of theirs this season.
Against a stout Ohio State defense, that is going to be a problem.
Jonathan Daniel/Getty Images

Special teams has plagued the Badgers all season long.
Blocked punts, a blocked field goal and the inability to slow down kick returners all contributed to their two losses this season.
Fortunately for them, they won't have to deal with Cliff Harris in the Rose Bowl, but the Ducks are explosive all across the field.
If they screw up kick coverage in this one, they will be burnt.
Jonathan Ferrey/Getty Images

The Rose Bowl is going to be ridiculously high-scoring.
That said, Chip Kelly needs to succeed here.
Quick, how many bowl games have the Ducks won during his tenure in Eugene?
That's right, none.
And given their penchant to lose every game they play against ranked non-conference opponents, the Ducks should be concerned.
Ezra Shaw/Getty Images

The two teams they have faced with good quarterback play have given them fits.
The Cardinal fell to Oregon and took three overtimes to put away USC in the regular season.
So there might be a concern facing Brandon Weeden and Justin Blackmon.
However, the biggest concern is the lack of superior talent at wide receiver.
No offense to Chris Owusu and the rest of the guys, but if Andrew Luck had Landry Jones' supporting cast, the Heisman race would not even be a race.
Ronald Martinez/Getty Images

Let's forget about the team for a moment in this one as well and dwell on their bowl game circumstances.
Apparently, Several SEC coaches, as well as Air Force's Troy Calhoun and Missouri's Gary Pinkel and Stanford's David Shaw screwed the Cowboys by voting them lower than second in the final coaches' poll.
With the tiny margin that the Cowboys fell out of the top two by, a few more votes from the coaches in the top two or three would have moved them past the Tide.
Ah well, it's over, but there is no doubt that the Cowboys suffered from others abusing their voting privilege to better their teams standing.
Gregory Shamus/Getty Images

Ball security is the biggest issue the Wolverines have.
The defense is much improved, and Denard Robinson and Fitz Toussaint have the rushing game in good shape.
However, Denard throws picks with astonishing regularity, averaging one interception for every seventeen passing attempts.
Guess who has picked off 16 passes this season, good enough for 19th in the country?
That's right, the Wolverines' next opponent, Va. Tech.
Geoff Burke/Getty Images

The Hokies struggled in two games this season, against Clemson, and that's it.
The Tigers used Tajh Boyd's mobility to extend plays and move the pocket, causing fits for the Hokie defense.
If Frank Beamer's squad thinks he was mobile, they are in for a surprise when they face the Wolverines and Denard Robinson.
While the Hokies did not allow Boyd to gain a ton of yards on the ground, he clearly created problems with his ability to move around, something at which Denard is a master.
Jared Wickerham/Getty Images

I'm not one to insinuate that just because the Mountaineers are from the Big East they will lose their bowl game.
However, their inability to run the ball is going to be an issue.
Clemson can hang with anybody in the passing game, but struggles when they must run the ball, especially if their opponent is effective in the rushing game.
Fortunately for the Tigers, WVU is 100th in the nation in rushing yards per game, and 51st in rush defense.
Mike Ehrmann/Getty Images

Clearly Tajh Boyd and Sammy Watkins are an incredible duo.
However, the Tigers' running game is another matter entirely, and that includes run defense.
In Clemson's three losses, their opponents amassed an incredible 738 yards on the ground, to the Tigers' 199.
Clearly a large disparity there, and if you don't think Dana Holgorsen has noticed that, you're nuts.
Brett Deering/Getty Images

This team should be in a BCS bowl, and if they were, say, Oklahoma instead of K-State, they would be.
That said, their biggest strength may also be their largest liability.
Collin Klein has scored 26 rushing touchdowns, six more than Trent Richardson, and yet, he is a liability at times as a quarterback.
He has only thrown five interceptions, but has a 57 percent completion rate, and the 'Cats are going to have to throw the ball to keep up if Arkansas gets rolling.
Wesley Hitt/Getty Images

This team is slightly overrated.
They have beaten only one two teams ranked in the current BCS top 25, and Auburn is 25.
Both of those wins were ate home.
K-State is going to be a great measuring stick.
If the Razorbacks are going to win the Cotton Bowl, they will have to find a way to produce in the rushing game.
They are 81st in the country in yards per contest, but will need to keep the ball out of Collin Klein's hands and limit mistakes to win.
The best way to do that is carry the ball, and do it effectively.
The 'Stangs biggest weakness is pretty obvious when studying their season.
Without starting running back Zack Line, they lost four of their last six games.
June Jones has the program back to respectability, but without Line, they are a shell of what they could be offensively.
Jared Wickerham/Getty Images

Yeah, it's official.
Tino Sunseri is no Dan Marino, and the Panthers have got to get better at extending drives.
Too often, they sputter out on third down, allowing their opponents to take over and take advantage of solid field position.
33 percent is not going to cut it.
The biggest problem the Red Wolves have coming their way is Chandler Harnish.
Against even moderately solid quarterbacks, the Red Wolves have struggled.
Harnish has demonstrated the ability to carve up defenses, and is the heart and soul of the Huskies offense.
Winning the Sun Belt is a pretty big accomplishment for ASU, but facing Harnish will be no picnic.
Chandler Harnish and the offense will be fine.
Defensively, the Huskies need help.
They allow over 31 points per contest to their opponents, and cannot stop anybody.
Kevin C. Cox/Getty Images

There are not many weaknesses to exploit on this 'Bama team.
However, as was extremely evident in their first bout with LSU, the kicking game struggles.
Tide kickers have missed 11 of their 28 attempts this season.
In the BCS title, which will likely be another close game, this is going to have to be resolved.
Kevin C. Cox/Getty Images

Slow starts.
They have not come back to plague the Tigers this season. at least not resulting in a loss, but they sometimes take some time to get rolling.
If somehow Alabama were to jump ahead 10-0, or even 7-0, the Tigers will have a hard time catching up, unless someone makes a big play on defense or special teams.
It's not a huge concern, as they have pretty much destroyed everybody except the Tide this season, but if there is a weakness for this team, that would be it.
Well, that and Les Miles' annual screw-up of clock management, which has not happened yet this season.