Roy Williams vs. John Calipari: Which Coach Will Be More Successful?
December 12, 2011
Grant Halverson/Getty Images
It's no surprise that two of the best programs in men's college basketball history, the Kentucky Wildcats and the North Carolina Tar Heels, are led by two of the best coaches in recent memory, John Calipari and Roy Williams, respectively.
On December 3, the two faced off at Rupp Arena in Lexington in a rematch of their epic Elite Eight showdown last March. And just as the Wildcats emerged victorious over the Tar Heels in March by a score of 76-69, so too did they emerge victorious this December, narrowly beating out North Carolina by a score 73-72.
Both of these games were competitive, and it wasn't just because of the raw talent on the court. The showdown between coaches Calipari and Williams was certainly something to watch, as each coach's unique style, something that has helped with them each so many games, was finally put to the test against each other.
Although Kentucky has twiced emerged victorious against North Carolina, the question lingers: Which coach will be more successful when both of their careers are said and done?
Roy Williams has the more extensive resumé as of now. He currently boasts a head coaching record of 649-165 (.797) as head coach of the Kansas Jayhawks (1988-2003) and the Tar Heels (2003-present). With a record of 231-64 (.783) at UNC, Williams has won two national championships (both at North Carolina) and appeared in the Final Four five times (twice at Kansas and three times at North Carolina). 
Calipari, on the other hand, has an overall record of 476-152 (.758) and a record of 73-12 (.859) at Kentucky. Although he has no national championships, he's been to the Final Four three times, once with each team he has coached (UMass in 1996, Memphis in 2008, and Kentucky in 2011).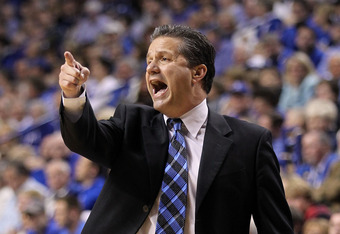 Andy Lyons/Getty Images
Calipari is unique in that he did not coach at elite basketball schools prior to Kentucky. Calipari managed to take two programs, neither of whom were particularly known in the world of college athletics, and delivered them to national prominence. At Kentucky, Calipari turned around a once-storied program mired in irrelevancy and brought the Wildcats back to the top of the college basketball world.
That being said, Williams has done his fair share of rebuilding as well. Williams inherited a Kansas team slapped with a year of postseason ineligibility due to improper benefits given to a recruit during the tenure of his predecessor, Larry Brown. Following the 1989 season, Williams led the Jayhawks to 14 consecutive tournament appearances and two national championship games, losing both in 1991 and 2003. Williams earned a record of 418-101 (.805).
When Roy Williams was hired by North Carolina in 2003, the Tar Heels had endured frustration following the retirement of Dean Smith in 1997. Although they would earn two Final Four appearances in his absence (1998 and 2000), futility was the story of the Matt Doherty years. Since then, North Carolina has won two national championships (2005 and 2009), made three Final Four appearances (2005, 2008, and 2009) and seven Tournament appearances. After the disastrous 20-17 2009-2010 campaign, Williams helped bring a largely freshmen-led team to a 29-8 record and an Elite Eight appearance.
Both coaches look like they're here to stay for many more years, although Williams, at 61, will likely retire before Calipari, 52. Though they've been head coaches for the about the same amount of time, Roy Williams did quite a bit of assistant coaching under Dean Smith at North Carolina before taking the job at Kansas. If you include those years, then Williams gets a big boost, as the Dean Smith years featured some of the greatest teams to ever take the court.
For all the games Calipari has won (and he'll no doubt win many more), his legacy will be marred by the NCAA violations incurred at both UMass and Memphis. While in Amherst, Marcus Camby took $28,000 from two sports agents, forcing the Minutemen to vacate their 1996 Final Four appearance. And while at Memphis, we watched as Derrick Rose was implicated in a scandal involving allegations that he did not take his SAT's himself.
Although Calipari was not directly involved in either of these incidents, the perception among many is that he hasn't maintained control over his players and their dealings with agents and other shifty characters. This is a debate that I will allow to rage on in the comments, but regardless of how culpable you believe Calipari is (I personally think he bares at least some responsibility, but not all of it), many will see his legacy as a head coach as tainted, especially due to the fact that he left two schools with NCAA sanctions on the books and effectively ended their time in the national spotlight.
In the end, I think that until John Calipari brings home a national championship, Roy Williams will be viewed as the more successful coach. You may win all sorts of regular season and Tournament games, but until you're cutting down nets in that first week of April, your record almost feels incomplete.
Both men will finish their careers with many wins to their name and many players who go on to the NBA. They've brought success to their programs and been in the national spotlight. For now, it's advantage Williams, but of course, that could all change in the future.