Cotton Bowl 2012: TV Schedule, Live Streaming, Radio, Game Time and More
December 5, 2011
Chris Graythen/Getty Images
The Kansas State Wildcats and the Arkansas Razorbacks played well enough this season to go to a BCS bowl, but both of them are going to have to settle for the Cotton Bowl.
Not that this is a bad thing, of course. The Cotton Bowl may not be a BCS bowl, but it's an old bowl with plenty of rich history. It's a bowl game that the Wildcats and Razorbacks should be proud to be a part of.
The Cotton Bowl is still a month away, but it's never too early to look forward. Let's take a closer look at what this matchup is all about.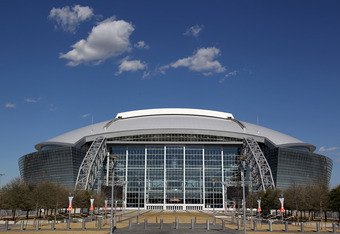 Jed Jacobsohn/Getty Images
Where: Cowboys Stadium
When: Friday, Jan. 6, 2012 at 8:00 p.m. ET
Watch: FOX
Listen: Live streaming audio on KStateSports.com and on NMNAthletics.com; see list of radio affiliates for Kansas State radio and Arkansas radio
Betting Line: Not Available
Key Storyline
Unfortunately, the big storyline concerning this game is how both teams got screwed out of going to a BCS bowl. Kansas State didn't get to go because the Sugar Bowl chose to invite Virginia Tech instead, and Arkansas didn't get to go to a BCS bowl because no more than two teams from a single conference are allowed to be represented.
Because of this, you can rest assured that both teams will be looking to make a clear statement at the Cotton Bowl. Though not against each other, both Kansas State and Arkansas will be out for revenge.
Who Might Not Play for Kansas State
The Wildcats have a couple of players who are out for the season, but the only player who is iffy for this game is defensive lineman Laton Dowling. Per USA Today, Dowling is questionable for the game with a knee injury.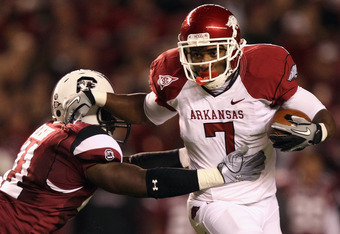 Streeter Lecka/Getty Images
Who Might Not Play for Arkansas
Also per USA Today, the only players on Arkansas' injury reports are three players that are out for the season. Presumably, running backs Knile Davis, Broderick Green and Kody Walker won't be able to play in this game.
What They're Saying
The Wildcats may have gotten screwed out of a rightful place in the Sugar Bowl, but Blair Kerkhoff of the Kansas City Star isn't sweating it.
In fact, Kerkhoff points out that the Cotton Bowl is a much better situation for the Wildcats:
If it was a ticket-selling decision, the Sugar grossly miscalculated Kansas State. Fans invade bowl cities by the tens of thousands, and the thrill of traveling to a BCS bowl in a city where the team hadn't played under Bill Snyder would have transferred plenty of disposable income to New Orleans.

The Dallas Metroplex will get that money instead, with Kansas State heading to Cowboys Stadium to face Arkansas. And you know what? Great.

Everything about the Cotton Bowl is ideal for the Wildcats. The distance is drivable, the stadium is other-worldly, and by ranking, the matchup is better than anything outside of LSU-Alabama and Oklahoma State-Stanford in the Fiesta Bowl.
In so many words, everybody wins. Especially the fans with the money.
For what it's worth, Arkansas athletic director Jeff Long is also just fine with the Cotton Bowl. 
"How could you be disappointed to go to play in Dallas at the world's greatest stadium?" said Long, via ArkansasNews.com. "The Cotton Bowl, we have a tremendous history with them … Dallas, for our fans, I don't think there's much better than the Cotton Bowl other than a BCS national championship berth."
You heard it here first. The only thing better than the Cotton Bowl is the national title game. The other four BCS bowls don't quite stack up.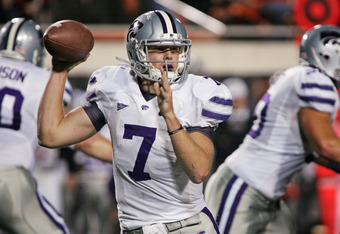 Brett Deering/Getty Images
Kansas State Player to Watch
Junior quarterback Collin Klein is the very definition of a dual-threat quarterback, as he led the Wildcats in both passing and rushing this season. He doesn't have to throw the ball much, but to his credit he's fairly efficient.
He completed just short of 58 percent of his passes for 1,745 yards and 12 touchdowns this season. On the ground, Klein added 1,099 yards and 26 touchdowns.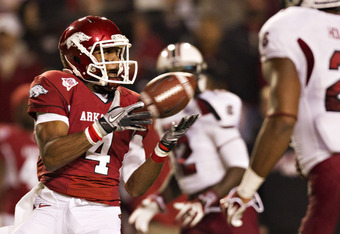 Wesley Hitt/Getty Images
Arkansas Player to Watch
This will be your last chance to catch a glimpse of senior wide receiver Jarius Wright in an Arkansas uniform. He had a very good year in 2011, pulling in 63 receptions for 1,029 yards and 11 touchdowns. You're going to have trouble finding a faster receiver, so try not to blink when Wright is on the screen.
Key Matchup
If Arkansas can force Kansas State to abandon the run, the Razorbacks may be able to run away with this game. The best way to do this is to score a whole bunch of points early, forcing the Wildcats to take to the air to catch up. That's not their forte.
On the Hot Seat
I don't think Kansas State head coach Bill Snyder or Arkansas head coach Bobby Petrino have anything to worry about when it comes to how they perform in this game. Both of them are safe.
Prediction: Arkansas 31, Kansas State 28
It's going to be a close one, but I think the Razorbacks are going to have too much offense for the Wildcats. Still, there's nothing wrong with losing a game like this if this is how it pans out.