Cowboys Jason Garrett, Tony Romo, Need Increased Awareness in Key Situations
December 6, 2011
Rob Carr/Getty Images
There is a thing in the games we play called "situational awareness."  If you're a batter, you'd better know the count.  If you're a PGA tour pro on the tee box, you'd better know what's 300 yards ahead of you.  And, if you're an NFL head coach or quarterback, you'd better know what down it is, how many timeouts you have, and what yard line you're on.
Twice in their last three games, the Dallas Cowboys have bordered on turning situational awareness into situation comedy.
In Washington, Week 11, lining up for the field goal to win in OT, Cowboy QB Tony Romo tried to call timeout.  What he apparently did not realize is that the Cowboys had already used both of their overtime timeouts.  Luckily for Tony, Washington head coach Mike Shanahan, the king of icers, called timeout on the Redskins sideline, trying to freak the Dallas kicker.  Had Tony gotten the attention of the officials, the subsequent 15-yard penalty for calling an excess timeout would have taken the Cowboys out of field goal range.
Yesterday, against the Cards in Arizona, head coach Jason Garrett called timeout with the field goal team already lined up and ready to kick the game winner at the end of regulation.  The snapper snapped, the holder held, the kicker kicked and the kick was good to win it, but for the striped shirts flying in and calling a halt to the action.  So now, after a timeout that was totally unneeded, kicker Dan Bailey tried again from 49 yards out.  But this time, after being iced by his own coach, Bailey's kick was short.  The game went into OT, and the Cards won.
I've known Jason Garrett for a long time, since he was a backup to Troy Aikman in the 90's, when I was part of the Cowboys radio broadcast team.  He is, along with former Cowboy lineman Blaine Nye, one of the smartest athletes I've ever known.  A Princeton degree goes a long way in a lot of ways.  But since being named head coach, Jason has become something of a robot.  Part of it, I'm sure, is the nerve-wracking feeling of Jerry Jones perpetually second-guessing you.  Part of it is learning to use those clichés we're all so fond of hearing from coaches.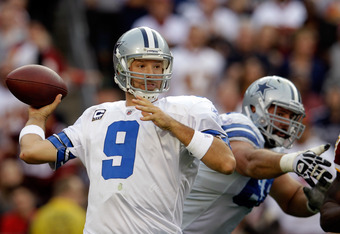 Rob Carr/Getty Images
Yesterday, following the loss in Arizona, Jason made one huge mistake.  When he went into the postgame interview room, he tried to justify what happened.  He said a lot of "we" this and "we" that, and it certainly didn't go down well with Cowboy fans.  Perhaps it's a sign of Jason's head coaching inexperience.  Maybe he should have gotten some seasoning at another level before taking on arguably the most high profile coaching job in America.
But sometimes, when faced with such a situation, there's really only one thing to say.
"I made a mistake."
That Jason didn't' say that yesterday shows yet another lack of situational awareness.