WWE/TNA Roundtable: Cody Rhodes Is the Best Wrestler to Never Hold a World Title in Wrestling Today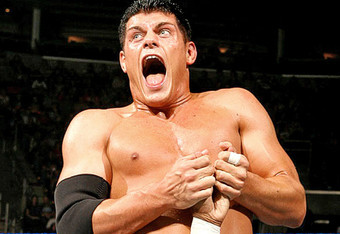 Daniel Massey
Cody Rhodes is without a doubt the best wrestler not to win a World title. I can't think of anyone more deserving at the moment for a top tier championship.
There are several reasons Cody Rhodes is at the top of my list and I believe many of them are the staples of what a champion should be.
You cannot mention Cody Rhodes now without mentioning his exceptionable microphone skills.
The ability to captivate an audience with his monotone voice first came to light when he adopted a fresh character in the form of a disturbed, mentally deranged man who believed his face was disfigured.
Taking bits from Kane and Mankind, Rhodes was able to create what seemed like a fresh character, which sparked a bigger interest in this young star.
It was his ability to cut a promo that shone through after this and he gained many fans with his monotone monologues on Friday Night SmackDown.
There is no denying that this character was marketable at the time and developed into a main focal point on SmackDown.
The addition of "baggers" who would place bags over people's heads in the audience while Cody was speaking, added to the appeal as it presented the crowd with an opportunity to interact with Cody, despite him being a heel and dismissing his fans as ugly.
These are two very important aspects that when mastered, can create special champions and I think Rhodes has already achieved this; he just doesn't have the gold to support it.
Speaking of gold, he is the current holder of the Intercontinental Championship and he has been able to do what no-one has been able to do for quite some time—bring prestige back to the belt.
Just because it is a tired discussion point, it does not stop it from being true.
By holding the belt for a lengthy amount of time, defending it on a regular basis, and changing the design to that of the classic champions, Cody has brought a lot of meaning back to the belt that was fading into obscurity.
Any man who can do this quite clearly deserves championship gold and seeing as the main belts seem to be suffering the same fate the Intercontinental Championship once was, I'd be putting that belt on Rhodes in the very near future.
The final point I would like to bring your attention to is Cody's undeniably smooth ring skills. The man can wrestle.
He is good at mat-based wrestling, he can chain wrestle and he is also very convincing in the selling of the moves he receives and dishes out.
Being able to wrestle with seemingly anyone is a very good talent to have and it is what a champion needs if he is to be taking on all-comers.
His recent feud with Randy Orton, which featured some absolutely stellar matches, more than showed that Cody Rhodes is ready for the big belts.
After pointing out the skills that Cody has, one can see he is ready for the World title, but why hasn't he got it?
I don't necessarily think it is a bad thing, as it is allowing Cody to build himself up so he can hold the belt for a long time, and not do a Swagger or a Ziggler.
The man will hold the belt for a very long time once he gets it. I'd like to see some arguments against that!
Most recent updates:
This article is
What is the duplicate article?
Why is this article offensive?
Where is this article plagiarized from?
Why is this article poorly edited?