How Maintaining Rashard Lewis Affects Andray Blatche and Washington Wizards
December 5, 2011
Greg Fiume/Getty Images
Under the new CBA, every team in the NBA has the option to pay off one player's contract before the 2011-12 season. The Washington Wizards could easily use this to get Rashard Lewis' big contract off of their books, and open up much-needed cap space for future deals and free-agent acquisitions.
As reported by Michael Lee of the Washington Post, the Wizards have no intention of using this amnesty clause to buy Lewis' contract out.
Though Lewis is still a productive player, he is a mere shadow of his former self. He is not worth the $118 million contract the Orlando Magic and defunct Seattle SuperSonics agreed to as part of a sign-and-trade deal in 2007. Even as a veteran presence, Lewis is not worth the second-highest contract in the NBA heading into the 2011-12 season.
By keeping Lewis around, the Wizards seem to be hedging their bets with Andray Blatche moving forward.
Since stepping into his role as unquestioned starter, Blatche has been both statistically productive and consistently frustrating. Though he missed 18 games due to injury last season, he averaged career highs in points, rebounds, assists, steals and free-throw percentage. That being said, he never appeared dominant or capable of being dominant based on his chosen path of development.
Blatche is 6'11", 260 pounds and plays like he's 6'7", 230 pounds, focusing more on shots in the 10- to 15-foot range, than his game 10 feet and in.
Blatche is essentially a stat stuffer, which can lead to the perception that he must be a good player since he can put up good numbers. If you watch Blatche, though, he plays for himself and by himself more than he plays in the framework of his team.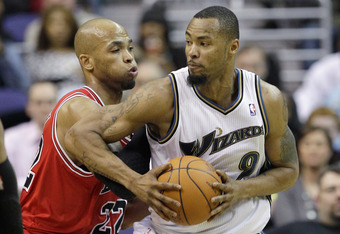 Rob Carr/Getty Images
On the cusp of a triple-double late in the 2009-10 season, Blatche looked more like a spoiled child than a serious competitor when a foul and a fellow teammate ended his chances at a personal highlight.
Night in and night out, you can be assured that Blatche will get the ball on the wing, and instead of backing his opponent down or looking to move the ball to a better shot, he will turn and fade away. There are nights when he gets away with that approach, but it does nothing in terms of building team chemistry or vying for a win.
Lewis may not be the most productive scorer, or aggressive rebounder/defender at this point in his career, but he also isn't expected to be an integral piece of Washington's future.
The Wizards could easily dump Lewis with this clause, but you can't help but wonder if keeping him around is a means of delaying the eventual movement of Blatche in the near future. The $43.8 million remaining on Lewis' contract is not something the Wizards could easily trade, and it isn't as though they are bereft of options at power forward.
Blatche took his time becoming a better player, but seems to be reaching his ceiling with each season that passes. If he has not changed his habits by now, there is little chance that he ever will and the Wizards don't need that type of player on their roster.