Heisman 2011: Why Baylor's Robert Griffin Should Win
December 5, 2011
Sarah Glenn/Getty Images
When Robert Griffin III arrived in Waco as a true freshman in 2008, he was joining one of the least successful BCS programs since the inception of the BCS in 1998. In 2008, Baylor was a program that had not gone to a bowl game since 1994 and had not been ranked in the Top 25 since 1993.
In his three years as the Bear's starting quarterback, Griffin went 4-8 (2008), injured (2009), 7-6 (2010), and 9-3 (2011). In 2010 he guided his team to a bowl game and the Top 25. Baylor's nine wins this year are the programs most since a nine-win season in 1986.
After 2010, in only a little more than two years, he was already Baylor's all-time leading passer. His 3,501 yards in 2010 marked the first time that a Baylor player threw for over 3,000 yards in a season. However, this isn't an argument about who Baylor's greatest player ever is, it's about which player has been the best in the country this year.
After his comeback and successful year in 2010, Griffin has taken his game to a whole new level. Right now, Griffin is No. 1 in the nation in QB rating at 192.3. This number could drop after the bowl game, but if he stays ahead of Wisconsin's Russell Wilson (191.6) the NCAA record book will record Robert Griffin's 2011 campaign as the most efficient ever (the current record is 186.0). To compare to some other QB's; Wilson—191.6, Houston's Case Keenum—177.9, Boise State's Kellen Moore—176.8, Stanford's Andrew Luck—167.5, USC's Matt Barkley—161.2 and Oklahoma State's Brandon Weeden—159.1.
In addition to leading the nation in QB rating, Griffin's 10.83 yards per attempt are the best in the nation, 0.69 yards greater than Wilson, and 1.3 yards higher than anyone else. 
Griffin also ranks sixth in passing with 3,998 yards, fifth in completion percentage (72.4%), and his 36 TD's with only six INT's is the third best ratio in the country.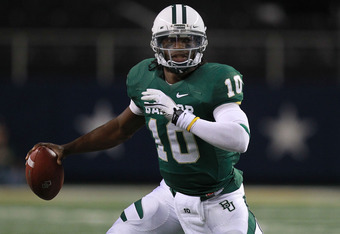 Ronald Martinez/Getty Images
And Griffin also does damage on the ground. 
With a bowl game still to play, Griffin has rushed for 644 yards and nine touchdowns. Among the other Heisman contending quarterbacks, only Wilson has over 200 yards (320).
In terms of total yardage, Griffin is No. 2 in the nation with 386.8 yards per game, behind only Case Keenum (394.2) and is about 30 yards per game ahead of everyone else.
Another parameter that seems to be used a lot in determining the Heisman winner, is how the player performed in his team's losses.
If this criteria is applied, it also points to Griffin as the winner. In Baylor's three losses, Griffin had a combined QB rating of 170.7 while the other contenders had ratings of: Moore—166.2, Wilson—163.2, Weeden—148.1, Luck—132.7, Barkley—127.1 and Keenum—111.8 in their losses.
There is no question that at least among quarterbacks, Griffin deserves the Heisman. His team may only be 9-3, but that is not due to Griffin's performance. Griffin only had a rating below 180 in one of Baylor's three losses. To put that in perspective, only seven quarterbacks have finished a season over 180.
Behind Griffin, Baylor ranks No. 2 in the nation in yards per game and sixth in points. The Bears defense however, ranks 114th in yards and 109th in points, so it is hard to blame the loses on Griffin and the Bear's offense. 
To compare Griffin with the contenders at other positions is slightly more difficult, but considering that the defense that Griffin played alongside was one of the worst statistically in the country, it is hard to say that Baylor could have been nearly the same team without him.
Wisconsin would still have been good without Ball, Alabama would still be 11-1 without Richardson, and Oregon would still be in the top three of the Pac-12 without James. Whereas, without Griffin, I think Baylor is either 6-6 or staying home for the holidays.