Athletes' Roles: An Investigation on Why Not All Athletes Make Good Role Models
December 5, 2011
Scott Halleran/Getty Images
"I dream of a world where my children can have good athletes as role models."
Sadly, that will never happen. By nature athletes are just bad role models. Steven Ortiz, a sociology professor at Oregon State and the author of several published studies on athletes' bad behavior says (h/t Daily Beast and Newsweek), "Spoiled-athlete syndrome begins early in sports socialization. From the time they could be picked out of a lineup because of their exceptional athletic ability, they've been pampered and catered to by coaches, classmates, teammates, family members and partners. As they get older, this becomes a pattern. Because they're spoiled, they feel they aren't accountable for their behaviors off the field. They're so used to people looking the other way." 
Kids pick athletes as role models because they win. Pro athletes are what young athletes want to be. When I asked a my nine-year-old cousin why LeBron James was his role model, he quickly replied "because he's the best." When children look at an athlete, they see a two-time Super bowl winning quarterback, not someone accused of sexual assault twice.
If Kobe Byrant was my child's role model, would my child be a five-time NBA champion or cheat on their wife and be accused of sexual assault? 
The best golfer, Tiger Woods, was a role model to many. How does a parent explain to their child that their favorite athlete had 120 affairs? 
If my child's role model was Michael Vick, he would flip off the fans at his Pee Wee games. When we were traveling, he would put illegal drugs in water bottles to pass airport inspection. When I wasn't looking, he would engage in the killing of innocent dogs.
Or would he be a four-time Pro Bowl selection with speedy legs and a great arm? How would I know what kind of person he would become?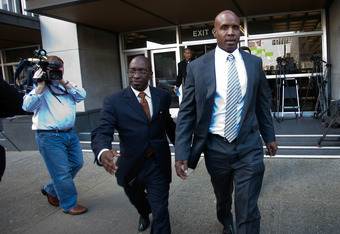 David Paul Morris/Getty Images
Little children's minds are like Play-Dough. If a young child sees Barry Bonds taking performance enhancing drugs and then hitting 762 home runs, would he take performance enhancing drugs to hit home runs? 
Little kids will feel safe if they thought that WWE wrestler Chris Benoit was protecting them at night. But how safe would they feel if they knew that Benoit murdered his wife and son? 
Athletes are role models for kids, even if they aren't good ones. Children say that famous athletes rank second only to parents and are on par with their teachers as the people they admire most. Both boys and girls name a professional or Olympic athlete as among the people they say they "look up to or want to be like."
Children can also be incredibly biased. While 66 percent of children believe that athletes have a huge ego, only 29 percent of children say that about their favorite athletes (according to the Kaiser Family Foundation). Overall children said that the character of athletes is negative but said that the character of their favorite athletes is positive. 
This is when I will go back to the child that idolizes LeBron James. His brother and close relatives all believe that LeBron is a bad role model but he believes that James is a great choice. Are they talking about two different people? No, but maybe two different views. His relatives see an egotistic quitter that left his small town for the bright lights of Miami. But the child bypasses all of that and just looks at the MVP LeBron. 
And while you may just say that kids will never learn the wrongs from famous athletes, then you would be wrong! Seventy-four percent of children say that it is common for an athlete to yell at a referee or umpire and 62 percent say that athletes taunting or trash talking an opponent is commonplace.
And it is proven that when children get onto the field, court or ice they copy their role models actions. Sixty-two percent of children say that taunting or trash talking are very common in youth games, followed closely by yelling at a referee or umpire which 56 percent of children say is common (according to the Kaiser Family Foundation). 
If I am an eight-year-old slugger and I see A-Rod yelling at an umpire, shouldn't I do the same? I mean people all ways tell me to hit like him, shouldn't I act like him too? 
Athletes are given special permission in the minds of children. That is why whatever they do can be bypassed or classified as normal. One in three teens says that wild parties, unruly behavior and late nights is pretty routine in the lives of famous athletes. So if Terrell Owens had a late night, got a DUI and came home at 5 a.m it would be normal but if dad did that it would be unacceptable and crazy. What are the standards of role models? 
According to Ranker the Top 10 Most Popular Athletes are:
1. Tiger Woods: See above. 120 affairs.
2. Michael Jordan: Though he may be the best basketball player ever, he did pay lover Karla Knafel $250,000 to keep their relationship a secret when Knafel find out she was pregnant.
3. Tom Brady: Besides persuading little boys to wear Uggs, he's clean.
4. Lance Armstrong: I could see why Armstrong may be a good role model. He battled cancer and came out victorious as well as winning the Tour de France a record seven times. But there are rumors of doping circling his head.
5. LeBron James: He may be a great player, but there are many reasons why he should not be a top role model. After he was fouled by the Celtics last season, his mother came on the court to see what  happened. LeBron told her to "sit your ass down!" LeBron has never done anything wrong or harmful but his attitude and the way he bolted to Miami has turned some off.
6. Michael Phelps: Even though he has won countless medals and broken many records, he still should not be a role model. He has a DUI and has been caught smoking tobacco or marijuana.
7. Roger Federer: Besides those stupid watch commercials, he is clean.
8. Alex Rodriguez: A-ROID. A cheater who used steroids, Rodriguez will never be viewed in the same light again.
9. Derek Jeter-He has dated almost every woman in New York, but besides that the man is a living legend. He's half clean.
10. Shaquille O'Neal: THANK YOU! If there is one athlete I want my kid to look up to, it is Shaq. He is fun-loving but focused and always has time for charity. Shaq always puts a smile on a kid's face and is a hard worker but knows when to have fun. My family can't get enough of his offseason reality show Shaq Vs.
Out of the list of the 10 Most Popular Athletes, only three-and-a-half are clean. That is sad. You may ask well, big shot, who is your role model? Let's just say I stay clear of athletes!