Outback Bowl 2012: TV Schedule, Live Streaming, Radio, Game Time and More
December 5, 2011
Gregory Shamus/Getty Images
One of the best bowl games every year is the Outback Bowl. This season, the Michigan State Spartans will try to be the team to end the Big Ten's curse against the SEC when they take on the Georgia Bulldogs. 
The Spartans were so close to playing in the Rose Bowl. If not for a Russell Wilson touchdown drive late in the Big Ten Championship, we would be talking about Wisconsin in this game. As it stands, Michigan State will have to make do with a showcase game against the best team in the SEC East. 
The Bulldogs had one of their best halves of the year, at least on defense, in the SEC Championship Game. Everything fell apart after halftime, but we did see what this team was capable of after some skepticism. Mark Richt has done a terrific job bringing this team back after an 0-2 start. 
Where: Raymond James Stadium in Tampa, Fla.
When: Monday, Jan. 2 at 1:00 p.m. EDT
Watch: ABC
Listen: WTKA 1050 AM (Michigan State), 750 WSB AM (Georgia)
Betting Line:
Georgia Injury Report
Probable: RB Isaiah Crowell (Ankle)
Questionable: RB Carlton Thomas (Knee), LB Michael Gilliard (Ankle), DE DeAngelo Tyson (Ankle), CB Jordan Love (Hand), T Austin Long (Ankle), RB Richard Samuel (Ankle), G Dallas Lee (Leg)
Out: T Trinton Sturdivant (Knee), WR Rantavious Wooten (Concussion), T Kolton Houston (Eligibility), S Jakar Hamilton (Ankle)
Michigan State Injury Report
Questionable: WR Bennie Fowler (Foot)
Out: DT Jonathan Strayhorn (Knee), T Skyler Burkland (Ankle), G Zach Huester (Shoulder)
Key Storyline: Will these teams have a conference championship game hangover?
It is always painful to lose a game, but the way that both Michigan State and Georgia lost their respective conference title games could linger with them for the next four weeks as they prepare. 
Michigan State had its game won. This team was headed to Pasadena to play in the most prestigious bowl game of all time. Instead, they have to settle for the Outback Bowl. We have seen teams in the past give up in the bowl game after losing their last game in heartbreaking fashion. 
Georgia had its chance to prove that its soft schedule was being overplayed with a game against LSU, but a 35-point second half derailed their momentum. That loss might be more crushing that Michigan State's because they were embarrassed on a national stage.
Georgia Player To Watch: QB Aaron Murray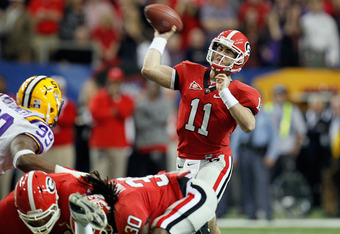 Kevin C. Cox/Getty Images
The Bulldogs offense has been inconsistent this season, but overall, Murray has put up a good season. He had 33 touchdown passes to 12 interceptions for 2,861 yards. He doesn't have a great completion percentage (58.6), but he can be a force in the right situation. 
Michigan State has a solid defense, though Russell Wilson has picked them apart a couple times, so there is some vulnerability with this group. 
Murray has to set the tone for the rest of the Georgia offense in this game for them to have a chance to win. 
Michigan State Player To Watch: WR B.J. Cunningham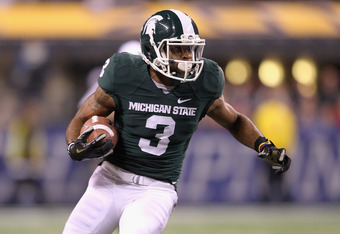 Andy Lyons/Getty Images
When you think of Michigan State's offense, you don't typically think of big plays. Kirk Cousins has built a reputation as a great game manager in his time as quarterback. But B.J. Cunningham has given them the downfield threat they need to keep defenses honest. 
Cunningham had a fantastic season with 1,240 yards and 12 touchdowns. He has at least 100 yards in three straight games and four of his last five overall. Nine of his 12 scoring plays have come in the last four weeks. 
Georgia's defense has been stout all season, so it will be critical for Cunningham to create a big play to prove that they are not afraid to attack and will be able to move the ball. 
Key Matchup: Michigan State QB Kirk Cousins vs. Georgia Defense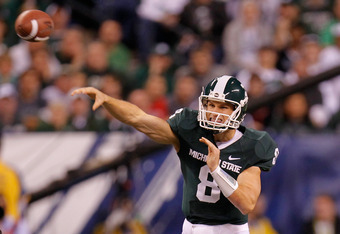 Gregory Shamus/Getty Images
Cunningham is the Spartans big play threat, but he is only as good as Kirk Cousins allows him to be. I referred to his reputation as that of a game manager earlier, but I think that he has become more than that this season. 
Cousins knows that Georgia's defense does not give up a lot of big plays, so he will have to take what he is given early and hope that they get lulled to sleep to make something happen later on. 
The Bulldogs defense has performed well overall, though their numbers are skewed thanks to an easy schedule. In the three games they lost, they allowed 122 points. 
Michigan State may not be as dangerous as Boise State, South Carolina or LSU, but this team has the ability to put up a lot of points in the right situation. 
Prediction
Michigan State is the deeper team on both sides of the ball. The Big Ten's SEC curse will be lifted, if only for one day.
Michigan State 27, Georgia 21