2011 Fantasy Football Waiver-Wire Advice: NFL Week 14
December 5, 2011
Jim Rogash/Getty Images
There were some unusual heroes on Sunday. There always are. Let's take a look at them and see if they are worthy of your fantasy rosters.
Dan Orlovsky, QB, Indianapolis Colts
Orvlosky threw for 353 yards and two TDs with a pick. Excellent numbers, but they came against the league's worst pass defense and the scores came in garbage time. Pierre Garcon could be viable again though.
Ruling: Don't Sweat 'em.
Christian Ponder, QB, Minnesota Vikings
Ponder threw for 381 yards, three touchdowns and two interceptions. He added a 12-yard run. Good game with some rookie mistakes. Not a fantasy option though, unless you are in a two-quarterback league.
Ruling: Don't Sweat 'em.
Alex Smith, QB, San Francisco 49ers
Smith threw for 274 yards on 17-of-23 passing with a pair of scores. He's a solid NFL QB, but not a good fantasy option.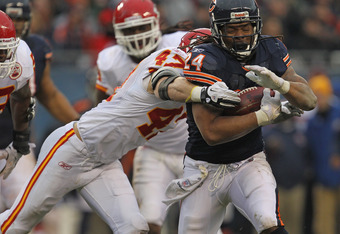 Jonathan Daniel/Getty Images
Ruling: Don't Sweat 'em.


Marion Barber, RB, Chicago Bears
Barber replaced the injured Matt Forte. He didn't put up a huge game (44 yards), but he's worth adding with Forte expected to miss a few games. As bad as it sounds, they should be on the horn with Donovan McNabb.
Ruling: Get 'em.
Riley Cooper, WR, Philadelphia Eagles
Cooper caught five passes (10 targets) for 94 yards last Thursday.  That's three solid weeks in a row, though Maclin could be ready after the long layoff. Only add him in deep leagues or if Maclin will be out again.
Ruling: Don't Sweat 'em.
Andre Roberts, WR, Arizona Cardinals
Roberts caught all six of his targets for 111 yards. He's not a reliable fantasy option.
Ruling: Don't Sweat 'em.
Chaz Schilens, WR, Oakland Raiders
Schilens caught six passes (seven targets) for 89 yards. It was his second solid game in a row. Given his talent and the injuries in the Oakland's receiving corps, he's worth a sleeper look, but the Raiders are tough to rely on.
Ruling: Don't Sweat 'em.
Brad Smith, WR, Buffalo Bills
Smith caught seven passes (10 targets) for 72 yards. It was his second strong outing. He's a bit of a gamble, but he's a dynamic player. 
Ruling: Get 'em.
Demaryius Thomas, WR, Denver Broncos
Thomas caught four passes (seven targets) for 144 yards and two scores. It's hard to rely on anyone in the Broncos' passing game. Plus, I don't think he'll be able to wear his Harry Potter invisible cloak to get as wide open as he did against the Vikings' pathetic secondary.
Ruling: Don't Sweat 'em.
Also check out: