NBA Free Agency: Mavericks Must Get Timing Right for Chandler, Butler, Barea
December 5, 2011
Mike Ehrmann/Getty Images
On Sunday, June 12 of this year, I would have given everything for it all to be over. The NBA Finals were seriously sucking the life out of me. I wasn't sleeping, I wouldn't allow myself to hope for the best; instead I forced myself to fear the worst, a fear that became a ball in the pit of my stomach. 
As the fourth quarter to Game Six began, I promised a lot to the sports gods. I promised that the Yankees and Heat could win the next 10 titles in a row, that the New York Giants could fall into oblivion for the rest of my life, that the Mavs could lose Tyson Chandler, Caron Butler, JJ Barea, Jason Kidd and everyone else, just as long as Dirk was holding the trophy when those 12 minutes were over. 
And he did. But a funny thing about promises made in the heat of battle: they're very hard to follow up on. It didn't take me more than 24 hours to start fuming about how this should have been Dirk's second ring, putting him in the conversation for one of the best ever. 
And now here we are, at the belated start of the Mavericks' first title defense, and I want more. I want Tyson Chandler back, I want JJ Barea back (if you had told me last February I'd be typing that about Barea, I'd have punched you in the mouth) and I would like to have Caron Butler back. 
So the Mavs find themselves in a difficult offseason predicament. They want to defend the title, they want to take advantage of the few special season left for Dirk, and doing so means bringing back as many of the pieces as possible that helped the Mavs win in the first place. 
They have pieces to juggle. Chandler is one of the top three centers out there (and the only one who has proven he can help a team get over the hump). Caron left a good enough impression last year, that he could be the key for a repeat, but he's also drawing interest. 
And Barea—once he began starting in the Finals, the Mavericks never lost again. Teams have seen what a change-of-pace guy he can become, and with his much-improved outside shot, teams will be willing to spend. 
The point is, the Mavs have a series of personnel decisions to make regarding free agents, and the stakes are higher this year.
The Mavericks have a series of decisions to make on a championship-caliber center, an All Star starter in Caron Butler and a key backup in JJ Barea.
Marc Stein reports that the Warriors may be interested in offering Chandler max money (starting at $20 mil per year) if they decide to amnesty Andris Biedrins, and others teams will probably make offers starting high too, including the Rockets and Nets. 
According to ESPN's Jeff Caplan, Butler is being wooed by the Bulls, Clippers, Spurs and Nets.
Caplan also reports that the Heat, Lakers, Knicks and Sacramento Kings might be willing to make good offers to Barea. 
The Mavericks do have an inside track on all three players, they did just win a ring together, and while the money might not be there for all three, if Chandler goes, the Mavs should be able to retain Butler and Barea. 
But it's all about timing. 
The last time the Dallas Mavericks had to play the delicate balancing act when it comes to free agency, they didn't do so well. It was the summer of 2009, and the Mavericks were conducting their annual Search for A Center-Palooza, 2K9 edition.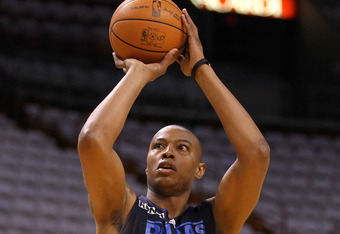 Chris Chambers/Getty Images
They focused their attention on a young Polish center Marcin Gortat, who was Dwight Howard's backup on the Orlando Magic. The Mavs offered Gortat five years, $34 million, and the Magic had seven days to match it.
Meanwhile, Mavericks forward Brandon Bass was in his own bidding war, and signed a four year, $18 million deal with the Magic, two days after the Mavs made their offer to Gortat.
Three days after the Bass signing, the Magic shocked everyone by matching the Mavs offer, paying a backup center around $5 million a year (and you wonder why Dwight Howard wants out).
Like oh so many nerds on prom night before them, the Mavs were left with nothing. Well, with no backup for Dirk and Erick Dampier as their starting center. So basically nothing.
Its easy to imagine the Mavericks chasing down Chandler while Butler and Barea are signed away, and then another team coming in and blowing them out of the water for Chandler. Or vice-versa. To borrow a quote from "It's Always Sunny in Philadelphia," there's any number of twisted scenarios that could play out here.
Back to the prom analogy, we're already wearing the class ring from the captain of the football team (obviously Dirk, but I'm told from female sources that Tyson Chandler is quite the dreamboat as well). But we're not in that spotlight dance yet, no matter how many times I've fantasized about me and Dirk slow dancing to Alphaville's "Forever Young."
The Mavericks have until this very morning until first thing Friday morning to get their ducks in a row, decide who to chase and who to cut their losses with, and as a fan, I'm hoping we don't have a repeat of the summer of '09. 
The only summer I hope the Mavs repeat is the early summer of 2011.