Green Bay Packers: Jermichael Finley's Future with the Packers
December 5, 2011
Hannah Foslien/Getty Images
Green Bay Packers tight end Jermichael Finley had quite the roller-coaster game against the New York Giants, featuring a few frustrating drops on his way to catching six passes for 87 yards and a touchdown. The drops have been too frequent for Finley and have left many wondering what the Packers should do with tight end following the expiration of his contract at the end of the season.
Never one to lack confidence, Finley has stated his desire to become one of the best tight ends in the league. Being one of the league's top tight ends certainly comes with a nice paycheck, and Finley will be looking to cash in following the season. 
The problem is that Finley has not lived up to the hype this season coming back from spending all but five weeks of last season on injured reserve. This is not to say Finley hasn't had success. It just hasn't been up to par with the top tight ends in the league.
Deciding to raise exposure to an open market, the Packers haven't extended Finley beyond this year. It is believed the team is looking to see that Finley can remain healthy over an entire season, something he has failed to do since breaking out.  
Part of the problem of lack of production could be the fact that the Packers have so many weapons on offense and Finley is a secondary or third option in offense focused on Greg Jennings. Despite the Packers having an almost unfair amount of weapons, Finley is third on the team in catches, yardage and touchdowns.
The Packers must decide how much Finley is worth and how committed they are to the tight end. They proved last season they could win without Finley, but he certainly makes the offense better. Many Packers fans are ready to part with Finley because of his over-publicized off-field attitude.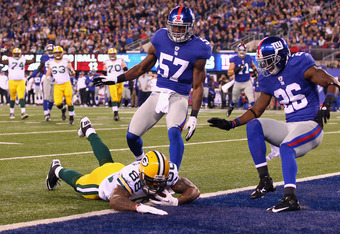 Al Bello/Getty Images
Finley has been criticized for his willingness to answer questions honestly. Never ceasing to say what's on his mind, many have grown tired of Finley and his antics. Leading up the Giants game, an article on the Green Bay Press-Gazette cited Finley describing his up-and-down season.
"I've got to get back in my groove and get the chemistry down with the quarterback," Finley told reporters. "As everyone can see, the chemistry's not there with the quarterback."
Many have taken Finley's statements like this the wrong way and think he is just another problem-child misbehaving. 
"I mean we're 11-0, what are you going to say?" Finley said. "I don't bug him. I just go out and play my hardest every game and try to lead my team to victory. That's all I can do."
While many other players may not come out to reporters and say something like this, based on Finley's character, it isn't meant to be a distraction. In saying this, Finley is just being himself and expressing a desire to get back on the same page with quarterback Aaron Rodgers.
Another factor in the decision could be the injury to Andrew Quarless. On kickoff coverage against the New York Giants, Quarless was blocked as he attempted to make a tackle. His leg was bent in a horrific-looking injury that immediately brought his season and future into jeopardy. 
If the injury is quite serious, the Packers would lose leverage and flexibility in dealing with Finley come the offseason. Quarless stepped up last season in Finley's place and improved greatly this season before suffering the injury.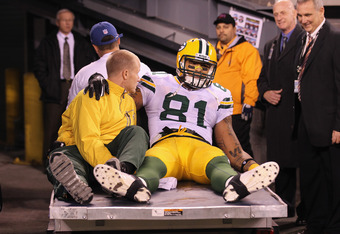 Nick Laham/Getty Images
Drops have been all-too familiar for Packers fans as James Jones suffered from the issue, dropping sure touchdowns on numerous occasions last season, including in the Super Bowl. After re-signing with the Packers this offseason, Jones has turned it around and been sure-handed catching passes without drops.
There is no reason Finley can't figure out the issue, just like Jones, and get the situation turned around. 
Finley's impact is not only felt on his many catches, but in the way defenses line up against the Packers. On the first of Donald Driver's two touchdowns against the Giants, both defenders in the area fled the vicinity to cover Finley. 
Teams have had nightmares trying to defend Finley. If an opposing team plays a linebacker on him, he uses his speed to create separation. If they use a corner, he uses his size to out-physical him. Finley is reliable to win one-on-one matchups against any defender.  
Finley has a combination of size, talent and athleticism that makes him one of the most interesting players on team. The whole package have lead the Packers to use Finley as a hybrid TE/WR. This presents a problem with regard to potentially using the franchise tag on Finley.
If the Packers plan to use their franchise tag on Finley, it is possible Finley and his agent could argue he plays more wide receiver than tight end and should be paid accordingly. The price differential for the franchise tag of a tight end versus a wide receiver is quite substantial. It could come down to the percentage of snaps Finley takes from a standing position. More often this season, Finley has been lining up in a standing position.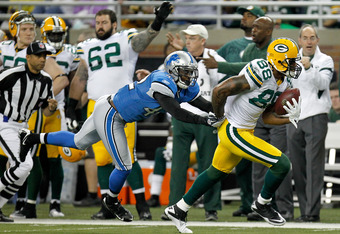 Gregory Shamus/Getty Images
The Packers should let the season play out and use the franchise tag on Finley at the end of the season. This would keep Finley on the Packers at a reasonable price and give both sides another chance to establish a fair value for what Finley is worth.
If the Packers are satisfied with Finley during next season, they could work to extend him during the season like they have done with other players. If they feel he is expendable, they could trade him or let him go at the conclusion of the 2012 season.
Letting Finley walk would be the wrong decision for a team that relies on individuals to win games. Despite his honest, tell-all attitude, Finley is far more valuable to this Packers team than he is given credit for.