BCS Bowl Games 2012: Top 5 Quarterbacks Playing in BCS Bowls
December 5, 2011
Ezra Shaw/Getty Images
The BCS bowls are set in stone. Now all we can do is sit back and wait for them to be played next month.
Or we can gather around and talk football. It seems to me this is a much better way to pass the time.
Because football conversations inevitably end up being centered around quarterbacks anyway, I figure that's a good place to start. Not surprisingly, the five BCS bowls are going to feature some pretty good quarterbacks, and it will be worth watching the games just to see them do their thing.
For kicks, let's go ahead and count down the five best quarterbacks who will be playing in BCS bowls this year. Doing so should help lead to further discussion.
Also arguments. Those will be fun too.
5. Tajh Boyd, Clemson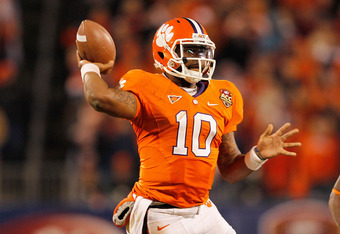 Mike Ehrmann/Getty Images
I thought long and hard about putting Michigan's Denard Robinson here, but the truth of the matter is that he is a truly rotten passer. He can definitely run, but watching Robinson throw the football will give you a headache.
Tajh Boyd, on the other hand, is a very capable passer. He finished the year with over 3,500 passing yards and 31 touchdown passes, compiling a solid passer rating of 145.0.
True enough, Boyd did go into a slump for a few games, during which he dropped out of the Heisman race. In fact, he didn't really rebound until the ACC Championship Game, in which he threw for 240 yards and three touchdowns to help the Tigers beat Virginia Tech.
It helps that Boyd has some pretty good targets to throw to. If you haven't seen Sammy Watkins and Dwayne Allen play yet, take it from me that you're missing out.
4. Darron Thomas, Oregon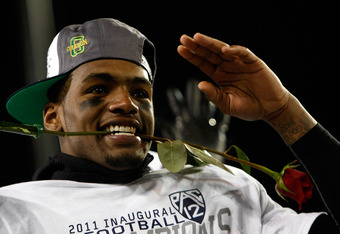 Jonathan Ferrey/Getty Images
Everyone knows who Darron Thomas is and what he can do, but if you ask me he's a little underappreciated.
Though some think of Thomas as a run-first quarterback, he's actually an above-average passer. He posted a passer rating of 155.2 this season, and he also threw 30 touchdowns and just six interceptions. 
Thomas' numbers look that much better when you realize that he plays in an offense that was fifth in the country in rushing attempts this season. He therefore does a lot with relatively few throws. Put him in a different offense, and Thomas would probably put up video-game numbers.
3. Russell Wilson, Wisconsin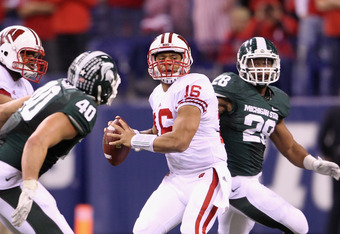 Andy Lyons/Getty Images
Speaking of doing a lot with relatively few throws, Russell Wilson has Thomas beat in that regard.
In just 284 attempts, Wilson racked up 2,879 yards passing and 31 touchdowns this season. He finished fourth in the country with a 72.5 completion percentage, and only Robert Griffin III had a better passer rating than Wilson's mark of 191.6.
Put simply, Wilson had a brilliant season in 2011, and it should be fun to watch him and the Badgers offense go toe-to-toe with Thomas and the Ducks offense in the Rose Bowl.
If you don't like scoring, I recommend watching the title game instead.
2. Brandon Weeden, Oklahoma State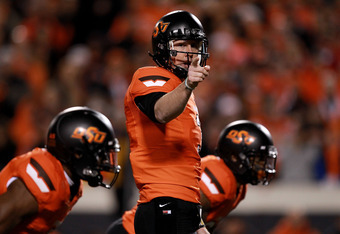 Ronald Martinez/Getty Images
Because he was fifth in the nation in passing attempts, Brandon Weeden's stats are admittedly a little inflated.
But that doesn't mean Weeden didn't have a good season. He completed 72.6 percent of his passes for 4,328 yards and 34 touchdowns. He did throw 12 picks, but that's bound to happen when you're throwing the ball that many times.
Of the five quarterbacks on this list, Weeden is the only one who qualifies as a true pocket passer. He's about as mobile as the Statue of Liberty, a point evidenced by his -95 yards rushing on the season.
But hey, one way you could look at that is that defenses don't have to stay honest when Weeden drops back to pass. Because he's not a threat to run, more guys can drop back in coverage, making Weeden's job that much tougher.
1. Andrew Luck, Stanford
The reality that people are starting to criticize Andrew Luck is something that I find to be oddly amusing. People clearly have lost sight of just how good Luck is.
The stats only tell part of the story, and Luck's stats are very good. He completed 70 percent of his passes for 3,170 yards and 35 touchdowns this season, adding another two touchdowns on the ground. Numbers like those are why Luck is in the Heisman discussion.
Beyond the numbers, you have to appreciate Luck for the way he plays the game. He carries himself like an NFL quarterback at the line of scrimmage, and just watching him go through his reads is almost a profound experience. When he does throw the ball, it's a good bet that it will be on target.
There's a reason Luck is viewed as the best quarterback prospect in generation, folks. It's because he appears to be just that.