New Orleans Saints: Why Drew Brees Is a Lock to Break Dan Marino's NFL Record
March 15, 2017
We are witnessing history this season.
Drew Brees may be playing his best season of professional football in his career. Brees has had many good seasons as the New Orleans Saints quarterback and we have all witnessed him dissect defenses in New Orleans for close to six years now. He has led the Saints to three playoff appearances, two NFC Championship Games and a Super Bowl victory in only five seasons. It seems as though the Saints will make the playoffs again this year for the third straight season. 
With all that being said, Brees is probably the reason for all of it. He is a model of consistency. Since 2006, when Brees and head coach Sean Payton teamed up in New Orleans, no quarterback in the NFL has been better.
In 2008, Brees came 15 yards away from breaking Dan Marino's NFL record for passing yards in a season. He is only the second player in the NFL to ever throw for more than 5,000 yards and it sure seems like he will do it again this year, except this time, he will surpass Marino's record.
In 1984, Marino set the NFL record for passing yards in a season at 5,084. Brees currently has 4,031 yards, which leaves him four games to pass for 1,053 yards. In order to reach that amount, Brees will have to average 263 yards over the last four games of the season. He is currently averaging just under 340 yards a game.
If that is not enough reasoning, then let's look at Brees' next four opponents. He will be playing the Tennessee Titans, Minnesota Vikings, Atlanta Falcons and Carolina Panthers in the last quarter of the season. Out of these four games only one will be considered a cold-weather game. The games against the Vikings, Falcons and Panthers will all be played in a dome, which is where Brees is the most lethal.
Next week Brees and the Saints will travel to Tennessee to play the Titans and their 13th-ranked passing defense. Before Week 13, the Titans were allowing about 229 passing yards a game. Brees has been held under 300 yards passing only three times this season. There is no reason to believe the Titans will be able to hold Drew to under 300 yards, much less the 263 he has to hit in order to stay on track to break the record.
After the Titans, the Saints will go to the Metrodome to face the Vikings. In this game, the Saints will be playing against the 29th-ranked passing defense. Brees and the Saints will be able to torch the Vikings just as other teams have done all year. Chances are Brees will break the 350-yard mark during this game and keep on cruising towards the record.
In Week 16, the Saints will play the Atlanta Falcons on Monday Night Football in the Mercedes-Benz Superdome. Brees loves to showcase his talents in the national spotlight and I expect nothing less from him during this game. While the Falcons boast the second-best rushing defense in the league, their pass defense comes in at 23rd.
In their first matchup of the season, Brees tossed for 322 yards, two touchdowns and a 106.9 passer rating. It would not be surprising to see Brees put up much larger numbers this time around. He will be playing at home in front of a national audience, and we have seen what he does during prime time. 
The last game of the regular season comes against the division rival Carolina Panthers. If Brees hasn't already, he will definitely break the record in this game. The Saints will not be able to sit their starters because they will more than likely be chasing the No. 2 seed in the NFC. Brees threw for 359 yards against the Panthers in their first matchup, and their 16th-ranked pass defense will not prevent Brees from getting that record. In this game, Brees makes history.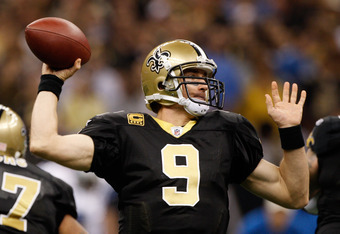 Chris Graythen/Getty Images
Marino's record was bound to be broken at some point soon. With how quarterbacks are playing in today's game it will not be surprising to see Brees' new record broken in the near future, possibly by Brees himself. 
If anyone deserves this record, it is Brees. He has tormented defenses all year. He put up 370 pass yards against the Texans' second-ranked passing defense. The Jaguars' fourth-ranked pass defense did not fare much better when it gave up 359 yards to Brees. Just this past weekend we watched Brees as he threw for 342 more yards against the Lions' sixth-ranked passing defense. 
Brees has been unstoppable throughout his career with New Orleans, but especially in the 2011 season. Remember this year, NFL fans, because it will go down in the history books.